College Football Picks Week 3: 5 Road Teams with Best Chance for Victory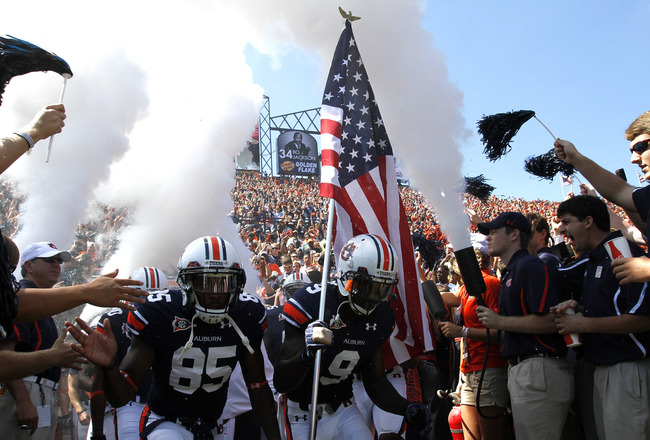 Butch Dill/Getty Images
Welcome to Week 3 of the college football season. This is the first week that numerous AP Top 25 teams have the chance of being knocked off.
Why is this? A lot of tough road games, that's why.
Last night, No. 3 LSU was the first to handle their business on the road, beating No. 25 Mississippi State 19-6.
Tonight, No. 4 Boise State goes on the road to upset-minded Toledo, who almost pulled off the biggest Week 2 upset, only to fall short to No. 15 Ohio State, 27-22.
While Boise State is a 20.5-point favorite tonight, odds are the game will be closer than the line. There's no doubt in my mind that Boise State will come out of the game victorious, though.
Who will step up and win their tough games on the road?
Utah Utes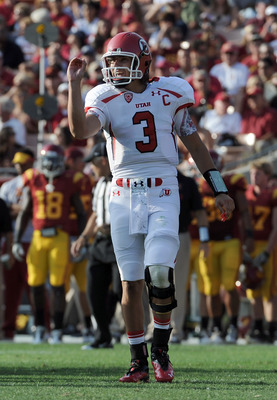 Auburn football
Harry How/Getty Images
Opponent: BYU Cougars
Final Score Prediction: 20-17, Utah
It's time once again for the Holy War! The unranked Utah Utes will travel to BYU to take on the unranked Cougars in what will likely be an exciting, low-scoring matchup.
In years past, this game has had much larger implications. The winner of this game usually had the upper hand in the conference. Sadly, that is no longer the case.
Utah has moved into the Pac-12 while BYU has gone independent. While this is still a huge rivalry game, some of the excitement has been drained away. I guess this is what we'll have to get used to if realignment takes place in college football.
Anyway, Utah almost pulled off a win on the road against USC last weekend. Trailing 17-14, Utah had a chance to tie up the game and send it to overtime at the end of the fourth quarter. Alas, the kick was blocked and USC ran it back for a touchdown, ending the game with a 23-14 victory.
BYU also had some tough luck last weekend on the road. After leading No. 24 Texas for most of the game, the Cougars gave up a touchdown in the fourth quarter to fall behind 17-16. Behind a strong fourth quarter defensive performance, the Longhorns held on and win the game.
Needless to say, both Utah and BYU are coming off of disappointing losses. Both teams had a chance to be undefeated for this game, and both are going to be looking for revenge.
I'm taking Utah in a close game, behind the strong play of junior QB Jordan Wynn and junior RB John White IV.
No. 21 Auburn Tigers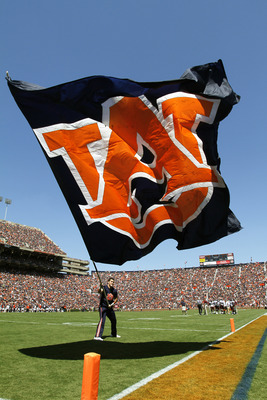 auburn tigers
Butch Dill/Getty Images
Opponent: Clemson Tigers
Final Score Prediction: 34-27, Auburn
After Week 1's shaky victory against Utah State, Auburn proved to the country that they are better than most believe by beating (then) No. 16 Mississippi State, 41-34.
Sophomore running back Michael Dyer stepped up in a big way, running the ball 18 times for 150 yards—8.3 yards per carry—and two touchdowns.
Dyer and fellow running back Onterio McCalebb will have to come out and perform well again in order for Auburn to have a shot against Clemson.
Clemson is a three-point favorite in this game, likely because of home-field advantage. Clemson looked solid in Week 1 against Troy, easily winning the game 43-19, but Week 2 was a different story.
Going into the fourth quarter against Wofford, Clemson was only up by one point. They ended up winning the game 35-27 after Wofford was unable to rally a comeback.
Sophomore QB Tajh Boyd has played well so far this season, and he will have to continue his passing attack against a suspect Auburn defense.
This should be a close, exciting game, but I have to give the edge to Auburn, who have played tougher competition and have a better offense.
No. 17 Ohio State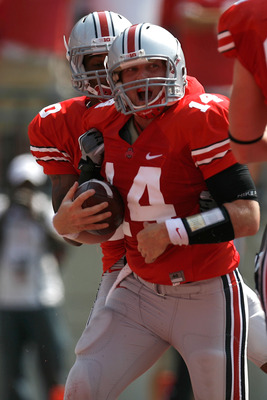 Kirk Irwin/Getty Images
Opponent: Miami (FL)
Final Score Prediction: 27-24, Ohio State
After almost laying an egg last week against Toledo, Ohio State will go on the road for the first time this season to take on Miami (FL).
All eyes will be on Miami (FL) this weekend, as quarterback Jacory Harris and four other suspended players will be making their return to the lineup.
In their only game this season, Miami (FL) fell short on the road to Maryland, without their starting quarterback. The Hurricanes are out to make some noise this weekend and hopefully distract people from the ongoing scandal that is currently affecting their program.
Ohio State is no stranger to scandals either, but they have at least played with their core starting group this season. The chemistry will definitely benefit them in this game.
Miami (FL) may ultimately be the better team, but with so many distractions surrounding this game and Harris playing in his first game of the season, Ohio State may stick around.
Miami (FL) is currently just a one-point favorite in this game, and that's probably a good line. This game will come down to the wire, and I have Ohio State winning by a field goal within the final minute.
No. 15 Michigan State
Dave Reginek/Getty Images
Opponent: Notre Dame Fighting Irish
Final Score Prediction: 30-17, Michigan State
Notre Dame has had a rough start to their season.
After being upset at home in Week 1 against South Florida, Notre Dame gave up a huge fourth quarter lead to Michigan in Week 2. They regained the lead with 30 seconds left in the game, all but sealing a victory.
Michigan shocked the world and scored with two seconds remaining, shoving a dagger into the hearts of Notre Dame players, coaches and fans.
How can Notre Dame not be both physically and emotionally drained?
Coming into the season, Notre Dame had high hopes, but after sputtering off to an 0-2 start and falling out of the AP Top 25, their hopes have been all but crushed.
The same cannot be said about their at-hand opponent, Michigan State. In the first two weeks, Michigan State has outscored their opponents 76-6. Granted, their opponents have been Youngstown State and Florida Atlantic, but the fact remains that they are a great team that's flying under the radar.
In fact, they're a 3.5-point underdog this weekend at Notre Dame. I do acknowledge the fact that Notre Dame is a good team that hasn't put it all together, but Michigan State is a good team that has put it all together, or so it seems.
Both teams have good offenses, and Notre Dame may actually be superior to Michigan State on that side of the ball, but this game will come down to defense. Defense has been Notre Dame's weakness so far this season.
Michigan State is my dark horse to win the Big 10 this year, and they will take care of business on the road in their first big test of the season.
No. 1 Oklahoma Sooners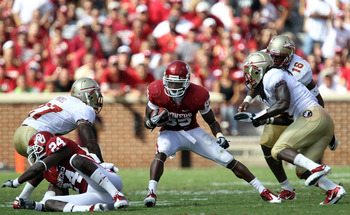 Ronald Martinez/Getty Images
Opponent: No. 5 Florida State
Final Score Prediction: 31-21, Oklahoma
The top-ranked Sooners travel to Tallahassee this weekend to take on the No. 5 Florida State Seminoles in what will be the marquee matchup of Week 3.
Currently, the Sooners are a four-point favorite as the road team. If all goes well, the Sooners could easily win this game by 10-20 points.
After losing to Oklahoma 47-14 last season in Norman, the Seminoles will surely want redemption. Even with the loss of quarterback Christian Ponder to the NFL Draft, the Seminoles seem like a better team this season.
However, the Sooners are also a better team than they were a season ago. They're deeper on both sides of the ball and have more experience playing with each other.
The loss of All-American linebacker Travis Lewis definitely hurts, but sophomore linebackers Corey Nelson and Tom Wort have been able to step up and fill the void.
For the Sooners to come out of this game on top, they will have to do two things: keep the pressure off QB Landry Jones and keep the pressure on FSU QB EJ Manuel.
Oklahoma's defense is going to have to step up in a big way, and I have no doubt that they will.
Keep Reading