Alabama Football, Anthony Steen: The Weak Link on the Tide's Offensive Line
September 16, 2011
Rob Carr/Getty Images
As the old adage goes, a chain is only as strong as its weakest link. This does not fail to ring true with the Alabama offensive line, and the weakest link is far and away right guard Anthony Steen.
The first thing you most know about Steen is that he is one of the strongest players on the team, and possibly the strongest on the offensive line. Though Nick Saban doesn't release weight-room stats, an al.com report said that Steen was closing in on Josh Chapman's weight room prowess, who claimed he could bench in the "high 500s." Great numbers, certainly, but there are other numbers that invalidate his weight-room resume. 
The numbers that suggest he is a flop are the yards by the running backs. Steen, while filling in at right guard for an injured Barrett Jones during the 2010 Iron Bowl, performed horribly. When asked recently about starting that game against the likes of Nick Fairley, he just stuttered and filled about 10 seconds of talk time with "uh," "um" and a lot of floor gazing. 
Alabama's run game always consists of a lot runs between the tackles, which is where Mark Ingram and Trent Richardson always made their money. In that game, however, they were held to averages of 3.6 and 2.4, respectively.
Against Kent State, Richardson was held to a meager 2.8 yards-per-carry average. That number is not a big surprise to me as almost every time he touched the ball he ran up the middle, often to get hit in the backfield by one of Steen's blocking assignments. 
Penn State wasn't much different, with Richardson barely getting four yards per carry. Once again, most of his calls were straight up the middle and the few big runs he had on a whopping 26 carries mostly came from the outside. At the end of the day, he finished with 111 rushing yards.  Decent numbers, but not on 26 carries.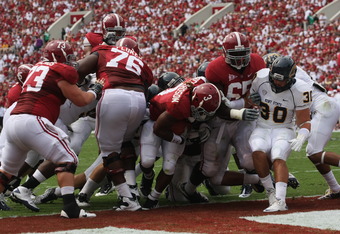 Greg McWilliams/Getty Images
Richardson is a great running back and though every dog has its day, why against non-SEC competition? The answer is that he is a power back, and power backs must be able to punch it up the middle to succeed. Up the middle also means relying on Steen for blocks. Chance Warmack and William Vlachos have proven to be effective run blockers, so where else can the blame be placed? Richardson can only break so many tackles on his own. 
I've said before that Steen may be strong as a bull, but he has the finesse and awareness of a grazing cow. To put it quite simply, his technique is terrible. I have watched him closely in the past two games, and he is often whiffing on blocks and generally seems clueless. On one pass play against Penn State he actually stood all by himself, well past the line of scrimmage, waiting for someone to block, with absolutely no one in the area. 
The Tide is in a very peculiar situation. The run game is the most important part of their offense, yet the left tackle position is the most important part of their passing game, quarterback aside. 
It was assumed the left tackle position would be okay, but Alfred McCullough did not pan out as a candidate and his main competition, former Tennessee Vol/junior college transfer Aaron Douglas, passed away several months back. This left a large question at left tackle. As a result, Saban moved his best offensive lineman to the position. It came down to either playing an unproven left tackle or an unproven guard. 
The answer to that should be a no-brainer; the left tackle is more important than the right guard. Just how important is the left tackle, though, when your Heisman-hopeful running back has been about as productive as a drunken security guard running behind a very bad right guard?
True freshman wonder Cyrus Kouandjio looks to be capable of filling the role at left tackle and he will hopefully prove so against North Texas. Barrett Jones has been an outstanding left tackle thus far, but he is far too valuable as a guard not to play him there. The combination of him and William Vlachos anchoring the middle contributed more to Mark Ingram's Heisman Trophy than Ingram did himself. 
If the Tide has high hopes for this year, Richardson cannot average less than five yards per carry. Unless Anthony Steen magically improves or is benched, I don't see Richardson setting any records, let alone winning a Heisman. 
Coming out of high school, Scout.com had Steen pegged as a 3-star prospect with his technique as an area that needed improvement.
At this point, they have been spot on. 
Anthony Steen might make a great offensive lineman in the future, but he has a long way to go.