Auburn Tigers Football: Dr. Billy "Doc" Walls Lives on at Auburn
September 16, 2011
Ronald Martinez/Getty Images
This is not your typical sports article about Auburn football, with analysis of upcoming games, passing yardage or other statistics.
This has to do with the "experience" of those weekends in the fall that actually transcends the game, something that we feel in an emotional way, and one man who made a difference for that experience at Auburn.
Dr. Billy Walls, or Doc, as he came to be known, led the Auburn marching band for over two decades starting in 1969, and made something special out of it for his students and the fans. He was actually in the Auburn music program for over 50 years. Sadly, Doc Walls succumbed to cancer this week, passing quietly with his family around him on Tuesday, September 13. He was 77.
Who can't admit to getting goose bumps when the pep band strikes the first drum cadence just before the Tiger Walk, or the band hits the first notes of "War Eagle" as they take the field?
Doc had a lot to do with creating that feeling, leading the Tiger Band, but he was much more than that.
He made a difference in so many of his students' lives beyond the uniforms and the music. He cared about the human beings, forming futures for so many of them.
On Facebook, former students poured out their feelings about him.
"Doc was a class act who demanded your best. I'm glad I had the opportunity to be in the AUMB during his tenure. I'm going to miss his annual jokes at the Alumni Band reunion."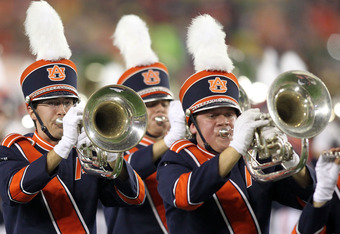 Jonathan Ferrey/Getty Images
The reunion was something that Doc started to get all his students back together.
"Doc was able to teach me and so many others valuable, but simple life lessons that have been with me to this day. You will be greatly missed Doc."
"I was amazed that by the second day of band camp he could call everyone in that 200-member band by name!!! It was a testimony to the type of person he was."
That's something you hear a lot. Doc had a knack for remembering everyone's name from the minute he met you.
"I remember how Doc knew me by name at the first rehearsal of band camp my freshman year, even though he had only met me once before when I auditioned earlier that summer. He always made sure every new band member felt like a member of the AUMB family from the start."
"Doc was so much to so many...While we were out there Saturday morning doing a run through of the halftime show, Doc would mingle among the parents, greeting them by name. He was a great one."
And that's the kind of legacy he left with all of his students; a sense of family that stays with them for life. It's at the foundation of what the Auburn Family means to this day.
On those fall weekends, it's because of the emotions created by the sounds of the band that add to the experience, the love for the game of football so much; it just wouldn't be the same without it. And the Auburn band is by far one of the best in the country.
Doc was responsible for that, and so much more.
He loved the music, he loved the kids he taught and he loved Auburn University.
What he left for them is something that will live on for generations to come.
This weekend when the band strikes their first notes at the Clemson game, you can bet Doc will be there.