Michigan State Football: Just Another Notre Dame Week
September 16, 2011
Dave Reginek/Getty Images
It's the best football game of the year if you're Ryan C. Zerfas! Let's remain diligent on everything that's happened so far in this very young season, yet it's hard to deny the omnipresent college football superlatives.
It's been said that the true winner of the Michigan-Notre Dame game was…Michigan State. I do subscribe to this notion, but I proceed with caution, as with all things with college football—trends tend to run their course and even out.
As a frustrated high school student in 1998, I clearly remember a day in my buddies' living room we chose to play Tecmo Super Bowl over watching the Michigan State-Notre Dame game. At the time, Michigan State was 0-2 and Notre Dame was 2-0, and as young, tortured Spartan die-hard fanatics, we didn't think we could stomach the grief.
After a few rounds of the best football video game ever invented (true to this day), we decided to shut it off and see what was going on in the real football game. It happened so quickly I'd swear I had a concussion, but when the power of the Nintendo went off and the television lights were illuminated, the game film was in mid-highlight formation. Julian Peterson, who had a career 25 sacks in 23 games for the Spartans and a decent NFL career with the 49ers, Seahawks and Lions, was returning a Jarious Jackson interception for a touchdown. The scoreboard faded into screen view…
Michigan State 42 Notre Dame 3. Halftime.
Since then, over the last 12 years, 10 of these football games have been decided by ONE possession or less. That's the approximate rate Kirk Cousins is completing passes (81 percent) this season, which means even the most casual fan of this rivalry should label and highlight it as a "can't miss event."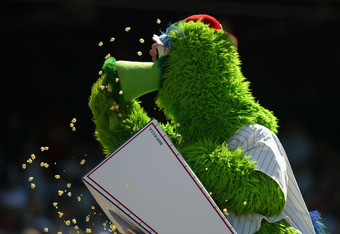 Doug Pensinger/Getty Images
Get your popcorn ready!
The list of classic games is endless. A subsidiary channel of the BTN dedicated to classic rivalry games between Notre Dame and the Michigan schools could be created. It's getting that ridiculous.
The Dantonio era alone could hold a pretty intense marathon, although the first two Dantonio driven games were the aforementioned exclusions from the "one possession" earmark.
1)  2007 (At ND) – Spartans 31, Irish 14. Mark Dantonio takes the reins after one of the most devastating losses to ND in school history. One of my favorite pre-game interviews of all-time, let alone THE ultimate character introduction to Mark Dantonio took place prior to kick off. A reporter asked one of those ponderous, cringe-worthy "how do you feel about this" questions that's so irritating, centered around the topic of ND coming into the game 0-3 and what their mood would be. Yuck. To which Dantonio said, "I don't care about Notre Dame I care about the Spartans. Thanks." And quickly turned his shoulder and walked away.
Spartans QB Brian Hoyer threw four TDs and Javon Ringer ran for 144 yards. The Spartans sent Charlie Weis' Irish into a 0-4 free fall with an absolute thrashing.
To which Dantonio, post-game, had some very prophetic comments (contrary to his pre-game interview) to give you an idea of the tide he was turning within the program. "Our guys have been mocked, and our guys have been made fun of, and we lost coaches; there was a coaching change, and a lot of things happened," he said. "So we internalized this and turned it to our favor today."
2)  2008 (Home) – Spartans 23, Irish 7. Like many games in the 2008 season, it was a Javon Ringer grind-fest totaling over 200 yards on 39 carries. The Spartans offense decimated Notre Dame, holding the ball the entire game and making the Irish offense one dimensional, which was just not enough for Irish QB Jimmy Clausen and current receiving sensation Michael Floyd.
3)  2009 (at ND) – Irish 33, Spartans 30. Notre Dame broke the Spartans six-game win streak in Touchdown Jesus' house. The game came down to a horrendous miscue by Spartan QB Kirk Cousins that I'm certain haunts him to this day. On the last drive for a game-tying field goal or game-winning touchdown Cousins threw one of those passes I alluded to in my 2011 preview. It was a pressurized, off his back foot, across his body, sidearm and an absolute wobbly-duck chuck interception in the middle of the field short of the end-zone. I think he even did one of those Hoosiers jump-shot knee bends while hoisting this devastatingly awful beauty. Honestly, it's a pass Scott Mitchell (former Detroit Lions dud, known for this maneuver) would critique. I'm betting Cousins is a better man for having gone through this.
4)  2010 (Home) – Spartans 34, Irish 31. Little Giants. Heart attack. No need to beat this into the ground; however, it DID give me chills to watch that fake field goal clip again. Dantonio flipped the poker table on Brian Kelly and there's nothing he can do about it…until Saturday?
Preview
I love stats. The one you should look at when evaluating the 0-2 Notre Dame Fighting Irish is 10 turnovers. 10.
I will refer to this lovingly as the Big Ten, because it's the only "Big Ten" the Irish will ever join anytime soon. I do not expect that number to get higher than 12 (that means two or less turnovers on Saturday for my math whizzes out there). Eventually, Brian Kelly's squad will play a clean game, and one can bet the motivation is there for this to be that game.
Do the Spartans have their hands full with the Irish?
Absolutely. I really worry about the speed, quickness and execution of their passing attack. With four returning offensive lineman there is room to run and execute dip-and-dunk passes, all day, to blazing fast receivers like Michael Floyd and Theo Riddick—who should have their way in the open field.
The Spartans best chance is to make sure they deny Riddick and Floyd the ball. The key to this game is the defensive line's ability to get pressure and in the face of ND QB Tommy Rees. Jerel Worthy and company have to knock down passes, propagate sacks and create turnovers. I believe this to be the strength of this 2011 Spartans team and well within the range of possibility.
My fear is, like the Youngstown State game, everything will happen quick enough to negate the strength of the defensive line, allowing the Irish to get the ball into open field creases, putting pressure on slower, less talented players. Let's see if Max Bullough is for real, Spartan Nation.  
Even though the Irish haven't won a game this year, they are the toughest test thus far for Michigan State's much maligned offensive line. Dantonio has shifted some names around on a quest for cohesion to solidify the trenches and we shall see real quickly how effective they can be, as ND has a very talented front seven. Clogging up the middle will be No. 5 Manti T'eo, a ball hawk who may very well forgo his senior season and rocket up Mel Kiper's NFL draft board this spring. He's without a doubt the best linebacker in college football right now (not Max Bullough Spartan fans).
I would love to see the Spartans sustain a solid rushing game with their trio of star running backs, but I believe this game will come down to getting the ball downfield in as much time as the line will allow. This should be the challenge all year against superior defenses for Michigan State.
Keyshawn Martin, who had seven catches for 73 yards last week, is the kind of player that will need to make plays. With game-breaking speed and defenses beginning to key on record breaking receiver B.J. Cunningham, I believe this game will be won on the effectiveness of Cousins getting the ball Martin and senior receiver Keith Nichol to make plays. In watching Nichol this season, he looks sharp and ready to contribute as a receiver—not a converted quarterback playing receiver. I'd love to see this be his breakout game.
In a game of infinite emotions, I think this will play out like any other classic game in this series. I fully expect to be clutching my seat in fear like the awkward tension created in No Country for Old Men. Notre Dame's home-field advantage is negated by the Spartans winning six of the last seven there, but the Spartans haven't really been tested this year. Last week was a clinic in defensive tenacity, allowing FAU only one first down, but that will mean little once the ball is booted off the tee.
With that said, it was fantastic to see Michigan State execute a cupcake game up to expectations. It's hard not to overreact to the extreme performances the Spartans have had thus far in 2011, with a disappointing in the opener followed by dominating no-name FAU to make up for it.
I'm not saying they find their identity against the Irish, but Notre Dame hasn't shown me enough to believe they are capable of meeting their potential and getting over the hump. They continue to beat themselves with miscues and drowsy downturns, depressing their legion of fans. They will play better, but it won't be enough for a determined Spartan offense.  
Kirk Cousins rectifies his 2009 blunder with a clear eyes (great footwork, courageous in the pocket), full heart (emotional leadership) and a Spartans can't lose attitude (experienced decision making). I wouldn't expect anything less from a guy that probably spends enough time with his academics, football responsibilities, family and general wealth of (useful) knowledge to follow that Friday Night Lights reference.
Spartans 31, Irish 27
If you enjoyed this Notre Dame week rundown, feel free to visit my blog, which also centers around many of my non-sports related interests. www.ryanczerfas.blogspot.com