USC Football: Lane Kiffin or Derek Dooley, Did Tennessee Get the Better Coach?
September 16, 2011
Streeter Lecka/Getty Images
When Lane Kiffin left the University of Tennessee after one year as head coach to return to USC as the Trojans' head coach, Volunteer fans burned his image in effigy, spewing their vitriol on blogs and fan sites across the Internet.
Their bitterness towards Kiffin seemed to have no limits.  But in the end when Derek Dooley decided to become Kiffin's successor at Tennessee, should Volunteer fans be thankful that Kiffin left?
It is difficult to answer this purely from statistics when the two schools are at opposite ends of the country and play in entirely different conferences.
The fact that Kiffin went 8-5 in the Pac-10 while Dooley went 6-6 in the SEC East—the hardest division in all of college football—is hard to measure.  The strength of both of their out of conference schedules was about the same.  USC's toughest out of conference foe was Notre Dame while Tennessee had to play Oregon.
So far this year, it looks as though Dooley's offense may have the edge over Kiffin's.  The Vols are ranked in the Top Ten in total offense while the Trojans' offense has stalled in the second halves against opponents they should have dominated.
While Kiffin complains about his offense and team in general being young and inexperienced, Dooley's team is even younger and more inexperienced.  He has eight new starters on offense.
But they have learned to play like veterans.  The reason: Derek Dooley.
Let's take a look at a few individual statistics.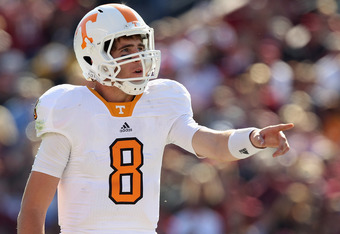 Streeter Lecka/Getty Images
Tyler Bray is only a sophomore but ranks among the top quarterbacks in the nation.  He has completed 51 of 65 passes for 698 yards and a superb 78.5 percentage, averaging 10.74 yards per completion with seven TDs and no interceptions.  He has a 204.2 RAT
His two principal receivers are Justin Hunter and Da'Rick Rogers.  Hunter has caught 16 passes for 302 yards for a whopping 19 yards per catch.  His longest was for 81 yards.  He has two TDs.
Rogers is no slouch either.  He has 15 grabs for 200 yards and a13.3 yards per catch.  His longest was for 47 yards.  Rogers has scored three times.
Besides Hunter and Rogers, Bray has spread the ball around to seven other receivers.  Meanwhile, Tauren Poole and Martin Lane have balanced Dooley's offense with a rushing attacked. 
Poole has carried 45 times for 199 yards and a 4.4 average.  His longest run was 29 yards.  He has scored once.  Lane has 18 carries for 51 yards and two scores.
Bray only started the second half of the season for the Vols last year, compared to Matt Barkley who is a third-year starter for the Trojans.  Barkley has completed 54 of 77 for 568 yards and a 70.1 percentage with 7.38 yards per completion.  He has four TDs, one interception and a 146.6 RAT.
His prime target, Robert Woods, has caught 25 passes for 279 yards and 11.2 yards per catch.  His longest went for 43 yards.  He has three TDs.  None of the other Trojan receivers are in double figures.
Marc Tyler emerged as the Trojans leading rusher last week with 24 carries for 114 yards and 4.7 yards per carry. His longest was 15 yards.  He scored once.  Redshirt freshman D. J. Morgan has carried 26 times for 97 yards and a 3.7 average.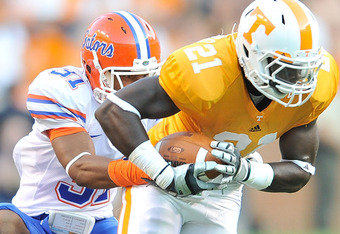 Grant Halverson/Getty Images
Though Woods, Rogers and Hunter are all sophomores only Woods started all 13 games last season.  Rogers and Hunter mostly watched and learned from the veteran Tennessee wideouts in 2010.
Despite the sanctions, Kiffin appears to be doing less with what he has than what Dooley is doing with the Vols.
Why is that?
There may not be much difference in the football knowledge of either coach.  Both have fathers who were famous coaches.  Monte Kiffin, of course, is still coaching as the defensive coordinator at USC, but there is a world of difference in the attitudes of the two coaches. 
Lane Kiffin seems to have an excuse-ladden personality.  This is the second year that he has consistently moaned and complained about the youth and inexperience of the Trojans.  Sooner or later, that becomes a self-fulfilling prophecy, which we have seen in both games this season and a number of contests in 2010.
Dooley, on the other hand, sees his glass as half full.  Unlike Kiffin, who often appears arrogant and stoic and looks as though he has just eaten a sour lemon, Dooley instead chooses to make lemonade.
Here is what Dooley told Scott Van Pelt on ESPN Radio today:
"We weren't going to let our youth be an excuse for failure and that was a pact we made as a team back in February.  I told them we can easily go into this year and be average and blame it on our youth.  But I don't want to do that and I know you don't want to do that."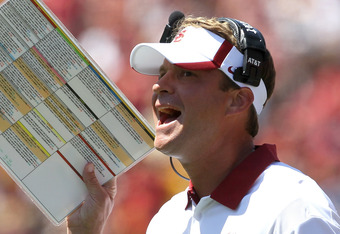 Stephen Dunn/Getty Images
However, so far in 2011 the Trojans have been average and Kiffin has blamed it on youth and inexperience.
Dooley went on to tell Van Pelt, "I told (the players) we are going to coach them like juniors and seniors and expect them to play like juniors and senior and if they do that we're going to have a lot of success."
So, there you have it.  That is the reason Tennessee fans should have the last laugh.  They have the coach who knows how to motivate.  Trojan fans got the coach who knows how to make excuses and put the blame on his players.
Instead of cursing Kiffin, Tennessee fans should thank him—for leaving.
To hear Dooley's entire interview with Van Pelt, go to: http://espn.go.com/espnradio/play?id=6973695