Mark Richt and His Georgia Bulldogs Heading Toward Win No. 1
September 15, 2011
Kevin C. Cox/Getty Images
Gone are the Nike pro combat uniforms that stirred banter.
Absent is a call for cohesive shirt color.
This Saturday in Athens the game day fare will reek of Georgia tradition.  The black, red and fight that instilled a driving team to shine in every place but the scoreboard (versus South Carolina) could finally prevail. Georgia's 0-2 start could finally turn the corner that leads to a decisive win.
The Georgia Bulldogs will take on a team that could serve up victory on a silver platter…or a loss that could put them to shame.  But hopes are up in Athens and if this likely win will pad the seat of a coach—Mark Richt—under fire, then fans say, bring it on.
Georgia fans need this game.  They've rubbed the edges of their stadium chairs until their hind-sides are raw.  They've chewed their nails to the quick.  They've calculated and analyzed to no avail.
Cheers to a new chapter in Athens and an uphill climb to reclaim the East.  
As competition declares, nothing is certain.  Georgia is favored against Myrtle Beach's (SC) Coastal Carolina by 28 points, but the spread is still a little shaky to Georgia's favor.  So here are a few facts to while away the hours until kickoff.
The Chanticleers—trouble-stirring roosters—were the talk of sports this week but it wasn't for their play.  A motivational video by their head coach went viral bringing this little-known team into the national limelight, if only for a few days.  A win against Georgia would keep them there.  
Today, It seems they've got more than chicken legs to stand on. In their season opener, the Chanticleers rushed for 231 yards to beat Furman.  Their total was the 12th best in the nation for opening games.  The second week of play, they defeated Catawba 20-3 with stats that again, made the sports media's bragging platform. 
In that game, while Coastal rushed for a program-low of 13 yards, CCU quarterbacks Aramis Hillary (220 yards) and Jamie Childers (75 yards) combined to throw for 295 yards — the 11th-best single-game numbers in school history.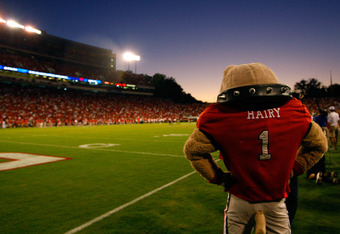 Kevin C. Cox/Getty Images
The head coach, David Bennett—apart from being a heck of a comedian—also happens to be the winningest coach in the Big South, 56-24 overall in league play.  But there's one thing the Chanticleers have not yet mastered: a win, or even play against a team in the Southeastern Conference.  On Saturday they will find out just how effective they can be against this Georgia Bulldog team seeking redemption and restoration. 
Wondering if Coach Mark Richt has been doing his homework?  Let me assure you, as far as this team goes, Richt is primed for battle.
"Offensively, they are a fast-paced, no huddle team.  They spread you out.  They've got a quarterback running team that is very, very good," Richt said at his weekly press conference.  Comparing them offensively to Mississippi State and Auburn, Richt said their offensive line offers some giants for his Bulldog defense.  "They have four out of five guys over 300 pounds."
With a receiving corps built with 6'3" 200 lb. Mike Hazel (a Michigan State transfer) and other notable transfers, the SEC break-in has already occurred for at least two players. David Duran and (Aramis) Hillary have faced the Bulldogs before.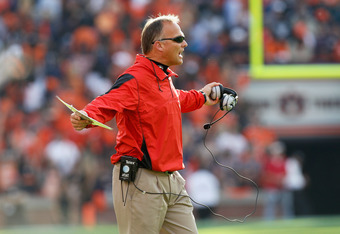 Kevin C. Cox/Getty Images
In 2008, Duran, a freshman from Michigan State, saw action in the Capital One Bowl.  He's also been seen standing along with the recruits at Sanford Stadium, prior to that.  In 2009, Hillary was a redshirt freshman at South Carolina, although he did not play.  We're sure they've briefed their teammates on the noise of the UGA faithful between the hedges.
So what about the Roosters' defense?
Richt says fans will see some familiar formations. 
"They're a little bit similar to us in (defensive) scheme. They do a pretty good job in rolling in their defensive lineman.  They're not super tall in the defensive line but they're stout and they're athletic.  Their entire defense plays extremely fast," he added.
Richt said in his press conference to watch out for Andrae Jacobs, No. 40, a 5'11" 230 lb. "very physical" junior linebacker who received the Defensive Player of the Year in the Big South.  
Another threat is Coastal Carolina's punter, (No. 50) Austin Cain, a redshirt freshman from Kennesaw, Georgia.  He punts both traditionally and rugby style.  According to Richt, that makes him prone to fakes, something that cost them last week against South Carolina.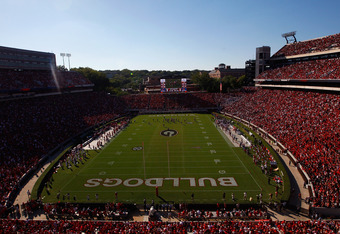 Kevin C. Cox/Getty Images
Richt says Isaiah Crowell will start and this week, his war scars should pay off in more explosive plays.  " He's really learned a lot…I saw an urgency, even in yesterday's practice…I think his endurance will build as he prepares and the weather cools throughout the season."
All said and amid talk of fan unrest, Richt is starting to sound like the great coach of 2005 when the Bulldogs claimed the SEC title.  "They (Coastal Carolina) are coming in here to knock us off.  We've got to execute.  We're looking to play the very best we can.  Everyday our focus must be on finding ways to get getter.  That's all we can do.  At this point forward we're looking to winning the Eastern division and going forth to win the SEC.
"I left the field sick (last week) about losing but encouraged about the team…There's a lot of football left…I think we can compete with any team in the league.  There's not a cloud hanging over us.  What I'm seeing with these guys is their belief in each other and in what we're doing.  We're going to keep improving and battle them one at a time…" 
On Saturday, as fall nips the humidity out of a fan-filled Sanford Stadium, Richt and his team will be under the scrutiny of fans, boosters and media.  Their coach has declared the stuff that great teams are made of and maybe he'll prove that neither he, nor his boys, have not—as many have declared—buried their bones in the Georgia clay just yet.