Best College Football Games of Week 3: How Good Is Oklahoma?
September 15, 2011
Ronald Martinez/Getty Images
Is Notre Dame headed for a disappointing start, dropping to 0-3? Is Nebraska a legitimate BCS championship contender? Is Florida State back among the perennial college football powers or is Oklahoma clearly the team to beat?
College football fans have to be salivating with so many marquee games and several big questions to be answered this early in the football season.
This week's top 10 college football games include:
No. 3 LSU (2-0) vs. No. 25 Mississippi State (1-1)
The Tigers come into this game after resting their starters in the second half of their 49-3 rout of Northwestern State. The Bulldogs, on the other hand, come into the game physically and emotionally bruised. Mississippi State lost to Auburn, 41-34, by the length of a football on the last play of the game and might not have the services of center Quentin Saulsberry and left tackle James Carmon.
Pick—LSU will make it 12 wins in a row over Mississippi State as the Bulldogs suffer an emotional hangover from their Auburn loss. 
No. 4 Boise State (1-0) vs. Toledo (1-1)
Late in the fourth quarter, Toledo had a legitimate shot at upsetting No. 17 Ohio State, but ultimately fell short, 27-22. Therefore, the Broncos are not taking the Rockets for granted despite winning last year's matchup, 57-14. Boise State may be without the services of projected starters Cedric Febis (safety) and Geraldo Boldewin (receiver). Rockets fans should be rocking; the Broncos will be the highest ranked team ever to play in Toledo's stadium.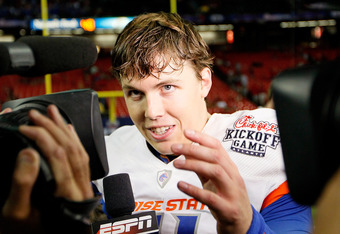 Kevin C. Cox/Getty Images
Pick—Toledo will keep it close, but Boise State's Kellen Moore will rally the troops for a late blowout of the Rockets.
No. 18 West Virginia (2-0) vs. Maryland (1-0)
West Virginia quarterback Geno Smith has been impressive in leading the Mountaineers in the first two games of the season with 620 passing yards, six touchdowns and no interceptions.   Unfortunately, the Moutaineers' running game has all but disappeared with Noel Devine. Maryland was impressive two weeks ago in its 32-24 win over Miami (Fl) and quarterback Danny O'Brien might be able to keep up with Smith as he had 348 yards and a touchdown against the Canes.
Upset Pick—Maryland gets the Randy Edsall era kick-started with an upset win over the Mountaineers.
No. 21 Auburn (2-0) vs. Clemson (2-0)
Auburn appears to be picking up where they left off from last year, as the cardiac kids of college football, with two late fourth quarter victories. Tigers backup safety Ryan Smith stopped Chris Relf at the goal line on the game's final play to preserve a 41-34 victory and extend Auburn's winning streak to 17. 
The running backs should have a big day as Middle Tennessee is the only FBS team to have allowed more rushing yards than Auburn. Clemson has also had problems stopping the run, as evidenced by allowing Wofford to rush for 272 yards last week.
Tom Pennington/Getty Images
Upset Pick—Clemson has lost the last two meetings against Auburn in overtime, but this time Clemson will have the last laugh.
Washington (2-0) vs. No. 11 Nebraska (2-0)
Last year, Nebraska throttled Washington, 56-21, in Seattle in a game that propelled Taylor Martinez briefly into the Heisman Trophy race. Washington subsequently won the rematch in the Holiday Bowl, 19-7, in a lackluster game.
Both teams have done enough to stay undefeated this season, but neither team has looked impressive. If the Cornhuskers want to be taken seriously as a team capable of playing in the BCS Championship Game, they need to show up against Washington.
Pick—Nebraska wins ugly again.
No. 15 Michigan State (2-0) vs. Notre Dame (0-2)
The Spartans, along with Wisconsin, appear to be the class of the Big Ten. Notre Dame has failed to play a solid four quarters and, after their collapse against Michigan, it appears that their defense once again is their Achilles heel. Michigan State's senior quarterback, Kirk Cousins, may be the best pro-style quarterback prospect in the Big Ten and he should be able to move the ball successfully against the Fighting Irish.
Upset Pick—Michigan State wins, but Notre Dame should be in the game as Michael Floyd is among the best receivers in college football.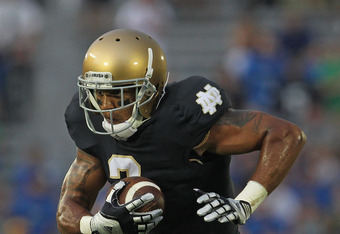 Jonathan Daniel/Getty Images
Tennessee (2-0) vs. No. 16 Florida (2-0)
Both teams have more than 30 freshmen and so far neither team has played a team that would allow us to truly gauge their quality. The Volunteers have lost the last six games against the Gators and last year's game was not as close as the 31-17 score would indicate. Tennessee's sophomore quarterback, Tyler Bray, has been exceptional in throwing for 698 yards and seven touchdowns.
Pick—Florida and Bray play well, but fall just short in the Swamp.
No. 23 Texas vs. UCLA
Last week, the quarterback controversy game of the week was Alabama vs. Penn State. This week, the Longhorns vs. Bruins tilt is the quarterback controversy game of the week in college football. 
Texas has switched starting quarterbacks, with Case McCoy taking the reins from Garrett Gilbert, who only had eight passing yards and two interceptions last week in Texas's 17-16 win over BYU. 
The Bruins lost starting quarterback Kevin Prince in their opener to a concussion. Richard Brehaut did not post big numbers against San Jose State, but the Bruins did beat them, 27-17. Coach Rick Neuheisel has not identified who will start for UCLA. Last year, UCLA started Texas's slide to oblivion when they came into Austin and thumped the Longhorns, 34-12.
Pick—Texas gets some measure of revenge over the Bruins in a close win.
No. 17 Ohio State (2-0) vs. Miami (FL) (0-1)
Which one is your favorite: Caught with a Hand in the Cookie Jar Bowl? The Probation Bowl? The Unsavory Booster Bowl? There has been no confirmation that the NCAA will grant the winner of the game with a reprieve from imposing the Death Penalty upon completing their investigation.
The Buckeyes beat Toledo, 27-22, but they did not always clearly appear to be the best team on the field. The Canes likely needed the week off to regroup after losing, 32-24, to Maryland in Week 1.
Pick—The Hurricanes and the impact of the suspensions on Ohio State finally catch up to the Buckeyes; they don't have the depth to keep up with the Canes.
No. 1 Oklahoma v. No. 5 Florida State
The Sooners would love to put a big loss on the Seminoles and create some separation between themselves and LSU, Alabama and Boise State. In the AP Poll, Oklahoma only holds a 133-point lead over No. 4 Boise State. A big win would also be a big boost for the Heisman hopes of quarterback Landry Jones.    
Florida State was blown out in Norman last year, 47-17, but this year's squad bears little resemblance to last year's team. The Seminoles, led by their quarterback, E.J. Manuel, exude confidence and this game should live up to expectations.
Pick—The Seminoles put the college football world on notice that they intend to compete for the BCS Championship, but in the end Oklahoma wins a close game.