AstroSmurf Swag: 4 Reasons We Are All Boise State Fans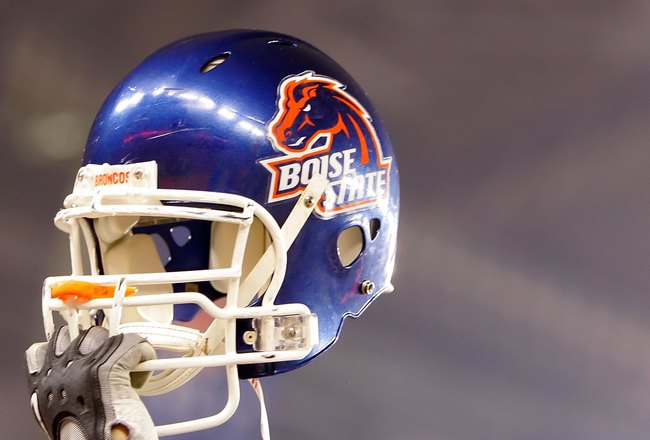 Lisa Blumenfeld/Getty Images
AstroSmurf!
Disappearing, reappearing Boise blue raspberry giants!
You smile when you visualize the color of Lyle Smith field. The very name AstroSmurf makes you chuckle, rolling off the tongue as if it were crafted by some sophisticated marketing machine. Quirkiness aside, chances are very good that in 2011 you are familiar with the story of Boise State football and this is exactly how the Broncos have designed it. The proverbial David conquering the oppressive SEC Goliath. It is a tale that transcends conventional statistics.
The humble university from the farmlands of Idaho has almost 10,000 fewer students than BCS counterpart Oklahoma and 16,000 fewer students (and surely fewer surfing enthusiasts) than fellow west coaster Southern California.
Whether you love or love to hate this perennial underdog, the passion for the little football engine that could dwells within every college football fan. If you fancy yourself a real BCS football enthusiast, I give you four of the many reasons we are all Boise State fans whether we realize it or not.
Bronco Stadium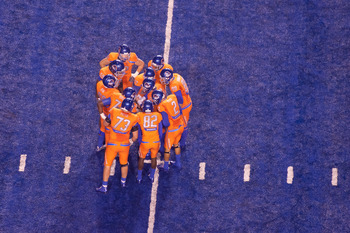 Turf only George Jetson could have designed...
Otto Kitsinger III/Getty Images
Ahh the turf.
Lyle Smith field on the campus of Boise State University is the one indisputable feature of Bronco football that put the team on the college football map. Like an amusement park midway gleaming of bright colors and shiny blinking lights, it is by the design of those who want your attention.
Before you know it, you are plopping down hard-earned cash in hopes of winning a game you know they can't win and yet can't walk away from. The bluest of uber-blue Bronco Stadium serves as the visual trigger that freezes autumn Saturday evening channel surfers in their tracks. The illusive BCS exposure smaller schools need requires a larger viewing audience. To achieve this they need to grab your attention.
As the originator of the color menagerie now seen in stadiums across the country and in vibrant uniforms covering players' backs, Boise and their beloved AstroSmurf have certainly captured our attention. I can't...stop...staring!
The 2007 Fiesta Bowl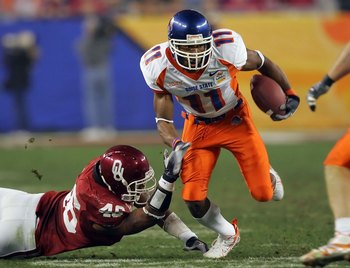 Remember when midnight never came for Cinderella?
Lisa Blumenfeld/Getty Images
When you are part of one of the most magical bowl game finishes in BCS history, expect some attention.
If you happen to come out on the winning end of said game, expect a severe increase in your bandwagon. When you win the game with a last minute comeback against one of the most heralded institutions in the history of the game, you now have your own page in the history book.
Capped off by head coach Chris Petersen's overtime decision to run a Statue of Liberty play now considered to be one of the most famous gadget plays of all time, you get a record book chapter all to yourself. Sprinkle in the daytime drama of post game marriage proposals and BCS analysts knighting your victory as possibly the greatest college football game ever played, you are now officially off the charts.
Kellen Moore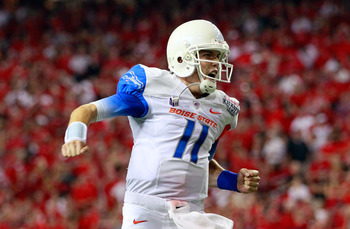 How can anyone dislike Captain Frosty?
Kevin C. Cox/Getty Images
Redshirted in 2008, Moore appeared to be destined for a college career as a big quarterback fish in a small school pond. Confined to playing in the often-ignored WAC conference, Moore led the Broncos to a 12-0 regular season record and a near miss in the 2008 Poinsettia Bowl against a fellow burgeoning program in TCU.
Moore continued his rise in 2009 as he earned ranking as one of the 40 best players in the nation while leading his Broncos to a 14-0 record including a second WAC championship and a redeeming Fiesta Bowl victory against TCU.
Moore's 2010 campaign added to his winning portfolio. He was nominated as a finalist for the Heisman Trophy and posted a 12-1 record with a share of a third straight WAC conference title. In 2011, Moore was honored as the best player in college football by the Sporting News among outstanding company including Andrew Luck and LaMichael James.
Over the past four seasons, Moore has thrown 102 touchdowns to just 20 interceptions and has over 11,000 passing yards while building a 38-2 record including huge wins over ranked opponents. Face it, the kid is good...real good and we like good.
Where the Big Boys Play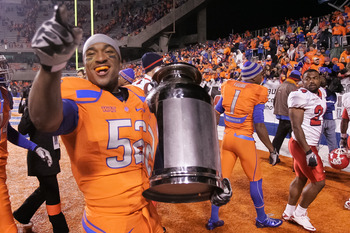 The trophy case is starting to fill up
Otto Kitsinger III/Getty Images
How does the story turn when David begins to bully Goliath? What happens when Vegas begins telling us that the smart money is on the little guy smacking around the big boys?
Four years ago, the only people who thought that the Boise State Broncos were capable of playing big time BCS football were those wearing the Boise State blueberry blue. Now each week we tune in with anticipation of the next powerhouse program to be sacrificed along the Boise State "We Belong" tour of destruction.
How can you not respect a team who throttles home conference opponents while asking for another opportunity to prove themselves against super conference monsters? There is no fear in this team, no limit to what height they can achieve, and no way we can ignore them any longer.
Keep Reading

Boise State Football: Like this team?