Eastern Michigan at Michigan: A Letdown Against the Eagles Is Highly Improbable
September 15, 2011
Gregory Shamus/Getty Images
I just so happened to catch Inside Michigan Football on the Big Ten Network yesterday at noon, and it was Michigan radio personality Jim Brandstatter talking to head coach Brady Hoke about the Wolverines' upcoming game this Saturday against Eastern Michigan. Hoke went on to tell Brandstatter how good of a job Michigan ex-defensive coordinator Ron English has done in Ypsilanti so far and that the Wolverines will "have their hands full" this Saturday.
I am going to go out on a limb and just say Hoke was being a nice guy.
Eastern Michigan is one of the worst teams in the Football Bowl Subdivision, and I think the previous three years can vouch for that statement, seeing as how the Eagles are a quite laughable 5-31 in that span of time. Let's not forget how many 50- to 70-point games Eastern Michigan allowed their oppositions to rack up.
Everybody has a notion that after a thrilling win—like Michigan had on Saturday night versus Notre Dame in the first ever night game at the Big House—your suspect to a letdown. Well, that may be true because after games like Michigan just had players are physically and emotionally spent.
Let's be realistic for just a second, though: An upset here just isn't in the cards. Michigan would have to throw its third-team offense on the field just so the Eagles could compete.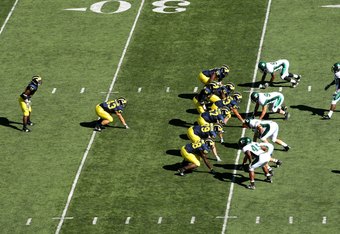 Stephen Dunn/Getty Images
I find it a bit humorous when people try to use Eastern Michigan's two wins this season to give them some sort of "fear" factor. Okay, so Eastern Michigan went out and beat two FCS opponents, big deal. Any FBS team is supposed to beat an FCS team—yes, upsets happen from time to time when teams are caught off-guard by specific FCS talent, but for the most part FBS teams put FCS teams on the schedule to do the FCS school a financial favor, knowing full well a blowout is highly likely.
The whole point here is to relax maize and blue fans that think Eastern Michigan has a legitimate shot to come into the Big House and win on Saturday. Don't get me wrong, anything's possible and upsets happen, but speaking in a realistic sense this is likely going to be target practice for Denard Robinson and a nice pay day for Eastern Michigan University.
That brings me to my next point. I am going to be an unhappy Michigan fan if I don't see Devin Gardner in this game at some point to play mop-up duty. Michigan has far too much offensive talent for Eastern Michigan to even dream of containing, and yes, Michigan's defense has a lot of work to do, but containing this offense isn't exactly the most strict of duties.
I just read an article on AnnArbor.com that talks about how Al Borges wants more stability in this offense and to develop more of a running game. Borges said running the majority of offensive plays out of the shotgun—which Michigan has done thus far this season—decreases the featuring of running backs in the offense, therefore he wants to have Robinson under center "a little bit more."
We all witnessed Robinson struggle mightily passing from under the center this past Saturday night against the Irish, and that is going to happen as he continues to develop his comfort not only under center, but in this offense in general. The point is, the Eastern Michigan game is a perfect chance for Robinson to kindle his skills as a pocket passer, while at the same time developing a running game.
You cannot blame Borges for wanting a running dynamic in this offense, after all it is generally a pro-style offense, and the best game we had from an actual running back this past Saturday night was five carries for 10 yards from sophomore Stephen Hopkins.
In conclusion, Michigan will win this game by 30-plus points. Robinson will use this Eagles defense for target practice, and the stable of Michigan running backs will come to life with excellent blocking from the offensive line.
Prediction: Michigan 52, Eastern Michigan 10