BYU Football: 10 Best Games in the Utah Rivalry
September 15, 2011
It is coming. Thanksgiving!
Wait, what? It's only September? But BYU plays Utah this week.
The biggest game of the year for both BYU and Utah is upon us. But unfortunately, a turkey dinner with multiple courses to honor the pilgrims is not. Humph.
Coming off losses last week, neither squad will be dancing with the BCS this winter. The consolation prize goes to—
On Saturday, Sept. 17, under the lights of LaVell Edwards Stadium, the collegiate champion of the state of Utah will be crowned (assuming that BYU gets a win at home against pesky Utah State later in the season, of course).
BYU Coach Bronco Mendenhall and Utah Coach Kyle Whittingham are tied 3-3 in this series since both men took over the head coaching jobs. Who doesn't love a good tie breaker?
This game is going to be great. I am listing it first below in the 10 greatest BYU-Utah games ever.
To those folks who pay attention to detail, you will notice that with one unique exception, this list includes BYU wins, only.
Yes, that is by design.  Journalistic objectivity is irrelevant during rivalry week.
1. 2011: LaVell Edwards Stadium
How can a game that has yet to be played make the list of the 10 greatest games in the history of this series?
USC and Texas. That's how.
In the inaugural game of the Pac-12, Utah played well enough in the Coliseum to be formidable and keep the Trojans on their toes.
BYU faced a ranked Texas team in Austin, losing by one measly point. The Cougars would have, could have and should have won the game was it not for poor offensive play calling in the second half.  (Dear Doman, since it was your second game as offensive coordinator, you are off the hook—for now.)
This game marks a new beginning in the BYU-Utah rivalry game.
Any given year an Irish-slaying BYU team could face a Rose Bowl contender in Utah. The upgrade is welcomed by fans, and the national spotlight will move west to catch a glimpse of the bitter battles in the picturesque Rockies. (Five of the last six games have been decided by a touchdown or less. You've got to see this, America.)
The future is now. This game makes the list of the great games in the history of BYU-Utah.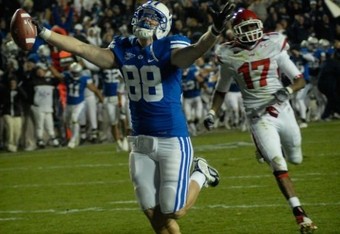 Heaps breaks out of a two-game funk and BYU wins it at home by at least two touchdowns.
2. 2009: LaVell Edwards Stadium
George is still running!
In a Mountain West Conference race dominated by BCS-bound TCU, the Cougars and Utes met in Provo tied for second in the league. ESPN GameDay was in Provo for the game.
Both teams came into the match ranked; BYU at No. 18 and Utah at No. 22.
Utah cut into Brigham Young's 20-6 fourth quarter lead to take the game into overtime. After a field goal on their first overtime possession Utah led the game for the first time, 23-20.
Chances looked bleak for the Cougars. With the Utes defense in control, BYU faced another third-and-long.
Max Hall then connected with TE Andrew George who charged for 25 yards to find the end zone.
"Somewhere in the north end zone at LaVell Edwards Stadium, BYU tight end Andrew George was buried under a sea of delirious Cougar fans. That George and BYU was in the end zone at all was just another miracle in the Blue vs. Red rivalry."
The football gods smiled down on Provo that night.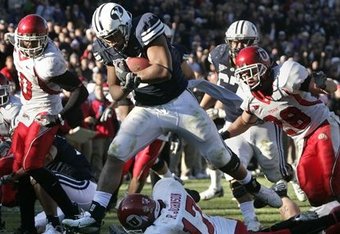 3. 2007: LaVell Edwards Stadium
Fourth-down and 18 yards to go?  No sweat.
"Starting with 94 seconds left on the clock, BYU faced a fourth-and-18 on its final drive but quarterback Max Hall connected with Austin Collie for a 49-yard gain that gave the Cougars new life."
RB Harvey Unga finished the BYU drive with an 11-yard touchdown run.
With a little time still left on the clock and down 17-10, Utah got the ball. With no time left, quarterback Brian Johnson threw for the end zone, only to have his pass batted down.
The win capped off an MWC championship and a perfect conference record for BYU. The Cougars went on to beat UCLA in the Las Vegas Bowl.
4. 2006: Rice-Eccles Stadium
Touchdown, BYU! 
No time left on the clock. BYU 33, Utah 31.
And yes, Harline is still open.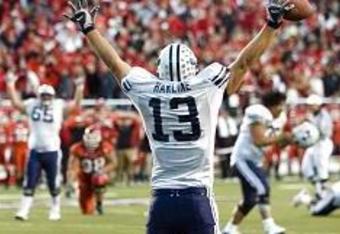 Down 31-27, BYU threatened to score on a last-minute drive. With 35.6 seconds left, the Cougars faced fourth-and-4. Quarterback John Beck connected for 17 yards with Jonny Harline, keeping the Cougars' hopes to finish the season undefeated in the Mountain West Conference alive.
After several plays, the clock ticked down and BYU faced its final chance to get the ball into the end zone.  Utah dropped defenders back and Beck scrambled for 11 seconds before he found Harline, the hero, standing wide open in the end zone.
"I've been involved in so many backyard games to know if you can take some time and run one way, someone else may have a chance to sneak out the other side," Beck said.
BYU went on to destroy the Oregon Ducks 38-8 in the Las Vegas Bowl.
5. 2001: LaVell Edwards Stadium
A highlight game happened during the Crowton years?
Yep.
Star running back Luke Staley led BYU to nearly break the BCS in 2001 in Gary Crowton's first year as head coach. No team had ever done so.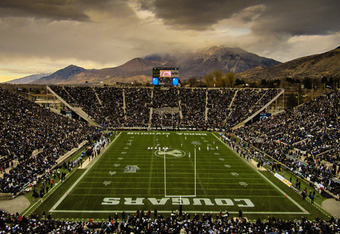 With that pressure on their shoulders, the ninth-ranked Cougars (10-0) came from behind to beat Utah 24-21. (They then lost Staley to injury in a win at Mississippi State and lost 72-45 at Hawaii in the final week of the season, missing the BCS party.)
Down 21-17 with under 2 minutes to play, BYU had the ball on Utah's 30-yard line.
Brandon Doman handed off to Luke Staley and the rest was history. 30-yard touchdown! Brigham Young!
"If you never saw Staley play, he was like a combination of wrecking ball and a track star. I've never watched a more exciting running back in college who wasn't named Bo Jackson or Ricky Williams." –Greg Wrubell, KSL
Utah's desperation drive with a minute left on the clock resulted in an interception to seal the game.
6. 2000: Rice-Eccles Stadium
Farewell to a legend.
In Coach LaVell Edwards' final game, quarterback Brandon Doman led BYU to an unlikely come-from-behind victory. Sorry Utes, it wasn't in the stars to send LaVell away a loser.
Now if only Doman could channel the stars again to learn to call a decent set of plays to finish his team's offensive drives with points on the board.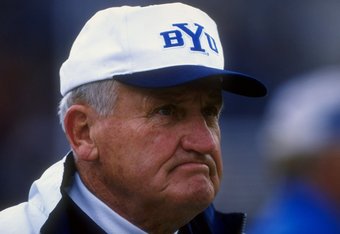 Tom Hauck/Getty Images
Thirty points in two games ain't nothing to be proud of, Mr. Offensive Coordinator.
Now, back to 2000. LaVell had announced his retirement. His final game would be in Salt Lake City. Colorado State would be crowned champions of the Mountain West Conference. (Yes, folks, Colorado State used to be more than a cupcake.)
BYU had already suffered six losses on the season. Another loss would have sent Edwards out with a 5-7 mark—not a good way to go.
BYU led 26-10 at the end of the third quarter and then coughed up 17 unanswered points. With under two minutes to play, the Cougars faced fourth-and 13 from their own 17 yard line.
All signs showed that LaVell would end his legendary tenure at BYU with a losing season.
Not so.  
Brandon Doman took over. Four plays later he marched into the end zone with 13 seconds left on the clock and handed coach LaVell one last miracle.
(Hey coach Doman, any chance you wrote down a few of those plays to recycle on Saturday? Just a helpful thought.)
7. 1999: Cougar Stadium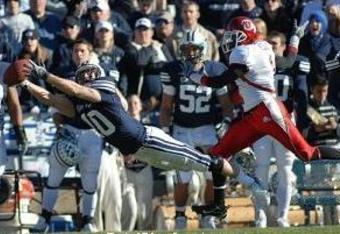 Okay, okay.
I am including one Utah win on this list.  I'm not concerned about the final score or how high which team was ranked before this game yada, yada, yada.
For memory's sake, though, the 1999 game is in the history books.
Sitting in the stands next to my dad, we watched in disgust as Utah went up 20-10 and a Ute male cheerleader ran around the stadium holding his flashy flag.
At that moment, a deranged BYU fan below us jumped onto the field and tackled the cheerleader.  Mouths gaped open, we felt a little happy inside watching the red U flag fall to the ground.
The unfolding drama only got better. 
Utah cheerleader Billy Priddin turned the nameless fan on his back and punched him hard in the face seven or eight times before security was able to pull him off of his knees.
From the Utah sideline, one player taunted BYU fans by yelling "Even our cheerleaders are kicking your butt."
I am laughing at the scene replaying in my mind. BYU athletic director Vale Hale didn't find the incident funny in the least, but I am sure glad I was there to witness it in person.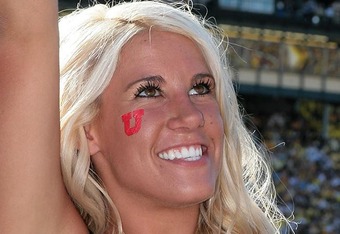 Don't mess with a male cheerleader. He'll kick your butt.
8. 1998, Rice-Eccles Stadium
Doh, Kaneshiro!
This game is another personal memory with a priceless ending. 
BYU t-shirt in blue, $15. Ticket to see the only game I've ever watched at Rice-Eccles Stadium, $30 maybe. Watching a sea of red-clad fans hanging their heads and hurrying for the exits while we chanted B-Y-U, B-Y-U, priceless.
First off, an aside: 16-team super conferences do not work.
The WAC tried it in 1996 with BYU, Utah, New Mexico, Wyoming, Colorado State, TCU, Rice, Tulsa, SMU, UTEP, Air Force, San Diego State, Hawaii, Fresno State, UNLV and San Jose State. The conference broke into two after three years.
Okay. Aside, done.
BYU came into the 1998 BYU-Utah game with one conference loss and a ticket to play in the conference championship pending a win.  (The Cougars went on to lose the championship game 20-13 to Air Force.)
Late in the fourth quarter BYU led the game 26-24. Utah drove all the way to the 15-yard line as the clock ticked down for one final play.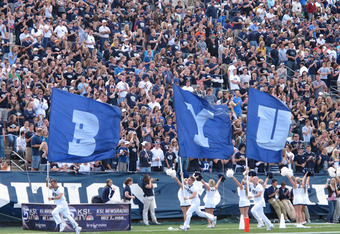 Ryan Kaneshiro's foot connected for the 32-yard field goal attempt. 32 yards? That's a gimme!
The stadium erupted in celebration as soon as his foot made contact with the ball.
Doink! Denied.
The ball bounced off the right goalpost so hard that it caused the post to shake. Ute fans went home cursing. 
Glorious!
Ty Detmer would go on to win the Heisman Trophy at BYU in 1990.
In 1989 he would lead Brigham Young to a 70-31 victory over nemesis Utah.
This game is on the list to inspire the lackluster offenses of both 2011 squads. Consider it a challenge, boys, to put 101 points on the board.
BYU scored a quick 56 points on its first eight possessions of the ball game and amassed 750 yards of total offense.
Why was Roger French demoted from offensive coordinator to offensive lines coach the following year? Can someone explain this to me?
10. Dec. 4, 1896
BYU doesn't recognize this game officially.
Brigham Young Academy played football from 1896-1898 and then the sport was canceled until 1922. BYU does not officially consider any games played prior to 1922.
So, why is this date on our list?
Dec. 4, 1896 was a good day in sports history. It marks the first time Brigham Young beat Utah. 8-6 was the final score.