Despite FCS Status, Coastal Carolina a Pivotal Matchup for Georgia Bulldogs
September 15, 2011
Kevin C. Cox/Getty Images
Sometimes you need a little sunshine to break through the cloudy days.
Georgia takes on Coastal Carolina this Saturday in what figures to be a game dominated by the athletically superior Bulldogs.
But for Mark Richt and his squad, this weekend represents much more than the typical sleepwalk victory over an FCS opponent. 
An 0-2 start is never a good beginning for any football team, let alone one competing in the SEC against some of the nation's best.
At this point, a victory—any victory—would be a welcome change of pace for those Bulldog fans who have spent the short lifespan of this college football season wallowing in winless sorrow.
Richt knows this. The team knows this. You can be sure that UGA athletic director Greg McGarity knows this.
In fact, it was McGarity who stated rather bluntly on Monday that there is no solace to be taken in "moral victories" in games against arguably superior opponents in Boise State and South Carolina. 
That's why Saturday is so important.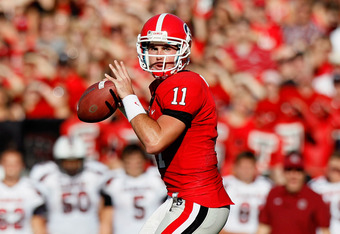 Kevin C. Cox/Getty Images
While Georgia has started the season 0-2, they have played two top-10 opponents, an opening duo as equally undesirable as the outcome.
It's true that other SEC programs have dispatched elite teams to start the season, most notably LSU's win over Oregon and Alabama's victory over Penn State.
But Georgia is not LSU, nor is it Alabama. Georgia is a young team seeking to gain its equilibrium after a dizzying first couple of weeks that has seen them hyped, publicized, criticized and ultimately ostracized.
This is a team that needs a chance to get back on its feet and gain a sense of swagger before heading into a favorable SEC schedule.
The 'Dawgs have home games against the tougher opponents (Mississippi State and Auburn) while catching recently struggling teams on the road (Ole Miss, Tennessee and Vanderbilt).
While there are no guaranteed wins in SEC play, it would be hard to believe that Georgia, based on sheer talent, would not be favored to win the majority of their remaining games.
Therein lies why an obscure team like Coastal Carolina could be pivotal for success. These players need some confidence. They need a chance to stretch their legs and prove to themselves that they are a quality team.
In the end it's Coastal Carolina, but if you have ever played the sport you know how much the chance to dominate an opponent can stroke your ego.
Georgia is not a team lacking on skill or coaching, as hard as it may be for some fans to admit. Richt may be a stoic face on the sidelines but he knows how to run an SEC football program.
Likewise, embattled offensive coordinator Mike Bobo displayed against South Carolina why he holds the reins to a unit headlined by dynamic play makers such as freshman Isiah Crowell, Orson Charles and Aaron Murray.
Rather, Georgia is a team that simply needs to remember how to win. 
Saturday should provide a good reminder.