Oregon Ducks Football: How Many Points Can They Score This Week?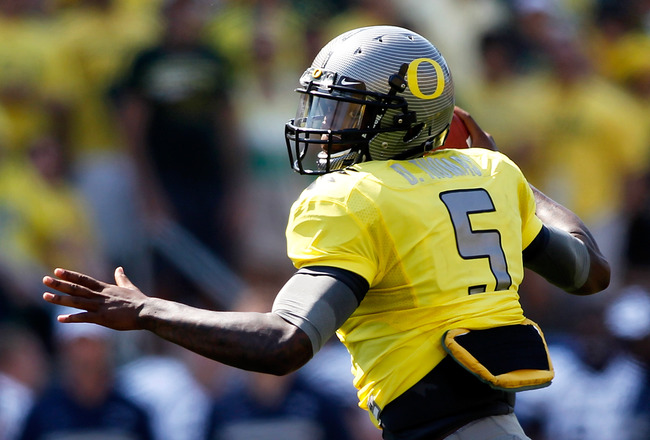 Jonathan Ferrey/Getty Images
The Oregon Ducks move on to Week 3 of their 2011 college football campaign, playing Missouri State.
After a very disappointing opening weekend for the Ducks—in which the team learned that they happen to match up very poorly against a high-powered SEC defensive team for whom they had over a month to prepare— Oregon looked to begin their path to redemption by pounding on the University of Nevada. In that game on Saturday, the Ducks went on to score 69 points.
For those keeping track at home, that's a ton of push-ups for Puddles, the school's charismatic and lovable mascot.
In the spirit of school starting up for college students across the nation, here's a pop quiz: "How many times can the Ducks score" is the title of what?
A) Popular College Drinking Game based on cups, flipping and beer.
B) A twisted way of betting on which birds will migrate to the bits of bread thrown at them in their pond. For bored individuals in more rural areas.
C) A casual conversation in which people wonder which students at the University of Oregon will get romantic action at a particular house party.
D) The title of this article, in which we examine how many points (and in what way) the Ducks should be able to score against Missouri State this weekend.
If you guessed "D," you would be correct! By the way, if you guessed "B," I find it a little odd that you're on Bleacher Report. But that's neither here nor there.
The spirit of this article comes entirely from predicting how and when the Ducks will score this weekend, a pastime enjoyed by many college football fans whose teams do not have to play Oregon on that particular week.
The team, which averaged 47.0 points per game last season, outscored its opponents by a total of 611-243 and broke 40 points in 10 of their 12 regular season games. In one of the other two they scored 37 points and won the annual Civil War game against Oregon State. They ended up with a victory in the other game as well.
Missouri State, who gave up 34.0 points per game last year, had a poor pass defense and finished 5-6 overall. They did not win a single game on the road (0-6), did not beat a single ranked team and gave up 72 points to Murray State (which apparently is a school?).
This season, when they had to play a ranked team in Arkansas, they gave up 51 points. After starting off this season 0-2, it's safe to say that this article has a grain of validity.
Passing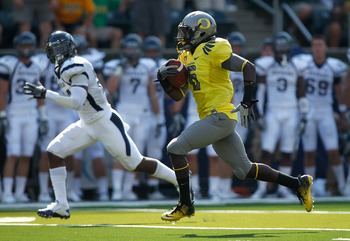 Jonathan Ferrey/Getty Images
The key to Oregon's first victory of the year was their passing attack against Nevada. The Ducks relied on the leadership of Darron Thomas, who threw for 295 yards and a school-record six touchdowns.
This is, of course, not to mention the fact that he played less than three full quarters of football and was on pace for ten touchdowns (and probably could have reached it if it weren't for the looming danger of a pointless injury) at the half.
His performance came with only 19 passing attempts. This is significant because he threw the ball 54 times against LSU and had less yards (240) and only one touchdown to show for it.
Expect big games from Rashaan Vaughn, David Paulson and Lavasier Tuinei. Tuinei, who is coming off of a performance in which he had three receptions and a touchdown, will try to capitalize off of the opposing defense.
The D. Thomas to D. Thomas connection seemed to have its groove as well, as Darron threw to De'Anthony twice. Both turned out to be touchdowns.
Nevada was a ranked team last season, was featured in a major Bowl Game, and ended up beating Boise State (one of very few teams that can say that they've beaten Oregon in the Chip Kelly Era).
Oregon was the number one overall school in the nation for much of last season, and was featured in the BCS Title Game. Missouri State finished sixth in the Missouri Valley Conference last season.
Last year, Missouri State gave up 281.5 passing yards per game compared to their own 211.3. To add to that, Missouri State gave up 22 passing touchdowns and only scored 10. Now they have to play a ranked Oregon team that is coming off one of their best passing performances in team history, and they are a team that averaged 244.5 passing yards per game and scored 31 passing touchdowns. We're talking about the same Missouri State team that gave up 570 passing yards and seven touchdowns to a guy named Casey Brockman last season.
Prediction: Oregon scores the majority of their points in the air, and Darron Thomas throws for five touchdowns. 35 Pushups for Puddles.
Rushing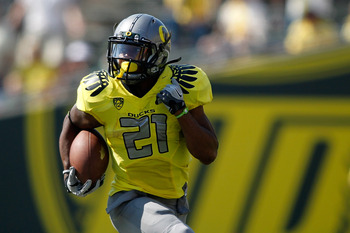 Jonathan Ferrey/Getty Images
In 2010, the nation's leading rusher went by the name of LaMichael James. He was the featured back at the University of Oregon, and under his lead, the team rushed for a total of 286.2 yards per game.
This helped the Ducks outscore opposing offenses on the ground by a margin of 41 touchdowns to 11.
The Ducks run a very fast blur offense, and against a poor defense like Missouri State, it's difficult to keep up with them. They hope to outrun and tire out the opposition, and Missouri State could very easily fall victim to that, as they've never had to play a team like Oregon before.
Oregon, who averaged 5.9 yards per carry last season, split rushes with six different runners for 43 rushing attempts last Saturday against Nevada. Kenjon Barner did not play against Nevada.
The team is deep, and it is difficult to stop a team that features backs like James, Barner and Thomas. Incidentally, the leading rusher against Nevada was actually their starting quarterback.
Even with a light day from LaMichael James (67 yards, one touchdown) and no carries from their number-two back, the team managed to put up almost 300 yards on the ground as they ended up with 272 total rushing yards.
Prediction: Another light rushing day from Oregon relative to their performances last season, except LaMichael James scores twice. Another back helps out the cause with a score as well. I'm also going to throw in a successful two-point conversion. 22 Pushups for Puddles.
Special Teams
Jonathan Ferrey/Getty Images
Oregon's fast-paced scheme helps them tenfold in the special teams game, as last season they had one of the best special teams units in the country.
Due to their fast nature, they are able to help run the ball up and down the field. In 2010, the team averaged 21.4 yards on kickoffs and 17.0 yards on punt returns. Last season, Oregon's special teams were ridiculously impressive.
In three games, they put up triple digits for kick return totals (Tennessee, USC, Washington), and in two games they had triple digits in punt returns (New Mexico, Washington). They scored five touchdowns from punt returns last season.
Between LaMichael James, Kenjon Barner, De'Anthony Thomas, and potentially even Cliff Harris now that he's bee activated, I would not be surprised to see the Oregon special teams finally put up some points this season.
Kicking is a more interesting story. While Rob Beard was near perfect on extra point attempts, he only attempted 13 field goals all season because 82 percent of the time that the Ducks were in the red zone, they scored, and 65 percent of the times they were in the red zone, they scored touchdowns.
That virtually means that of the 56 times they scored in the red zone, 44 of them were touchdowns. That's roughly four out of every five times.
Prediction: Let's give Oregon's special teams a touchdown and a field goal. 10 Pushups for Puddles.
Defense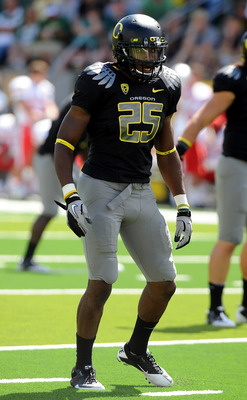 Steve Dykes/Getty Images
Fun fact: Missouri State does not exactly have a premier quarterback throwing the ball to their receivers.
Against Nevada, Oregon had three interceptions (Lokombo, Hill, Hanna) and one went 65 yards for a touchdown. Last season, Harris led the team with six interceptions and the team averaged 11.0 yards per interception.
For the Ducks, taking the ball away was more of an act that led to touchdowns rather than actually scoring them, as Harris and Boyett scored the only two Ducks interception touchdowns of the season. Lokombo also helped, as his fumble return last season turned into a touchdown.
Call me crazy, but I see big things for Cliff Harris in this game assuming he plays big numbers. We're talking about Missouri State, not Auburn.
If this team was able to limit Heisman Trophy winner Cam Newton to a total of under 275 yards as well as pull of an interception, I think it's safe to say that the Ducks can put up big defensive numbers on Satrurday.
Prediction: One touchdown. Just one. No need to get ahead of ourselves. Seven Pushups for Puddles.
Final Prediction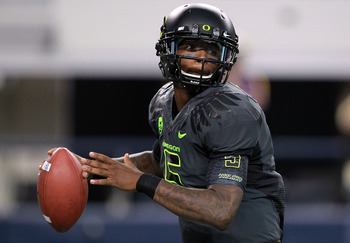 Ronald Martinez/Getty Images
Oregon continues their dominance and scores a total of 74 points at home against the 0-2 Missouri State team. Call me crazy all you want. Look at the team that they're playing.
I guess Oregon has got their swagger back.
Send me your thoughts; I'd love to hear what you think.
Keep Reading

Oregon Ducks Football: Like this team?