College Football: 50 Bold Predictions Heading into Week 3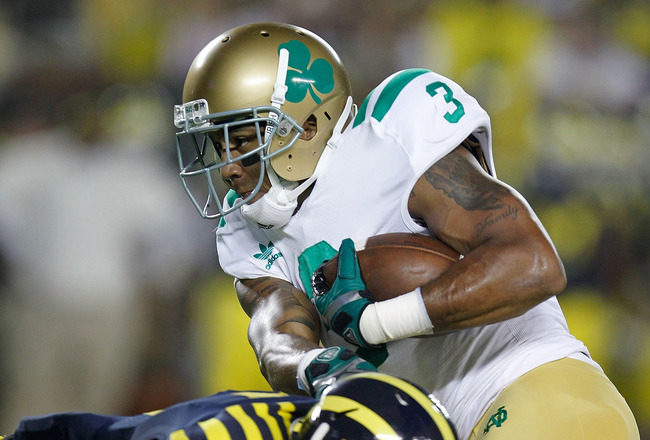 Gregory Shamus/Getty Images
As we head into Week 3 of the 2011 college football season, we have to wonder what stories will come out of this week's slate of gridiron matchups.
Will there be a triple overtime thriller?
A smaller FCS school triumphing over a powerhouse FBS school?
Will there be more NCAA or coaching drama?
Will Notre Dame finally win a game?
Only time will tell, but to tide you all over, let's take a look at 50 BOLD PREDICTIONS for things that could happen in Week 3.
Notre Dame Will Be 0-3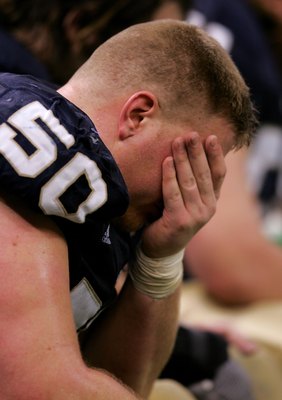 Matthew Stockman/Getty Images
The Fighting Irish are facing off against the Michigan State Spartans and will end up 0-3 to start the season.
Suddenly Tyrone Willingham and Charlie Weis don't look like the problems for the Irish, do they?
Instead, years of sub-par recruiting are showing the Irish faithful that their venerable program is not what it used to be.
And frankly, there are not that many bright spots on the Irish's schedule. Sure they can beat USC, but will they? And they should beat Wake Forest and Maryland, but can they?
Washington State Cougars off to Surprising 3-0 Start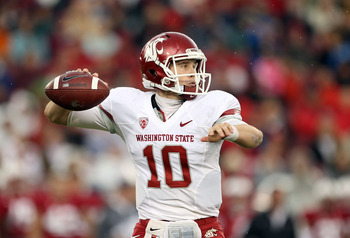 Ezra Shaw/Getty Images
With their win over San Diego State on Saturday, Washington State improves to 3-0 which is as many wins as the Cougars had in the 2009 and 2010 COMBINED.
Andrew Luck Will Have an off Game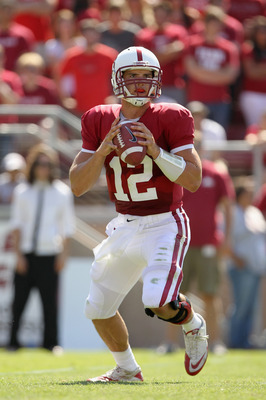 Ezra Shaw/Getty Images
The academic All-Star with the golden arm has an uncharacteristic off night vs. Arizona in the Tucson desert.
Mississippi State Will Knock off LSU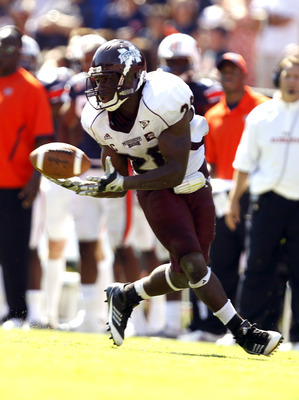 Butch Dill/Getty Images
Capitalizing on home field advantage, Mississippi State will take the Tigers to the woodshed and emerge with a win.
BYU Beats Utah in the Holy War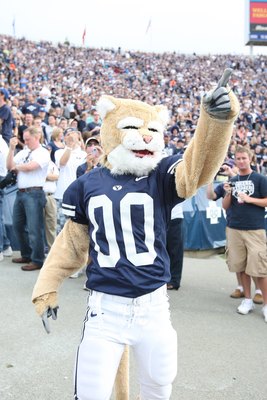 Melissa Majchrzak/Getty Images
Utah joined an automatic qualifier BCS conference this season, leaving BYU behind. The Cougars send a message that they are the team that should be in an AQ conference with a decisive win over the Utes, who then drop to 1-2.
Florida State Beats Oklahoma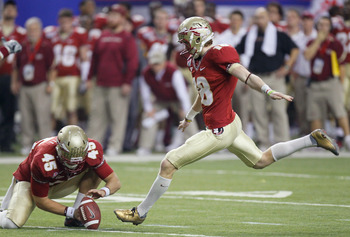 Kevin C. Cox/Getty Images
Florida State knocks the Sooners off and LSU falls to Mississippi State, elevating Alabama, Stanford and Florida State into the No. 1, 2 and 3 positions in the polls.
Nevada...0-2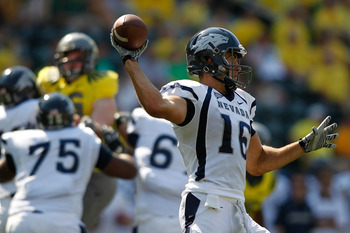 Jonathan Ferrey/Getty Images
After the beat down at Oregon, the Colin Kaepernick-less Wolf Pack drops their WAC opener to San Jose State
Lou Holtz Will Continue to Insist Notre Dame Belongs in the BCS Conversation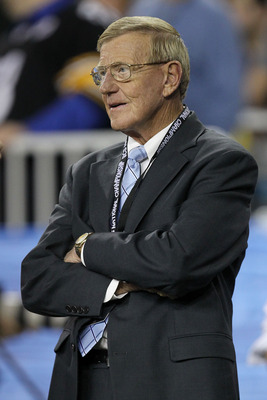 Ronald Martinez/Getty Images
Lou Holtz, showing the extent of his senility, will insist to Mark Mays and the rest of the College GameDay crew that 0-3 Notre Dame deserves to be in the BCS conversation. Blaming the start on coaching and an early season stumbling, he will proclaim the Fighting Irish will then go on to win the remainder of their games.
Larry Scott Will Dominate the Discussion During the Oklahoma-FSU Game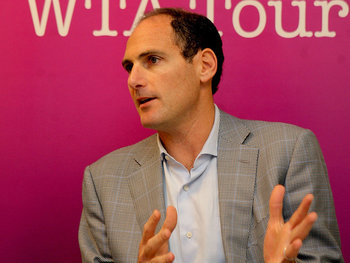 Much to the chagrin of Jimbo Fisher, sportscasters insist on talking to Pac-12 commissioner Larry Scott about Oklahoma's much reported desire to join the Pac-12, rather than the Seminoles performance on the field.
Mark Richt's Seat Grows Hotter as Georgia Drops to 0-3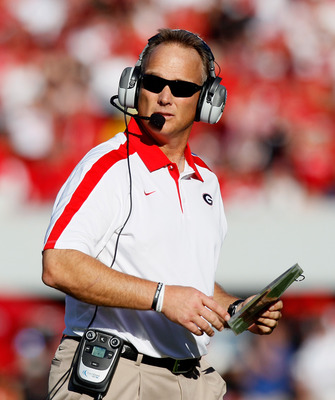 Kevin C. Cox/Getty Images
Georgia, humbled by two losses to start the season, doesn't regain their composure in time for Saturday and loses to Coastal Carolina at home.
At Least 2 Games Will Come Down to an Overtime Battle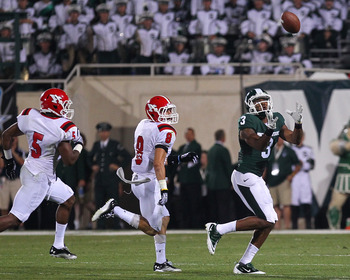 Dave Reginek/Getty Images
Two or more games will be decided in overtime by three or fewer points. But who? Iowa State vs. UConn? Notre Dame vs. Michigan State? USC vs. Syracuse? Wisconsin vs. Northern Illinois? Oklahoma vs. Florida State?
Case Keenum and Houston Will Be 3-0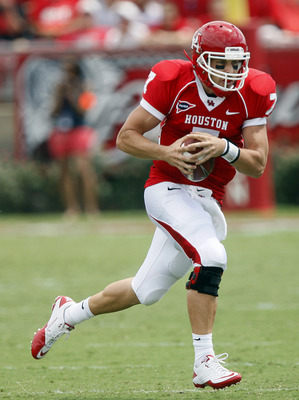 Bob Levey/Getty Images
After beating UCLA and North Texas, the Houston Cougars have a pretty clear shot at a perfect season. This week they are at Louisiana Tech and the rest of their schedule is:
vs. Georgia State
at UTEP
vs. ECU
vs. Marshall
vs. Rice
at UAB
at Tulane
vs. SMU
at Tulsa
Lou Holtz Will Spontaneuously Combust While Defending Notre Dame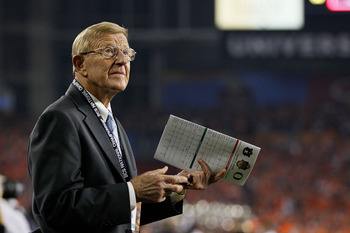 Kevin C. Cox/Getty Images
As his colleagues attempt to explain to him that Notre Dame being 0-3 is not a fluke and that the program is a bottom dweller and not a perennial powerhouse, Lou Holtz will finally become so angry that he spontaneously combusts.
Miami's Vaunted 2008 Recruiting Class Finally Lives Up to the Hype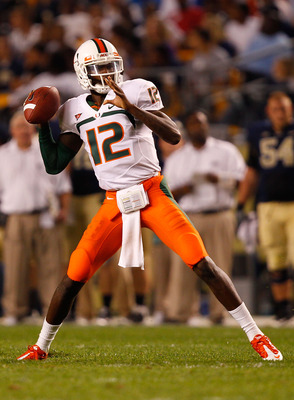 Jared Wickerham/Getty Images
For three seasons, we've waited to see when this former No.1 recruiting class out of Miami Northwestern High School would live up to their hype.
When the Buckeyes come to town, a Hurricane will hit them.
Iowa State (rather Than Iowa) Is 3-0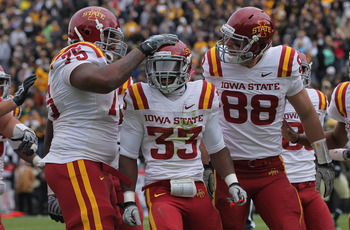 Doug Pensinger/Getty Images
The Cyclones won a triple overtime thriller versus Iowa last week. This week, they travel to East Hartford and put the beat down on the Huskies for a 3-0 start to their season.
Even Football Can't Quiet the Call for NCAA Justice
Nick Laham/Getty Images
With Ohio State and Miami playing in the Sanctions Bowl and Boise State's sanctions being handed down this week, even football will not be able to quiet the riff raff from discussing the state of the NCAA and its ability (or lack thereof) to fairly apply sanctions.
Oh wait, this is the NCAA COI we're talking about. There's nothing fair about it.
Paul Dee Spotted at a Buffet in Reno, Nevada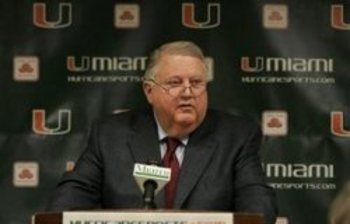 Paul Dee, formerly Athletic Director at Miami and Head of the NCAA's Committee on Infractions has been laying relatively low since right after the Nevin Shapiro scandal broke.
Eagle eyed football fans spot him loading his plate at a buffet in one of the Casinos in Reno, Nevada.
USC's Dillon Baxter Finally Sees Playing Time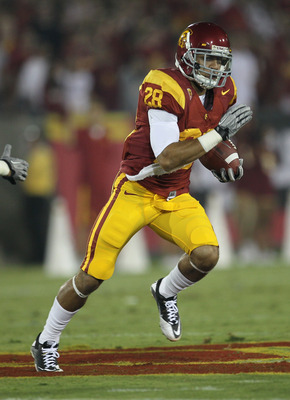 Stephen Dunn/Getty Images
Have you guys followed the Dillon Baxter saga at USC? He's been whining because he isn't getting playing time. Even his parents got in on the whining by calling a meeting with head coach Lane Kiffin. The RB is one grade-A Prima Donna, but this week will finally see some playing time for the sophomore with the attitude problem.
Las Vegas Sports Books Issue Policy on Overturned Scores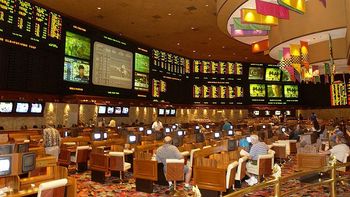 In the wake of the Pac-12 ruling two hours post game that the last second TD by USC was, in fact, good, causing them to cover the spread, Las Vegas casinos were chaotic. Some honored the new score, some didn't, some honored both.
A policy will be issued that states in no uncertain terms how situations such as this are to be handled.
The Big Ten Goes 7-2 on the Weekend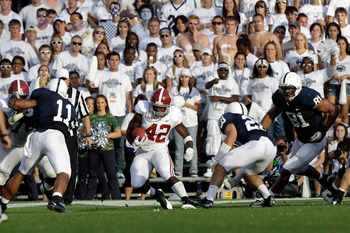 Rob Carr/Getty Images
Michigan will beat Eastern Michigan
Penn State will beat Temple
Iowa will beat Pitt
Minnesota will beat Miami (OH)
Nebraska will beat Washington
Northwestern will beat Army
Wisconsin will beat Northern Illinois
Illinois will lose to Arizona State
Ohio State will lose to Miami (FL)
Pac-12 Goes 6-4 in Week 3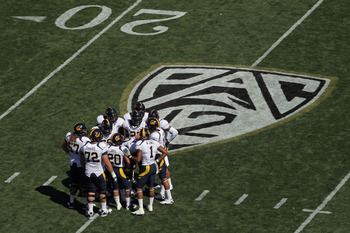 Doug Pensinger/Getty Images
The Pac-12, with 10 games this weekend, will go 6-4. (or 6-5 as it may be since Stanford at Arizona is a conference game)
Winners:
Oregon
Cal
Washington State
ASU
USC
Stanford
Losers:
Colorado
UCLA
Washington
Utah
Arizona
Thursday Night Football LSU vs. Mississippi State a Thriller to the End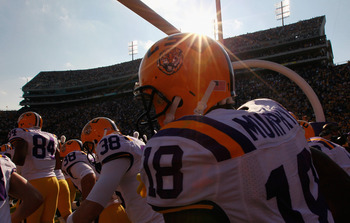 Kevin C. Cox/Getty Images
While Friday Night during weeks 1 and 2 gave us the instant classics: TCU vs. Baylor and Mizzou vs. ASU, in Week 3, Thursday night takes over with LSU vs. Mississippi State becoming the game that reminds us all why we love college football so much.
Two Quarterback Offenses Thrive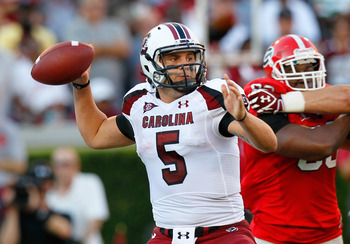 Kevin C. Cox/Getty Images
Entering Week 3, there are an unprecedented number of major programs who still have questions at QB. Unlike past years where two QB systems failed, in Week 3, these teams will win because of their two QB system: Penn State, Alabama, Miami and South Carolina.
Bettors Should Take the over in Pac-12 Games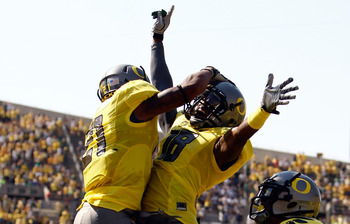 Jonathan Ferrey/Getty Images
The Pac-12 boasts several of the country's best quarterbacks. In Week 3, these offenses kick in and become high scorers, making the "Over" a good bet for this conference.
Two Teams in the Top 5 Will Lose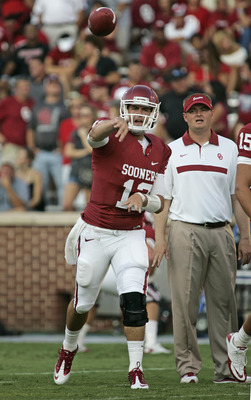 Brett Deering/Getty Images
Oklahoma, Alabama, LSU, Boise State, Florida State.
Two of those five will fall in Week 3.
Oregon Will Debut Yet Another Hideous Uniform Featuring Highlighter Yellow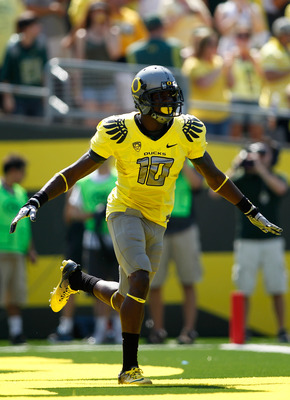 Jonathan Ferrey/Getty Images
Oregon, as famous for its uniforms as its football program, is not done searing our eyes out with their blindingly yellow uniforms. Like a sorority girl, Oregon never wears the same thing twice, and this weekend, the University of Nike unveils its most hideous combo yet.
Maryland's Helmets Cause Opposing Player (or Spectator) to Have Seizure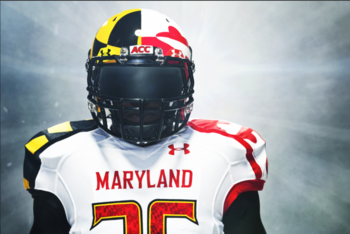 Someone, when a Maryland player is flying at them at the speed of light, will start to convulse from the rapidly moving and changing patterns.
(Yes, I know it is the state flag deconstructed. That doesn't make it less jarring to look at.)
Robert Griffin III Slips in Heisman Talks After Bye Week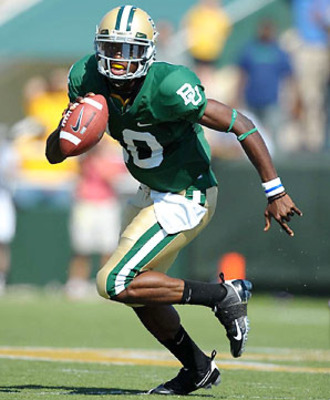 After a glorious performance in Week 1 versus TCU, Robert Griffin III has had two weeks off to digest the media storm and bask in the glow of the celebrity that comes with 359 yards and five TDs. The phrase Heisman candidate has been bandied about in connection with Griffin.
All that will stop this week when the Baylor Bears take on FCS foe Stephen F. Austin. Which is where the issue lies. Baylor does not play a schedule that can keep Griffin in the Heisman talks for long enough to become an actual contender.
LSU's Gloves Will Give Children Nightmares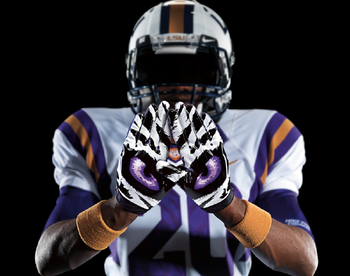 Go ahead. Look at them. Look closer.
Shudder.
Those will haunt my nightmares and I am (arguably) an adult.
The New "Excessive Celebration" Penalty Will Cost Some Team the Game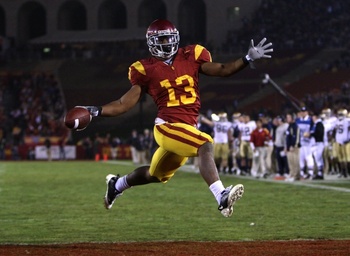 To paraphrase the new rule—basically if the ref thinks excessive celebration has taken place—the touchdown is nullified and the down is replayed.
This is a stupid rule and it is going to cost someone the game.
UNLV 0-3
Ethan Miller/Getty Images
UNLV's home opener is versus Hawaii. The Rebels will be 0-3 and on their way towards a winless season.
SEC Continues to Showcase High Scoring Offenses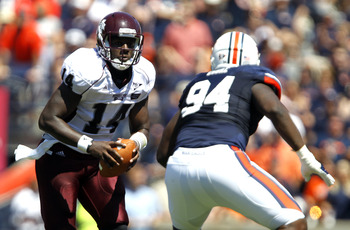 Butch Dill/Getty Images
You thought the SEC was a defensive conference? Not in 2011. Last week, Auburn vs. Mississippi State was a 41-34 contest and South Carolina vs. Georgia was 45-42 for a combined 162 points.
In 2010, those two matchups only produced a combined total of 54 points.
Take the over in LSU vs. Mississippi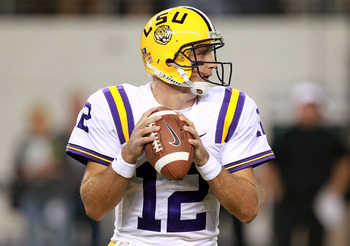 Ronald Martinez/Getty Images
The Highest Scoring Team in Week 3 Is Washington State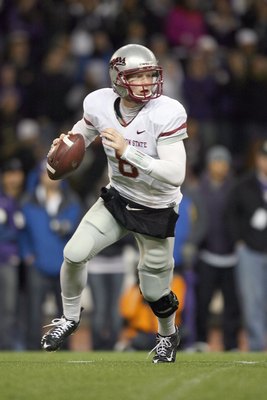 Otto Greule Jr/Getty Images
Washington State is averaging 61.5 points per game so far this season—which is the best in the nation. Look for them to dominate against San Diego State.
And that's all without starting QB Jeff Tuel.
Robert Woods Breaks His Own Single Game Recieving Record vs. Syracuse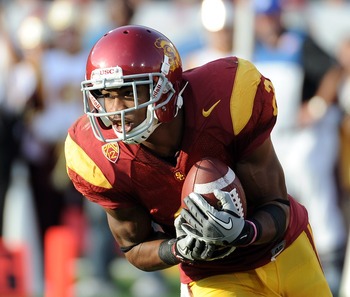 Harry How/Getty Images
UCLA Finally Fires Rick Neuheisel
Jeff Gross/Getty Images
Rick Neuheisel is 16-23 in just over three seasons at UCLA. When the team drops to 16-24, the UCLA Athletic Department will fire him immediately.
(As a Trojan alumna, I hope Slick Rick stays at UCLA forever and ever!)
Jacory Harris Will Throw 3 Interceptions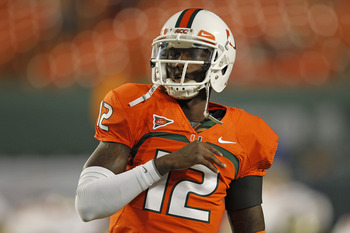 Joel Auerbach/Getty Images
Jacory Harris threw for more INTs in 2010 than TDs. The tide turns Saturday vs. Ohio State when Harris throws a relatively (for him) conservative 3 INTs.
BIG 12 Big Winners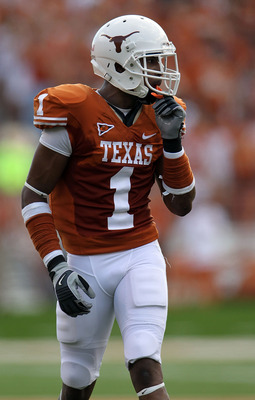 Ronald Martinez/Getty Images
Six Big 12 teams go on the road for the first time this weekend and overall, the Big 12 will win nine out of 10 games.
Texas will beat UCLA
Texas Tech will beat New Mexico
Missouri will beat Western Illinois
Oklahoma State will beat Tulsa
Kansas will beat GA Tech
Iowa State will beat UConn
Baylor will beat Stephen F. Austin
Texas A&M will beat Idaho
Kansas State will beat Kent State
Utah Questions Effectiveness of Norm Chow When They Drop to 1-2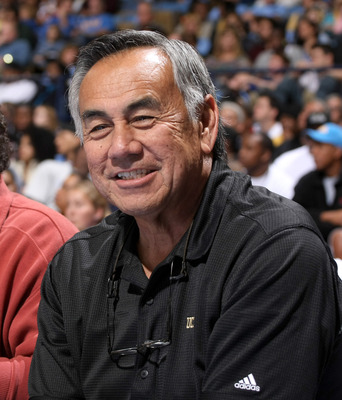 Stephen Dunn/Getty Images
Norm Chow was a genius at BYU, NC State and USC.
He's been largely a bust at the Tennessee Titans, UCLA and now, Utah.
Sure, it's early in his run, but for the money he's paid, results are expected and his recent track record isn't cause for celebration.
Clemson Beats Auburn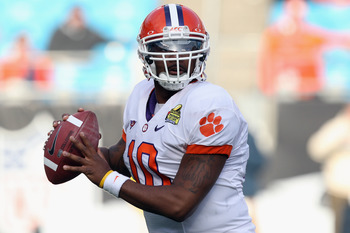 Streeter Lecka/Getty Images
The Clemson Tigers stun the War Eagle nation when they upset Auburn, who is still searching for an identity after losing the majority of their stars to early NFL exits.
Les Miles Will Bungle Clock Management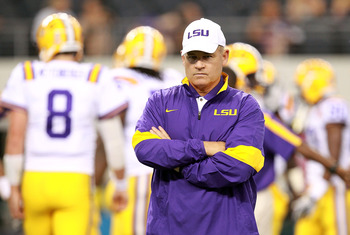 Ronald Martinez/Getty Images
Les Miles is well known for curious decisions, yet luck seems to be on his side. That luck will run out this week vs. Mississippi State.
USC Dominates Syracuse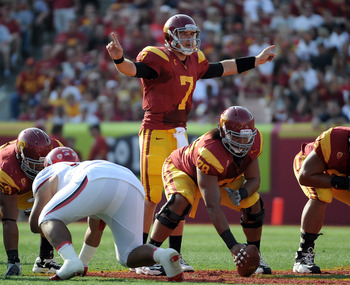 Harry How/Getty Images
USC shows no signs of depth problems, inexperience, lack of focus or questionable play calling in a dominating win against Syracuse at the Los Angeles Memorial Coliseum.
Brian Kelly Feels the Heat from ND Boosters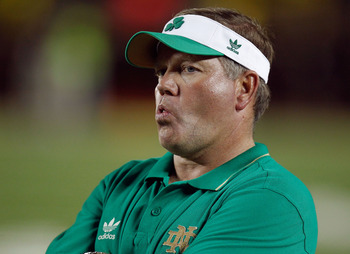 Gregory Shamus/Getty Images
Dropping to 0-3 is just not acceptable at Notre Dame. Just ask Ty Willingham and Charlie Weis.
Boosters start the campaign to oust Kelly when the Irish fall to 0-3.
JoePa Returns to the Sideline vs. Temple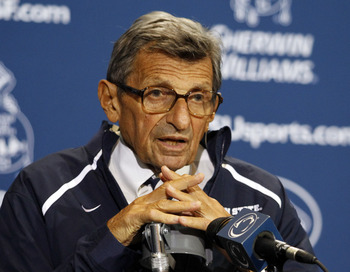 Justin K. Aller/Getty Images
JoePa has been coaching from the press box, and this is understandable. After all, he may be an icon, but he is also a fossil. However, Paterno can't resist the draw of the sideline against this Pennsylvania rival.
Turnovers Will Cost an FBS Team the Game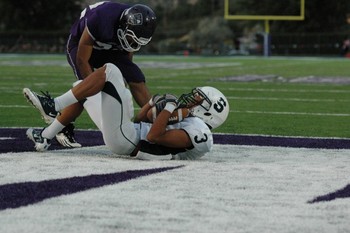 Turnovers always screw things up and this week is no different as one team will attribute their offense's inability to hold onto the ball as the reason for their loss.
Wisconsin Manhandles Northern Illinois
Jonathan Daniel/Getty Images
This game, played at Soldier Field, will make a big case for Wisconsin in the BCS title discussion as the Badgers thoroughly dominate and decimate their opponent.
Matt Leinart Pines for USC Glory Days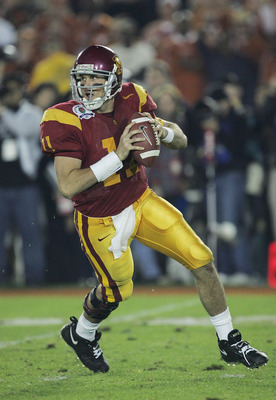 Stephen Dunn/Getty Images
Somewhere Matt Leinart sits alone in a dark room wondering how it all went wrong and pining for his glory days at USC.
(We will ALWAYS love you at Troy, Matt!)
Mike Leach Enters Serious Discussions to Take over Troubled Program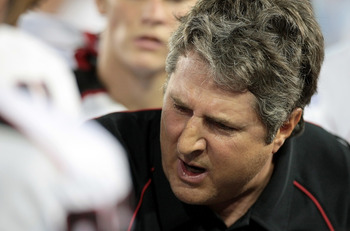 Thomas B. Shea/Getty Images
Mike Leach, biding his time and writing his tell-all book about what a giant jerk Craig James is, is ready for his next big head coaching gig. Where will he land?
UCLA?
Illinois?
In a Stunning Turn of Play Oklahoma Loses to Florida State on a Wide Right Kick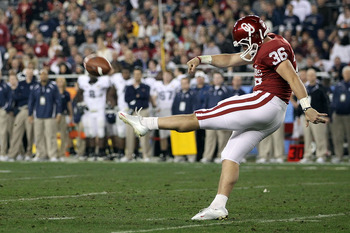 Christian Petersen/Getty Images
Oklahoma—Florida State comes down to the final moment and the Sooners are in field goal range. The Seminoles look on as Oklahoma's kick goes wide right, sealing Florida State's upset win over the Sooners.
Another FBS School Succumbs to NCAA Scandal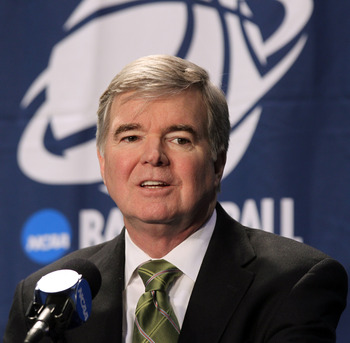 Nick Laham/Getty Images
Reggie Bush, Tattoo Gate, Nevin Shapiro... the NCAA scandals have hit this sport we love far and wide.
But it's not over and this weekend, new allegations come to light.
Keep Reading