8 Areas the Crimson Tide Needs To Improve Against North Texas
September 14, 2011
Greg McWilliams/Getty Images
Normally I do a preview of the upcoming game about mid week,  but after looking over the Mean Green I didn't see much to challenge the Crimson Tide.
Alabama, however, is about to run head long into the strongest conference in America starting with Arkansas.  Arkansas is scoring over 50 points a game so far.
So what is the challenge this week against North Texas?  The challenge is to get better. If Alabama is to make a return trip to Atlanta they need to get better every week.  There are some areas of concern in this young season.
Defensive Line Pass Rush:
Alabama has played two games against less than stellar offensive lines and has only gotten four sacks.  Of that number only 1.5 sacks came from the defensive line.
Quinton Dial broke loose against a tired Kent State offense late to get one and Nick Gentry got a half sack.  They produced nothing, zip, nada against Penn State. For that matter, the entire defense got zero sacks against Penn State.
Alabama has been working hard, changed coaches and may have even changed recruiting strategy to resolve this problem and seem to be no closer to solving it.  No matter who Alabama is playing they had better work hard on shedding blocks and getting to the passer.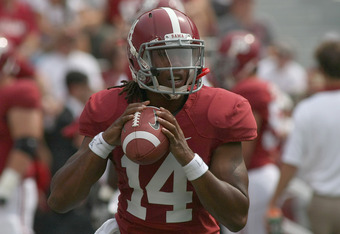 Greg McWilliams/Getty Images
Quarterbacking:
Though AJ McCarron has looked good for two weeks this is no time to relax. He is far from experienced. 
Backup quarterback Phillip Sims struggled in his first action against Kent State.  North Texas will give him another opportunity for extended playing time.  It's understandable that the speed of the game is a shock to a quarterback who has never played. 
This week we will get to see how much he has adjusted since then.  Sims needs to be able to execute the offense if McCarron is injured. Alabama's season could hinge on it.
Future Jack:
Courtney Upshaw is playing his final season at Alabama.  The most experienced backup is Alex Watkins who will also graduate.    Backups Adrian Hubbard, Anthony Orr and Xzavier Dickson need to step up their game.  One of those guys needs to take that position by force and be ready to succeed Upshaw next season. 
Alabama's defense needs a major talent at this position to succeed.  Alabama has recruited hard for that talent.  It's time for it to produce fruit.
Additionally when Upshaw was injured last season the defense lost most of its teeth.  Alabama needs someone else who can wreak havoc from that position.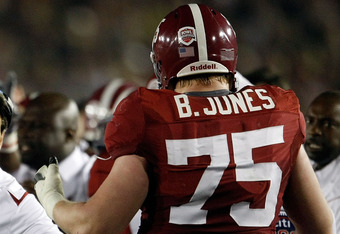 Jeff Gross/Getty Images
Develop Cyrus Kouandjio:
Alabama may play the season with Barrett Jones at left tackle and be OK.  There is no question, however, that getting Cyrus Kouandjio up to speed would give Alabama much more flexibility.
Doing so would allow Alabama to replace a middle of the road guard, be it Chance Warmack or Anthony Steen with an All-American guard. 
The interior rush game has been non existent and the most effective pass rush has been right over the guards.  Alabama needs better play inside and Cyrus is the key to getting it.
Get Darius Hanks Back in the game:
Darius Hanks is finished with his NCAA-mandated two week vacation.  Hanks is possibly Alabama's best receiver over the middle.  Alabama needs for him and his experience and leadership to get back in the game.
Hanks also needs to develop some game speed rhythm with AJ McCarron, after years of catching balls from Greg McElroy.
Needless to say, the McCarron balls come at different angles and velocity.
Where is Trent Richardson: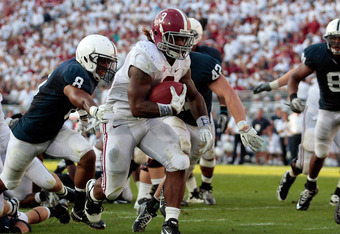 Rob Carr/Getty Images
Not many college football players entered the 2011 season with as much hype as Trent Richardson.  So far, Richardson has played winning ball, he's played well.  He's not played lights out.
Many penciled him in as a major Heisman candidate.  His lackluster yardage against Kent State could be viewed as a fluke.  He got more yards at Penn State.  Against the mean green Richardson probably won't play much, but he needs to average well over four yards a carry.   Any less than that and I think it's safe to say we overreached in our estimate of how good Richardson is.
With Eddie Lacy averaging almost double the yards per carry, Alabama may need to consider who is starting and who is coming off the bench.
Develop Blake Sims:
I don't know if Alabama will ever find a place for Blake Sims to contribute on offense.  I do know this guy has some freakish athletic abilities and if they could do that it would give Alabama a versatile weapon that will require game planning on the other side.
Every different weapon you can bring to the table on offense causes the defense on the other side to spread their work thin trying to prepare. Sims is young and I do believe he will be a weapon,  but sooner would be better than later.
Blake Sims has a unique skill set that could be a difference maker down the stretch. 
Focus Focus Focus:
One could argue that the biggest difference between the 2009 squad that won it all and the 2010 squad that fell short of expectations was their ability to unswervingly focus on the prize and not be satisfied until they were standing in Pasadena hoisting the crystal ball above their heads.
Alabama needs to get back that laser focus that allowed them to ignore all distractions and push off temporary celebrations for a lifetime of honor as champion of the college football world.