BYU vs. Utah: Will the Rivalry Thrive or Barely Survive?
September 14, 2011
Jonathan Ferrey/Getty Images
The change in conference addresses for Utah and BYU football programs over the past 15 months barely has the ink drying on the stationary, and some question the future of this entanglement.
Largely ignored on a national scale due to being stuck in the underexposed MWC TV Channel (MTN) for the last several years, BYU versus Utah will find its way onto ESPN this Saturday. Despite its earliest date in over half a century, the matchup will garner a significant deal of attention with the ongoing backdrop of conference realignment.
Utah has found its way to the greener pastures of the Pac-12, while BYU made the leap of faith to try football independence while placing basketball and most of its Olympic sports in the West Coast Conference (WCC).
BYU fans love to rave about their exclusive contract with ESPN and how they will get the exposure they feel they deserve. BYU fans point to their superior attendance and broadcast ratings garnered on TV.
Meanwhile, Utah fans love to point to their BCS inclusion and Pac-12 acceptance, and that they "no longer need BYU." Utah fans counter BYU broadcast ratings and attendance with their recent BCS busting successes of 2004 and 2008.
All this bickering for superiority from BYU and Utah despite the fact their rivalry has been one of the truest rivalries dominated by neither side over the past two decades. It essentially sits at .500 since 1990, each side winning half the games and no one winning more than four games in a row (Utah 2002-2005 the only such instance) and blowouts likewise being minimal in numbers.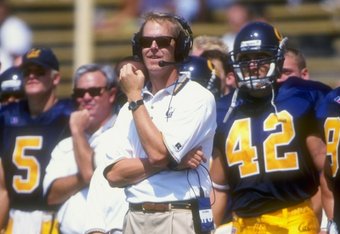 Otto Greule Jr/Getty Images
BYU however holds a 29-20 advantage during the WAC/MWC alignment era (1962-2010) although Utah holds an overall 51-31-4 advantage which includes the more distant past Rocky Mountain Conference/Skyline Conference alignments since 1922.
Eventually the debate takes on the appearance of academic snobbery. Utah points to their inclusion of an internationally renowned medical school accompanying biotechnical research facilities.
BYU fans love to point to their high U.S. News rankings for their Law and Business programs, which Utah fans counter by pointing out how few doctoral level graduate programs BYU has (only 25 at the PhD or equivalent level).
The debate could rage on forever and become just as divisive and nasty as some of the fan behavior in the stands has been over the past half century.
It is a true rivalry between two schools in close proximity along Utah's Wasatch Front metro-area.
Until the start of the WAC era, BYU vs. Utah was more of a secondary game, and the real in-state rivalry was the "battle of the brothers" featuring Utah against Utah State University.  Utah utterly refused to play BYU in Provo on a regular basis until 1964.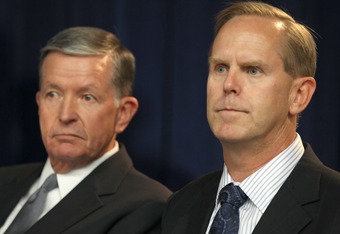 George Frey/Getty Images
There are many Utah fans who feel this should again be the case.  Many will argue that Utah's superior league alignment should give them the power to demand multiple Rice-Eccles Stadium (capacity 46,000) games against BYU for a single appearance by Utah at LaVell Edwards Stadium (capacity 64,000), despite the stadium capacity being still significantly less. 
The conference alignment issue has clearly pushed this game much earlier in the year than most fans my age or younger can ever remember.  By 1969, the WAC commissioner's office was regularly attempting to make BYU vs. Utah the final game of the year for both schools.
The Pac-12's Larry Scott obviously has a different agenda with Utah and Colorado who met regularly every year until the WAC formation in 1962.  Conferences are built around rivalries and one of the tragic ends to this realignment is the parting of ways between many institutions.  BYU vs. Utah might well end up being a future casualty depending upon a number of future factors I will point out.
Since assuming his post in March 2005, BYU athletic director Tom Holmoe has known there would more than likely be a parting of ways between Utah and BYU with respects to league affiliation that could leave BYU at a clear disadvantage.  He planned independence as an option to get around this and be a compromise position, either temporary or long term if need be.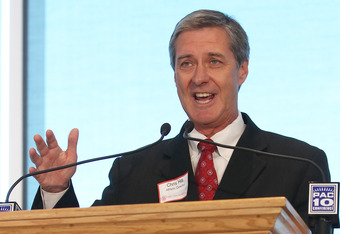 George Frey/Getty Images
Holmoe knew this largely due to the political division amongst the LDS Church hierarchy that governs BYU.  With respects to the academic direction of the school; being a teaching liberal arts university with enough graduate studies to keep it a major university as opposed to those who wish for BYU to become a major tier 1 research university.
There have been those at the top in the political management of BYU who have been opposed to the LDS Church's flagship institution moving into a larger more powerful conference such as the Big 12 or what was the Pac 10 despite the administration's desire to do so dating back 25 years. 
This despite at the same time desiring for the BYU athletic program to be an exposure or missionary tool for the LDS Church. 
More than anything these clashes created a significant amount of friction politically and lead to short 5-6 year tenure's for Holmoe's 2 predecessors since Glen Tucket's retirement in 1993.  
In all this political direction of BYU has contributed to where they have landed and where their athletic program will likely land and the continued relevance of this rivalry.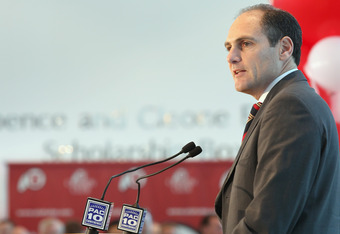 George Frey/Getty Images
Utah athletic director Chris Hill has been determined to keep the rivalry going despite the scheduling restrictions of his own new league, yet sadly many of his institutions fans question this desire.
Probably more than any Utah fan, Hill understands the political burdens his counterpart at BYU must labor under, and that due to these politics in part BYU hasn't had the fortune to land in a better more high profile league.
Similarly there is a mutual feeling that BYU will land in a favorable BCS conference or evolving super-conference position in the not so distant future.  But also that Utah should maybe feel a debt of gratitude to BYU for their more recent success?
After all BYU stood by Utah, and worked closely with them during the late 1990s when the WAC became a mid-major mega-conference disaster and the need for the MWC breakaway arose.
This despite the fact that Utah had very poor overall on the field football performances for the better part of two decades during the 1970s and 1980s when they virtually disappeared from the national picture in college football.
It was clear that the administrations and athletic departments at both schools had higher ambitions by the dawn of the MWC in 1998, only Utah's vision had not been fully realized by that point.
While both schools are determined to continue the rivalry, the future beyond 2012 becomes murkier as BYU will totter between football independence and what might emerge with the Big 12 conference, which if circumstances dictate Oklahoma remain aligned with Texas and the Pac-12 refuses to expand.
Rumor has it that if Oklahoma and Texas can settle their differences and somehow defy the odds and keep the Big 12 together, BYU will accept an invitation to replace Texas A&M.  By getting into a BCS affiliated league, BYU and Utah could have one of the most intense cross-league rivalries in the country even rivaling some of the SEC/ACC rivalries featuring the schools in Georgia, Florida and South Carolina.
But if the Big 12 completely implodes and the 16 team super-conferences evolve over the next year or two and BYU is left out, then the inevitable divide that BYU head coach Bronco Mendenhall often talks about could take its toll on BYU and its program given the limits of independence over the long term.
This divide between BCS affiliated schools and other FBS programs could become increasingly NCAA sanctioned, and if that's the case, this rivalry will fade into oblivion.