Michigan Football: The 5 Games with the Highest Attendance in Michigan History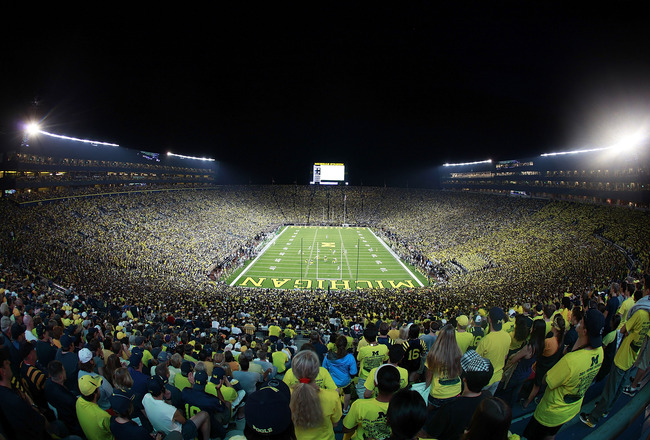 Leon Halip/Getty Images
This past weekend saw Michigan Stadium set a record for the largest attendance at a football game to date. A crowd of 114,804 saw Michigan defeat Notre Dame 35-31, setting an NCAA collegiate football attendance record for the modern era (in 1927, an estimated crowd of over 117,000 packed Soldier Field in Chicago to see Notre Dame face the University of Southern California). In 2004, Michigan set another record for average attendance over the course of the season with 111,025 Wolverine fans turning out for every home game.
Michigan fans are undoubtedly wild for their football team, which begs the question, what are the most well-attended games in Michigan Stadium history?
5) 112,276 Watch Denard Robinson Break Single-Season Rushing Record for QB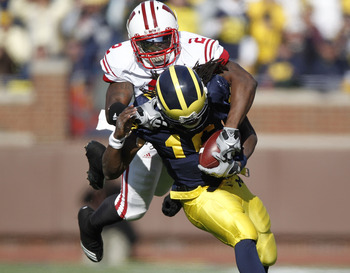 Gregory Shamus/Getty Images
It was in November of last year that Wisconsin was heating up and Michigan was falling from the ranks of Big Ten favorite. They had just come off a game against Purdue where Denard Robinson had four turnovers and the Wolverines still wound up winning by 11. There were hopes that Michigan could make a run at the Big Ten championship, but they'd have to overcome the Badgers and then Ohio State in the last two weeks of the season.
But the Michigan faithful weren't out in force because they thought their team would beat Wisconsin. No, the fifth-highest crowd in Michigan history was there to see Denard Robinson break the record for most rushing yards by a quarterback in a season. They were also there to see him become the first player in NCAA history to pass for 1,500 yards and run for 1,500 yards in a single season.
Wisconsin ended up winning the game 48-28, but November 20, 2010 will always be remembered as the day Denard Robinson made history as one of the greatest athletes in college football history.
Take that, Badgers.
4) 112,784 Witness Michigan Losing to Iowa for First Time Since 2002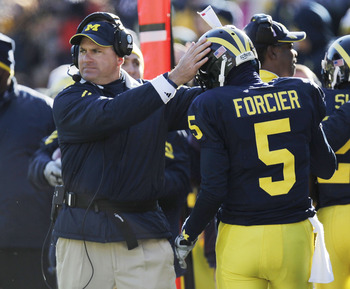 Gregory Shamus/Getty Images
Michigan was just coming off a terrible performance against Michigan State, losing for the third time in three years. Yet 112,784 Wolverines fans fought the week-long hangover of losing to the Spartans and packed Michigan Stadium to see their team play an Iowa squad that hadn't beaten them since 2002.
This would be a day long remembered.
Iowa ran up the score and got out to 28-7 lead. Denard Robinson had to leave the game due to injury and backup quarterback Tate Forcier engineered a masterful comeback, scoring three touchdowns in the fourth quarter. It wasn't enough, however, as Michigan lost 38-28, their second game in a row.
3) 113,065 Hearts Break as Michigan Drops Third Straight to Michigan State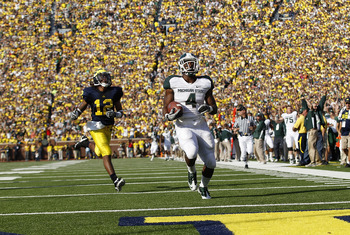 Leon Halip/Getty Images
Just a week before the aforementioned Iowa game, 113,065 watched their Michigan Wolverines drop their third straight loss to the Michigan State Spartans. Reports afterward said that Spartans fans were chanting "LITTLE BROTHER!" the entire fourth quarter. And why not? To that point, it had been 1,074 days since Michigan had beaten Michigan State in football or basketball.
This was also the first game back for Michigan State head coach Mark Dantonio after a heart attack three weeks prior. Michigan fans would say afterward that they gave Michigan State the gift of protecting their head coach from a second heart attack. Sadly, Spartans fans didn't buy it.
2) 113,090 Watch Denard Robinson Completely Dominate Connecticut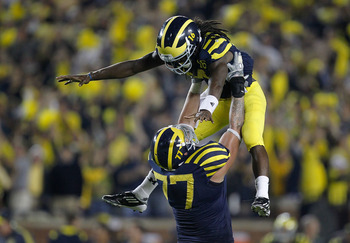 Gregory Shamus/Getty Images
Finally, a game where Michigan fans come out in droves and the Wolverines won a game! It was against Connecticut, but a win in front of a rowdy crowd of 113,090 is a win, right?
I'm sure that none of the 113,090 were there because of all the hype for their new quarterback Denard Robinson. It was his first game as the leader of this team and what an impressive first game it was. Not only did he break the all-time Michigan record for rushing yards by a quarterback (197), but he went 19-of-22 passing for 186 yards and a touchdown.
It was the first of what would be Robinson's breakout year, making him a dark-horse candidate for the 2010 Heisman and one of the front-runners in 2011.
1) 114,804 Behold One of the Best Games in College Football History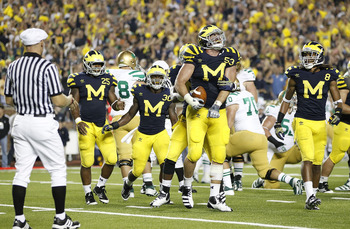 Leon Halip/Getty Images
If you watched the game, you don't bat an eye when someone says this was one of the best games in college football history. It was epic. It was classic. It took away your speech and left you with chills.
A historic 114,084, an NCAA record, were on hand to see Michigan take a victory away from Notre Dame in what was the first prime-time game in Michigan Stadium history. It was only fitting that the home team, with so many fans in the stands, would treat their record crowd to the game they had just watched. It was more than a victory—it was a heavyweight match with both fighters going back and forth until time just ran out. The ebb and flow of the game was remarkable, with each catch, each tackle, each score highlighted by a roar from the crowd that rose and fell as though it was being controlled on a switchboard. Perhaps it was.
The Fighting Irish scored what many thought was the winning touchdown with 30 seconds left. Leave the game at that and it's a masterpiece of a football game. But Denard Robinson thought the script needed a few more pages, so he got to writing, leading his Wolverines on a three-play, 80-yard touchdown drive that ended with Robinson throwing to Roy Roundtree. It was Roundtree's only catch of the night, but it was the most important.
As the coaches embraced at midfield after the loss, Michigan players jumped into the stands, embraced by the 114,084 that provided the best soundtrack to a collegiate football game that's ever been heard.
Honorable Mention: 111,609 Watch Chad Henne, Braylon Edwards Beat MSU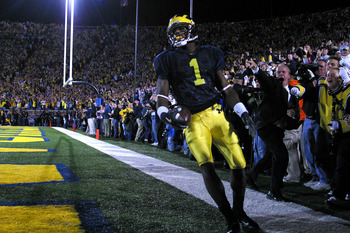 Tom Pidgeon/Getty Images
It may only rank ninth on the list of highest attendance in Michigan Stadium history, but this was an incredible game that lasted three overtimes and gave the 111,609 Michigan faithful an afternoon to remember as their Wolverines took on the Michigan State Spartans.
Earlier in the year, Michigan wide receiver Braylon Edwards had decided to come back and play his senior season for the Wolverines. It's a good thing he did because he caught two touchdown passes to help Michigan overcome a 17-point fourth-quarter deficit. Michigan quarterback Chad Henne was able to provide Edwards with a hat trick as the wide receiver nabbed his third touchdown in overtime to lift the Wolverines to a 45-37 win over the Spartans.
Keep Reading

Michigan Wolverines Football: Like this team?