50 Best CFB Tweets From Week 2
Gregory Shamus/Getty Images
College football was full of excitement again this week which led to some interesting dialogue on twitter this weekend per usual. That being said, it's time for the second installment in the best tweets about college football over the weekend.
Whether you are a college football fan or not, you will enjoy reading this collection of tweets that will give you a quick glance at what happened in the world of college football over the weekend!
Dr Louuu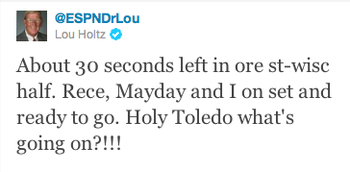 Lou Holtz is quite a funny follow on twitter. Just the fact that he knows how to use a computer, let alone twitter is amazing to me.
Questionable Timeouts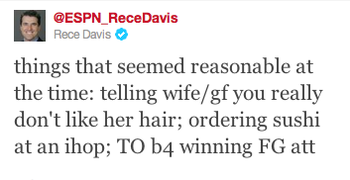 This tweet could be relevant to many football teams this weekend. Poor coaching decisions lose football games, plain and simple.
Following ND vs UM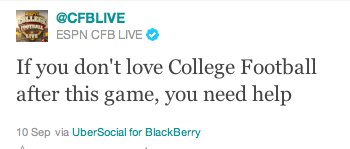 More Love for a Classic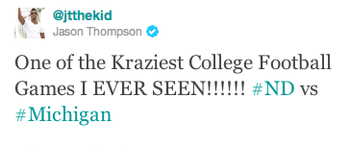 Although both squads were a bit overhyped going into this one, this game did not disappoint, what a great college football game.
Rutgers Rushing Attack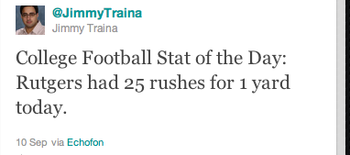 I mean seriously? I could run for a yard on 25 carries, okay maybe not.
Roddy White on Bama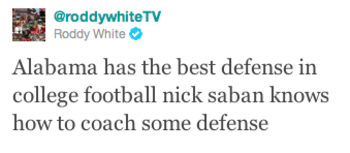 Alabama really showed Penn State who was boss this week. Their defense really is spectacular, I agree Roddy.
A Sad Moment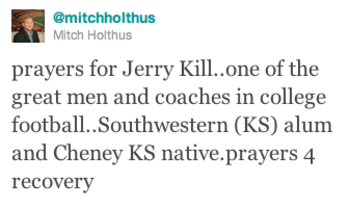 Minnesota coach Jerry Kill collapsed on the sideline on Saturday. Thoughts and prayers are with him and his family.
Priorities=Right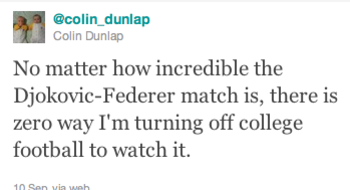 Tennis or Football? Although it was a great match, NCAAF tops tennis all day for me.
The Comeback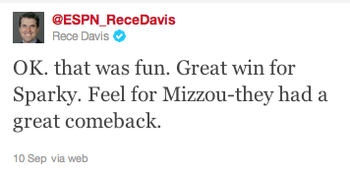 Rece feels bad for Mizzou after their loss to Arizona State in what was a great game on Friday night in primetime.
Every Dudes Dream Girl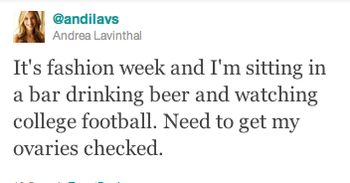 I mean, seriously how great of a girl would this be?
Big Time Sports Day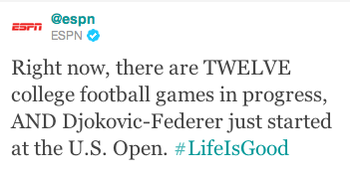 Saturday was a huge sports day all around!
Fake ESPN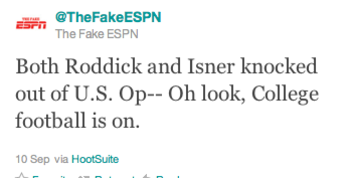 Just a user making fun of the ESPN coverage of tennis when the Americans were still in the action.
Coaching Legend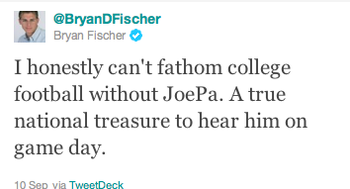 Joe Paterno really is a legend. No matter how old the guy may be, one day there will be a Saturday that just isn't normal, when it is Joe Pa's time.
The NFL Guy Tells It Like It Is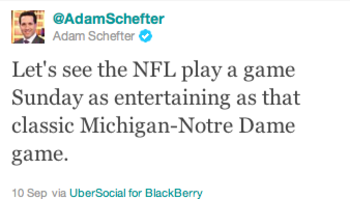 Not much can match the intensity of that ND vs Michigan game.
A ND Joke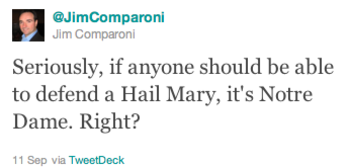 Jim here pokes some fun at the Fighting Irish after they lose to UM.
Another Skip 2 Cents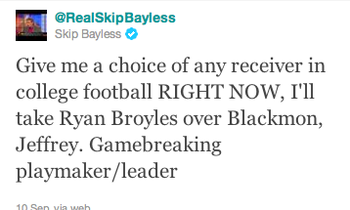 Skip Bayless once again makes a prediction, even though Broyles didn't play this week...
College Gameday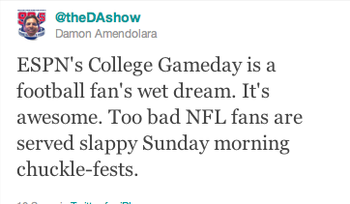 Of course it's as great show, and it does have a great crew. I mean who doesn't want to wake up to Erin Andrews on Saturday morning, I know I do.
COLLLLDD BLOODDED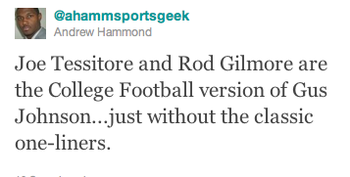 Not sure these guys are as energetic either.
Someone Doesn't Like the New Jerseys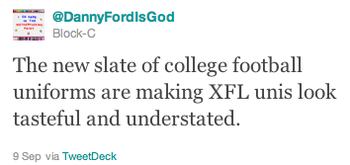 Some of them are really ugly, but people need to get used to change. Uniforms come and go, and these are here to stay.
Denard Dominates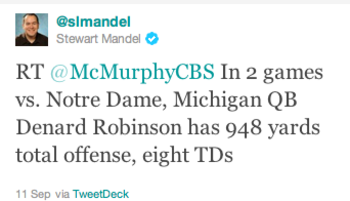 Denard has been playing extremely well the past two games, the only question is if he can keep it up through conference play.
Overrated?

Brendan here has a new home for the Irish.
Indiana Struggles with Football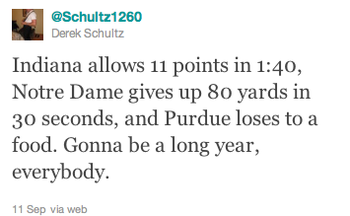 Not a good day for the state of Indiana football wise.
Support Group?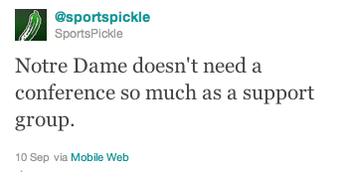 Okay this one just made me laugh.
SJ Loves Some College Football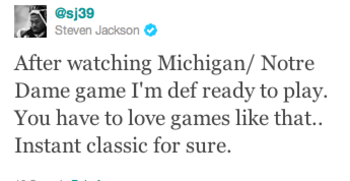 Steven Jackson goes on about the College Football game in primetime that turned out to be an instant classic.
Fake Bill Walton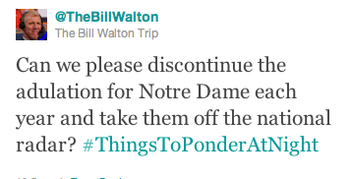 This fake Bill Walton account just loves to tee off on ND.
Ingram Uses His Sunday off to See Some Football Saturday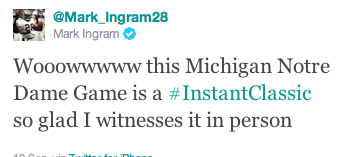 Defense? Defense? Are We Talking About Defense?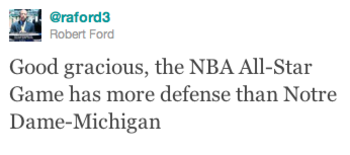 Over 900 offensive yards were tabbed during this game. There wasn't much defense after the first quarter which made for a very entertaining game.
Nap Time?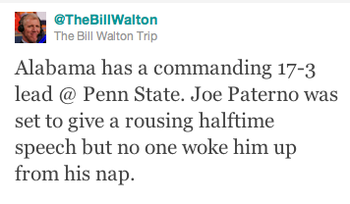 What was Joe Pa really doing in the press box?
Old School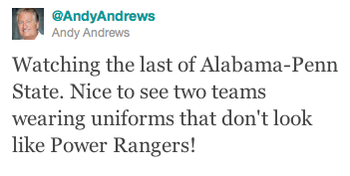 These two teams are still rocking the old school jersey style and that is just fine with some people.
Rice Breaks It's BCS Skid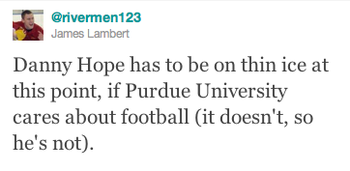 Rice broke it's BCS losing streak against Purdue. Danny Hope of the Boilermakers should be on the lookout, a lot of people want his head right now.
De Ja Vu?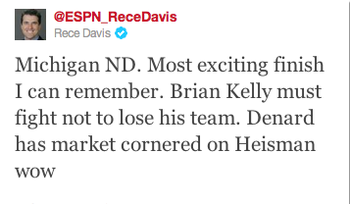 Didn't Rece Davis mention Robinson in the Heisman race around this time last season? We'll see how he holds up.
No Way!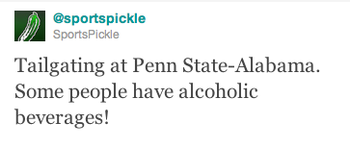 A little sarcasm from the always entertaining pickle!
Toledo Rockets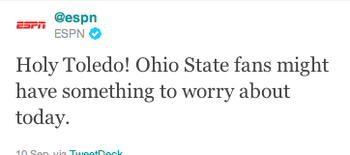 Although a lot of people were surprised by Toledo, they are a great squad who should make another bowl appearance this season.
Although a Lot of Fun Was Poked...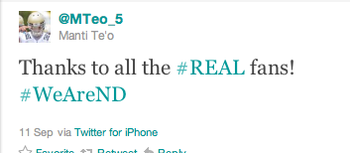 ND fans I know this slideshow was probably tough to read, but remember to stick with your squad and not to flake out now.
Tats!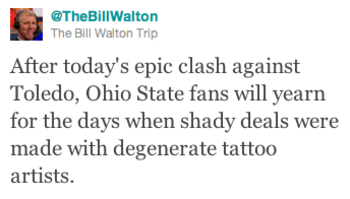 The Fake Bill Walton goes after the tattoo artist of Ohio State following the close game agains the Toledo Rockets.
Who?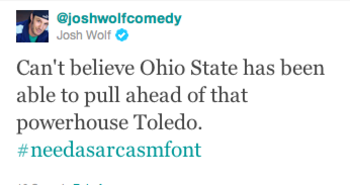 Toledo played a great game!
Purdue's Stud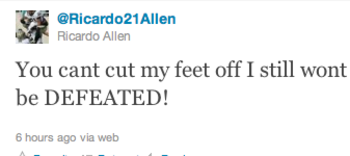 Ricardo Allen seems to be the only thing keeping Purdue fans talking positively.
Ken Stills Wants to Step Up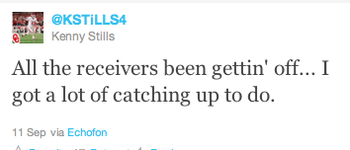 Not sure if he was referring to the Sunday games or the college football games, but Stills is ready to step it up for the Sooners.
OSU Pulled It off

Although it was close, Ohio State ended up pulling this one off.
Addicted to Drama
The Irish just can't play a game this season without a close game.
Francis Wonders

I wonder how many times he has been cussed at? It's just part of the game.
Dreamy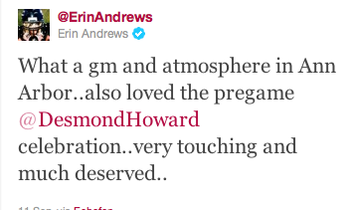 Erin Andrews is impressed with the Michigan atmosphere.
Richardson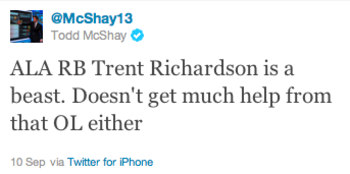 Richardson ran for 111 yards and two touchdowns against Penn State. Quite the feat against a Big Ten defense in Happy Valley.
Crowell Is a Breakout Player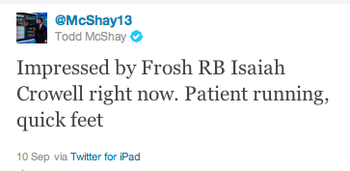 Crowell is a player form Georgia who has had a lot of success already this season as a freshman. This weekend he ran for 118 yards and a touchdown.
Really?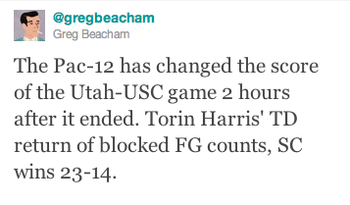 This caused quite the stir among bookies!
Sloppy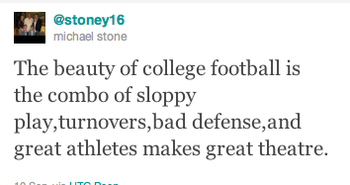 It's true, and it's part of the reason we love college football! It's all about the drama!
More Inequalities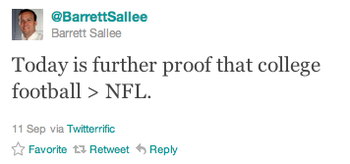 Isn't this the truth? What is there not to love about college football!
Gelo!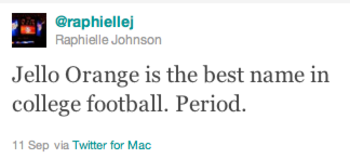 This is how you pronounce the name of senior Wake Forrest defensive end! How great is that?
A Preview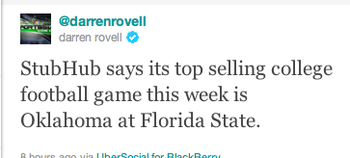 This is one of those battles you do not want to miss this week!
It's the Truth BABYYY!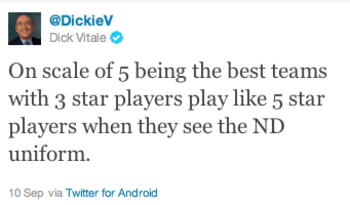 Dickie V thinks that teams come out to play against ND, although this is true, I don't think that UM has just 3 star talent.
James Evens serves as a National Featured Columnist for college football and basketball, as well as the FC for the Purdue Boilermakers. Follow him on Twitter or like him on Facebook.
Keep Reading