Texas: When Will Harsin & Staff Deliver a National Championsip to Austin?
September 13, 2011
Erich Schlegel/Getty Images
Alright folks, for those who remember me from last year, I am back—ready to once again put myself in service of the great Texas Longhorns.
So, who am I to make predictions?
For those who do not know or remember me, I raised hell—from day one of the season to bench  Garrett Gilbert and to give the boys on the depth chart a chance. I told anyone and everyone that he was simply no good from the first day of the season. I begged the Orangeblood Nation to insist that the other quarterback's on the chart be given at least a chance. Sadly, that never occurred.  For this position I was excoriated by a virtual army of Orangebloods. The outcry was truly stupendous.  You really should see the emails I received—I was often branded a "traitor", "douchebag", and Horns hater despite the fact I have supported the university and the team for 40 years or more?
At the same time, I predicted the outcome of every ball-game with, I believe, 100 percent accuracy. I was hated and reviled for this too. Lot's of BR readers wanted to kill the messenger.  
The Longhorns faithful really beat me senseless when I suggested from day one of the season that Greg Davis should be fired and that Mack Brown ought to be right behind him.  I felt the same way about everyone except Will Muschamp and Major Applewhite.  Oh well..., the messenger lives!
The season has started, and it is time too weigh-in on a few things:
A.  I like every new hire on the coaching staff with the possible exception on Manny Diaz.  I am a Middle Tenn. fan (my nephew was a collegiate athlete there) and I didn't see spectacular  performances from him during those years. Maybe he's better now,  We shall see. I have doubts, but I'll hold-off on blasting him for the moment.
B,  Texas is LOADED with young talent.  Recruiting success will bring even more talent to the 40 acres.  Our offense will continue to improve—and fast, but don't expect miracles for another couple of years. Still, the new willingness to play young players is very, very encouraging, and exciting for players and fans alike.
C.  Case McCoy has the confidence of his teammates and he looks like a decent quarterback. With this said, I see Ash as a better quarterback by a very small margin—very small. Looks as though both will get a chance to move the offense and that's all anyone can ask for.
D.  Gilbert is no quarterback.  He's a great kid, but horrific behind center. He should never dress again for a UT football game.  No, I wouldn't revoke his scholarship, but if he suddenly developed an interest in transferring to a fine program like the Eastern Nebraska Biting Shoates I would give him my best effort to make it happen. With a degree in Swine Science, Cargill's would hire him for exec training in a minute. Hey, it's a good job!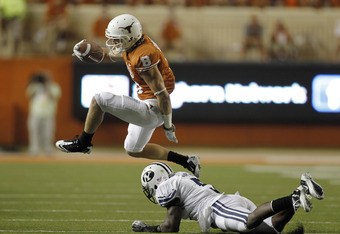 Erich Schlegel/Getty Images
E.  Harsin is for real. But it will take time for our boys to master his offense. Probably two years to get the right people in the right slots.
F.  Installation of a real strength and conditioning coach is paying off.  Madden is a nice but, 450 lbs of flab doesn't inspire player confidence. I got nothing' against fat boys.  The "Dancing Bears" are my guys.  In my prime I was 6'6" 300-plus pounds  But, this coach has to be able to out perform any player on the team.
G. M. Brown is going to be a fabulous addition to the squad.  As soon and the offensive line gets its game on, He's gonna kick butts and take names. Whittaker just doesn't have the skills to get it done—too much head, too little ass.
H.  Special teams are poor. It will take Grissom a few weeks to get into the flow of generating explosive returns, covering kickoffs, and the like. 
I. Mack needs to go, and Harsin needs head coach responsibility at a high salary or we will lose him. I hear NC is prepared to pay Mack big bucks to take over the AD post. If true, he just might take it. The south is "home" for Mack and he would be comfortable, effective and admired as an AD at NC.  At least I hope so, he's irrelevant at UT—he needs to go—its a new era in Austin.
J.  The Longhorn Network needs to be made available to the Direct TV, Dish and the major cable and satellite companies in 30 days or give it up. It's a hell of a problem.
K.  We need to forget about what OU, A&M and other schools are doing and do what is good for UT.  I think going independent with all the horrible scheduling that entails might be best, but holy smoke— it would be a bear from a an administrative point of view.  In the alternative, Texas might (notice the word here is "might) reconstitute the Big 12—just bring in teams like TCU, Boise St. (Yeah, I know they have no audience but they will), while working to retain Tech and Baylor. Also, keeping a great non-conference schedule going with schools like, Michigan, Ohio State, Cal, Stanford, Ga. Tech and Fl. State would be a huge positive. Then there is the ACC rumor.  Seems weird for Texas to belong to the ACC. Its one thing to drive from Austin to Houston or Waco.  The Atlantic Coast is a whole different proposition.  I simply want the powers at UT to decide what's best for ALL UT athletics, academics, recruiting and revenue and get on with it.  This will be a crucial issue for our BCS NC chances going forward.
Bottom Line
The good news is that the Horns are on their way to another national championship. The bad news is that it takes two years, at least.  Double-digits in wins may be very elusive for the Horns this year.  A bowl game might not happen.  But, hope springs eternal. The foundation (Brown excepted) is in place for an outstanding football team.