A Weekend of Lasts… College Football's Week 2 in Review
September 13, 2011
Erich Schlegel/Getty Images
Saturday began a week of lasts for the .260 Hitters family as we pack up the Pod and get ready to sell our home this coming Friday.  It was a great weekend of football to cap off a five-year stretch on that couch, in that living room and it will definitely be missed. 
Our last weekend knocking out errands, the gym and (theoretically) yard work before football kicks off.  Our last lazy Sunday trying to understand why the kids are comatose Monday – Friday, yet are magically full of vigor at 7 a.m. on the weekend.
The last Saturday morning run to Starbucks for me and the little man…to "our" Starbucks… closing this chapter in our life before we head to the great arctic north (i.e. Dallas).
And after Saturday's performance, this weekend appears to have been a last for Garrett Gilbert as well.  Tough night against the Cougars of BYU, while fans showed up for a rousing BYU vs. Texas matchup, Mack Brown instead fancied himself a game of Quarterback roulette.
The first round of Mack's most favorite game came after a few three-and-outs by Gilbert capped by an interception. In comes freshman QB David Ash, backed up to his own end zone, moves that ball 45 yards. Great work!  Time out. In comes Gilbert, and, you guessed it, interception.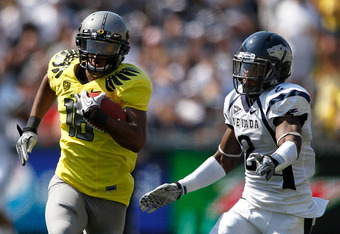 Jonathan Ferrey/Getty Images
There's nothing like being the cause of death for your own momentum, isn't that right, Mack?
Not to worry Texas fan, as you all know, McCoy Jr. was able to keep things alive, eventually finding the end zone for the win while the Texas defense kept BYU to only three points in the second half.
And while BYU may have come up short on my upset pick this week, they beat the spread, and that will have to do.
Ohio State beat Toledo 27-22, scoring only six points in the second half of the game.  Toledo rallied on the last drive of the game, moving the ball 55 yards, but coming up short with an incompletion on fourth down at the Buckeye 17-yard line.  Something tells me it is going to be a long year for the Buckeye State.
Watch out now, Tennessee is looking pretty good.  Two years ago, Cincinnati (I can never spell that right on the first try) would have been a great test for the Volunteers, and while not-so-much anymore, the boys in Orange are playing efficient football as QB Tyler Bray threw for four touchdowns and run for a fifth as Tennessee won 45-23.
Wisconsin 35, Oregon State 0. What are your questions?
Oregon 69, Nevada 20.  Chip Kelly does not like to lose.
Iowa State clearly wanted the "Huddled Family Around a Bushel of Corn" trophy much more than Iowa did, winning 45-42 in triple overtime.  A game thought to be an easy lock for the Hawkeyes, clearly Iowa State had other ideas, refusing to go away and eventually came away with the, um, hardware, in the end.
Oklahoma, in a rousing weekend of doing absolutely nothing, became the first team in history to be No. 1 in the AP Poll 100 times.
Georgia fans were making for the gates as the Bulldogs were lagged behind by the other USC 28-20 going into the fourth quarter.  Did they not learn from Auburn just the week prior?  Here came the Bulldogs back, going up 35-31 with just over six minutes to play… but the Auburn-esque comeback was not to be, as a touchdown, interception and touchdown by the Gamecocks sealed to deal, giving SC the win 45-42. 
The Baylor Corner
Baylor fan, don't miss out. After your earth-shattering win against TCU last week, you can revisit those highs on the cheap, as Baylor is selling tickets for your next game against Stephen F. Austin for $1.  That's right.
Disappointment of the Week
Defense… you know that other half of a football game that was oh so missing from the weekend nightcap of Notre Dame vs. Michigan.  What a game it was, though, with three touchdowns in less than a minute and a half while 110,000 screaming fans made the place shake.
It was truly a wonder to behold and was a true feel-good moment for college football… unless, of course, you're a fan of Notre Dame or defense.
Game of the Week
While most would argue that the Notre Dame vs. Michigan matchup was the game of the week, I would argue the Alabama vs. Penn State was potentially the most telling game as Alabama failed to ever gain control of the scoreboard, clipping the field yard by yard against a Penn State defense that refused to give in.
The Nittany Lions put up far more of a fight than I expected, capitalizing on mistakes by the Tide's young quarterback. In the end, however, the Alabama defense was too much for PSU to ever get anything going, eventually capitulating 27-11.