Georgia's Hypothetical Game Plan to Combat 0-2 Blues
September 13, 2011
Kevin C. Cox/Getty Images
OK, thank goodness that's over with.
Opening the season against Boise State (preseason AP No. 5, now 1-0 and No. 4) and then following that up by opening Southeastern Conference East play against No. 12-ranked South Carolina (now 2-0 and ranked No. 11) would be a tough—no, a relatively hellacious row to hoe for virtually any NCAA team.
I'm not really sure why you would want to take on such a challenge to open the season, especially when you are a relatively fragile and uncertain team—like the Georgia Bulldogs. They're trying to answer a lot of questions at several key positions, still reeling from a 6-7 campaign in 2010—their first losing season since 1996—and struggling to remember how to win against anybody relevant over the last two years.
Yeah, I'm familiar with all of the rationalizing theories behind dropping the University of Louisville—now 1-1 after hammering Murray State (not the basketball team) 21-9 in its opener before losing to Florida International at home last week—from the schedule to subject oneself to the trial by fire of facing the Broncos and Gamecocks on consecutive Saturdays, especially when you are recently a down-trending program in a state of flux.
Yeah, I know them all. "To be the man, you have to beat the man," Ric Flair said—and it could have been, "To be the best, you have to beat the best," but the idea is the same.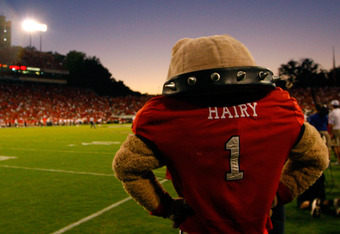 Kevin C. Cox/Getty Images
Or as Nietzsche said, "That which does not kill us makes us stronger."
Etc., etc., etc. Blah, blah, blah. The idea is that playing better competition makes you better, right?
Well, there is an element of truth to that line of reasoning. However, there is also another perspective that can and sometimes does apply, given the circumstances and the people—or team, in this instance—involved. That is simply that you can wind up 0-2, scratching your collective heads while trying to figure out if, when and how you will win again.
Well, here's the good news, Georgia Bulldogs. Yes, yes, you will again taste the thrill of victory. The 3-0 skid ends Saturday against Coastal Carolina between the hedges in Sanford Stadium. No disrespect intended toward the Coastal Carolina Chanticleers. Though the Chanticleers are 2-0 on the season, the Bulldogs should not panic, either because of their record or because they are the fairy tale equivalents of Gamecocks. These roosters of the Big South have beaten Furman and Catawba, which, oddly enough, I thought was a worm.
Wait, maybe that's their mascot.
That's the "if" and "when" of the Bulldogs' "0-2, now what to do?" query, but what about the "how"? Well, honestly, realistically, if we are talking about the University of Georgia vs. Coastal Carolina, the answer should be simple: The how should be "decisively."
Could Georgia possibly get upset by the Chanticleers? Could it lose on Saturday? Why, of course! Anything is within the realm of possibility, I suppose. The bigger they are the harder they fall, and all of that good stuff. And were that to happen? All of the questions surrounding the leadership of this program would become moot. In that event, the problems in this program would be deemed clearly too Himalayan to maintain the status quo.
Given that the outcome on Saturday should be a foregone conclusion, here's a hypothetical game plan geared to refine and fine tune, to bring about improvement, to prepare for the heart of the SEC East race ahead, and to begin the process of regaining (rising) our mojo:
Announce to the team that the focus for the week's preparation will be on simple three things: running the football, toughness on both sides of the ball, and, well, running the ball.
Announce to the media during this week's pressers that this is the plan for Saturday. Overnight it to Coastal Carolina.
Determine, as an offensive staff, which run plays in the playbook, including options for receivers and called quarterback keeps, could be run out of the I with Richard Samuel, the Pistol and the Shotgun formations for Isaiah Crowell, and the Wild Dawg with Crowell and whomever, without complicating or changing blocking schemes. Then scheme 'em. and run 'em.
Work on running the football all week in practice and focus on A) executing, executing, executing, and B) "whipping behind and taking names" along the line of scrimmage. Work No. 1s vs. No. 1s.  
Let the wide outs work on—what else?—blocking the run. Let's face it, the 'Dawgs are going to be okay at receiver. The "by committee" approach, factoring in their talented tight ends, will result in the talented quarterback Aaron Murray completing some deep throws on a routine basis. Georgia has other, more pressing problem areas to address.
At quarterback, get Hutson Mason some No. 1 reps during the week and play him on some series that matter on Saturday. Blasphemy, you say. No, it's not. Has nothing to do with Murray. In between his critical errors on Saturday, he was awesome. He is and will be a heckuva' QB. Heck, Matt Stafford threw beau coup interceptions, at times. The bottom line is that because he is so gifted, Georgia needs to be prepared (unless it would just plan on throwing in the towel) in the event that Murray were to go down. Get Mason some live opps.
Identify which linemen on the depth chart can realistically help during the course of this campaign, and on Saturday roll them in and roll them out. Let them know they are expected to produce and that scrutiny of their performance on film will be both brutal in its honesty and decisive in determining whether or not they will remain in the mix for the remainder of the year. No excuses, big 'uns, buckle 'em up, or off to the salad bar with you.
On Saturday, change formations frequently and call the running package out of all of them. Play pound-it-out, grind-it-out football. The only passes that should be called should be play-action passes out of those same formations and play looks (run short routes only), receiver screens, screens to running backs, drag routes to tight ends, short crossing routes and dump-offs to backs leaking out into the flats or into the middle of the field. The only deep route allowed should be a wheel route to the tailback. But mostly, just pound it down their throats.
On special teams, rep, rep, rep and establish a "failure to execute is completely unacceptable" mandate. Emphasize punt block and FG/PAT block. Sooner or later we will need to block a kick to win. Stress awareness of the fake punt, of course, and work on the open-field tackling of defensive ends, for goodness' sake. Make Saturday's goal—down to the very last man on the special teams depth chart—to play a perfect game in that facet on Saturday.
On defense, plan on, practice and follow through Saturday running every stunt package in the scheme over and over again—bring four, five, six at a time, use X-stunts, Cowboy stunts, safety blitz, the kitchen sink, if it's in the scheme, bring it, "eyeholes and elbows." 
Put Kwame Geathers and John Jenkins in charge of stopping the run from offensive guard to offensive guard, nose to nose. Don't over-coach 'em. Tell them to figure it out, or they will be sent to the receiver table to eat until they do. 
Play man coverage in the secondary 50 percent of the time, show zone/play man 20 percent, if it's in the package, run combination coverage, if it's in the package, 20 percent of the plays and zone only 10 percent. At some point, we will have to man up (scheme) and cover to win a big game. Emphasize break on the ball, break on the all, break on the ball, and if the receiver shags it, wrap him up and take him down.
One more coaching sacrilege: Game plan for Ole Miss on film.
And finally, coach like there is no tomorrow, for there may not be many. Work hard, be creative, be aggressive, use your timeouts when the opponent is 3rd-and-3 with a minute to go and you are behind and have fun.
Be good sports, but go out and dominate your opponent this week. You know what the stakes are, and the players know what the stakes are. Make this a week in which you begin to rediscover your coaching and playing mojos, attend to details and begin reestablishing the connection in your synapses and the correlation in your reasoning between blocking, tackling, executing, playing hard, protecting the ball, never quitting and winning.
Build momentum one game at a time, and who knows? Reaching 11-2 may still be in your grasp, you Hairy Dawgs.