Ranking 2011 College Football Uniforms, Nike Pro Combat, Under Armour and More
Jonathan Ferrey/Getty Images

In this day and age, college football is not all about the results on the field. There is a lot to be said over how a team's uniforms look.
Nike partnered with Oregon and really propelled the trend to the height it is at today with nearly half of all schools now wearing some type of new uniforms.
These uniforms can create quite a stir among fans.
Georgia, Boise State and Maryland's uniforms blew up social networking sites with their unique looks.
This trend appears to just be getting started, though it will be interesting to see how long they can keep it up.
There are only a certain amount of ways to design jerseys though I am sure companies like Nike and Under Armour will find new looks.
Some schools prefer to keep it all very classic like Penn State who has been wearing the same, standard blue and white uniforms for forever.
Jerseys, particularly company affiliations, can influence a recruit's decision as to where to go to school and getting new equipment every week is a great motivating tool on the field and a big money maker in the stores, both for schools and for companies.
Here is a power ranking of all the new uniforms you can expect to see in 2011.
Begin Slideshow

»
The Terrapins are the new Oregon when it comes to jerseys. Under Armour gave them 32 different combinations of jerseys in addition to the "Pride uniforms" they wore on Labor Day.
Texas Tech looks like a high school team in these jerseys and they also have the tramp stamp "Guns Up" on their pants which you can see here. Bad all around.
These Western Kentucky jerseys are hideous. The numbers are all wrong and the gray jerseys look like bad baseball uniforms.
Not sure what Hawaii was thinking with these pants. Awful, just awful.
Wyoming is one of the only schools in the country with brown as their school colors and they just look weird when they wear brown jerseys. Looks like that trend will continue in 2011.
Louisiana-Lafayette debuting their football tea...I mean jerseys. They look average at best.
The gray jerseys and pants are alright but those gray helmets are so shiny that it throws off everything else.
Marshall got a new logo on the front "The Herd." No, just no.
Colorado...what were you thinking? The stripes, the font and the shade of gold are all off. Black and gold usually looks good on TV but this look just doesn't.
The Temple helmets look infinitely better than they did last year but those pants still look awkward.
The main difference in these uniforms are in the helmets. There is a stained glass pattern in the stripe which you can see here.
Something about these black jerseys just doesn't look right and I think it's the helmet. Add black helmets and this would work a lot better.
Louisville has new uniforms this year and they look good. "The Ville" on the front just looks really weird, though.
Fresno State looks OK but the numbers looked better higher up. The design under the shoulder is a nice addition.
The Panthers got rid of their stripe but it was one of the few stripes that actually worked. These are too plain and monotone.
The Trojans made their front logo bigger and that's about it. I like the smaller ones better.
There is a checkered pattern on shoulders of these new jerseys. Doesn't work here and it hasn't worked for them in games either, the Wildcats have looked awful in both their games.
The marketing people really wanted to emphasis the "State" part of N.C. State so they put it in big letters on the jersey.
There is a really weird stripe on these pants but everything else works. The green and gold combination looks off but the white and gold are right on the money.
The Hokies' jerseys aren't any different but they will wearing some orange pants to go with the orange shoulder strips this season.
Army will take on Navy in these special Nike Pro Combat uniforms. The jersey itself is very plain and they will say "West Point" on the back instead of a name. The helmets and gloves are simple yet intimidating.
Western Michigan put a massive "W" under their bronco. Good move because the Bronco looked awkward last season.
No big changes to the Connecticut jerseys but now the Huskies get their name on the back of the jerseys.
The Seminoles did not change much but added some piping around the collar and an FSU to the front of the jersey.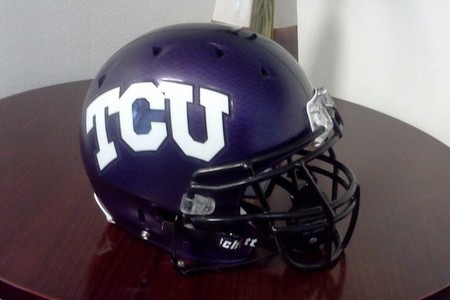 TCU got rid of the horned frog on their helmets and made the letters bigger. Eh.
The uniforms the Ducks wore against LSU were awesome. The rest of their uniforms this season just aren't.
South Florida looks much cleaner with these uniforms. The shoulder stripes and skinnier numbers are much better than the older version.
Indiana took the double stripe and moved it down to the pants. Good move because their players were starting to look like a large Where's Waldo?
Tulsa added two small white stripes to the helmet and a patch to remember Wilson Holloway who died of cancer. His motto was "Just Keep Smiling."
Michigan's retro jerseys looked great on TV and they certainly brought a great deal of luck. Why there is a massive M on the front is anybody's guess, though.
Ohio State always looks good in scarlet and grey but these jerseys are so plain they look like high school uniforms. Everything else looks great.
The Yellow Jackets are sticking with gold and white this year but they still look good. The gold looks a little light, though.
All Addidas did was make "Kansas" a little bigger. Other than that, everything is the same but Kansas still looks good.
In case you forgot who you were watching, Houston put some of the biggest letters on the front of the jersey I've ever seen. The font makes it alright, though.
Flat black is always intimidating and if these old-school helmets are any indication, Southern Miss will be looking good in 2011.
For a minute I thought it was Syracuse but UTEP got rid of the hideous stripe on their pants and look considerably more polished because of it.
Notre Dame looked great playing Michigan. Except for the shamrock on their helmets. An ND or plain would have been a much better choice.
The all gray uniforms didn't look right on TV but the combinations pictured above are awesome. You can bet a lot of Cowboy fans picked up a black Justin Blackmon jersey.
You know you're excited for these Bowling Green jerseys. Alright, you're probably not but they do look pretty good, much better than last year.
The black on black trend is huge in college football and Cincinnati is in on it. These helmets could make a toddler look intimidating.
Those helmets are amazing but the fact that Nike put "Georgia" on the back of all the jerseys was a dumb move.
Buffalo's blue and black combination are one of my favorite new jerseys. The others aren't too shabby either. Thankfully they got rid of that piping on all the uniforms.
Boise State looked phenomenal in their all white uniforms against Georgia. My only problem with the look was the asymmetrical helmet with only one bronco. The plain white helmets took away from the rest of the uniform.
Rutgers will be wearing these black and red uniforms this year. If their play is half as good as these uniforms, they will...no, they'll still lose.
The Midshipmen will be looking as classy as they are in real life with gold accents when they take on Army.
The teams may not be that good this year but their uniforms will look great.
Arizona State completely redid their uniforms and their logo. It was a complete success. Those maroon and black jerseys are rocking.
Stanford gets a Nike Pro Combat jersey this year and its sure to turn some heads. You just know Andrew Luck is going to truck someone in one of these.
Michigan State will look amazing in these dark green and gold uniforms. Hopefully the fans will be as pumped up as their team will be for wearing these jerseys.
The gloves. Look at them. Look at them some more. They're absolutely amazing. Brilliantly done by Nike.