South Carolina Gamecocks Receivers: Who Else Can Step Up Besides Alshon Jeffery?
September 12, 2011
Kevin C. Cox/Getty Images
We heard it all preseason.
Receiver coach Steve Spurrier Jr. was loaded with some talented wide receivers. Spurrier Jr. said that he had 10 players that could play wide receiver and needed to sort out a group of six from this bunch.
Well, it's been Alshon Jeffery and then a bunch of question marks.
Where are these talented wide receivers for South Carolina?
Stephen Garcia and Connor Shaw have completed a total of 21 passes in two games. 21 completions. Steve Spurrier is probably going mad given his "fun and gun" offense that he made famous in his Florida days.
I'm sure Stephen Garcia and Connor Shaw would appreciate a little better pass protection from the offensive line at times, but that position seems to be doing okay for the Gamecocks through two games.
If it wasn't for Alshon Jeffery, you could say that South Carolina basically has no receivers. Jeffery has 10 catches out of the 21 completions by a Gamecock quarterback. We all know he's a big-time playmaker and has the ability to stretch the field with his receiving skills, but someone else has to become a factor in this passing game for the Gamecocks.
Ace Sanders appears to be that man—if he gets the opportunities.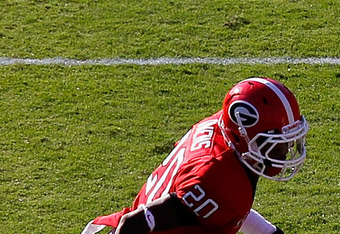 Kevin C. Cox/Getty Images
Sanders has four catches for 46 yards, including a touchdown reception against East Carolina in the opener. Sanders has showcased a new confidence this season so far, especially on his incredible punt return that went for a touchdown against East Carolina. He looks faster and more comfortable in this offense, and he needs to be a player that is utilized more if the Gamecocks want to increase their production in the passing game.
Who else can step up?
South Carolina has veteran players in Jason Barnes and D.L. Moore, but both players have had some significant drops in both games so far for the Gamecocks. The talent is there, but the production hasn't been so far in their careers. The one good thing about both players though is that they are excellent run blockers.
South Carolina was expected to use true freshman Damiere Byrd early and often, but the freshman was suspended by the NCAA for four games when they determined he received some benefits from a non-profit organization.
His speed is unmatched on this Gamecock football team, and he has surprisingly shown some great hands in his short time on campus. An appeal is expected for Byrd by the university, but for now don't expect to see him in the lineup until the Auburn game on October 1st.
There are also the two true freshman in K.J. Brent and Shamier Jeffery, but both of those players are expected to continue towards a redshirt season. Would the coaches pull those redshirts? It's hard to say. It would have to be a dire situation for that to happen.
Newcomer Bruce Ellington is still returning to football after sitting out last season. He is a part of the South Carolina basketball team and was able to start practice in August. He's got a lot to learn, but he's made an impact in the return game as well as out of the "wildcat" formation. There are also people like DeAngelo Smith, Nick Jones and Lamar Scruggs waiting for their opportunities.
Where does South Carolina go from here? It seems like the coaching staff needs to utilize Ace Sanders in the slot more—get him involved in the short passing game. One of the veterans, Jason Barnes or D.L. Moore, will have to be able to pull down completions. One of them needs to fill the Tori Gurley role from the 2010 season as he was always reliable in catching the football. The guy that does that the best gets the first opportunity.
I also think Damiere Byrd will play a lot when he's able to return for the Gamecocks. He's too talented to sit on the bench this season, and he's got just enough to spark this passing game if it's still struggling heading into the Auburn game.
Another name not mentioned here is Marcus Lattimore. He's the talented running back for South Carolina, but he's got great hands and works well out of the backfield on the wheel route. Short passes to Lattimore to build confidence for Stephen Garcia could do wonders for the Gamecocks.
The Gamecocks have an opportunity to make a statement this season. Production from their wide receivers could be a big part of keeping this offense flowing and helping Steve Spurrier get back to the "fun and gun" that he loves.
Alshon Jeffery can't do it alone. He's trying, but a little help would be nice for the Gamecocks.