Georgia Football: How the Bulldogs Can Do More Than Salvage Their Season
September 11, 2011
Kevin C. Cox/Getty Images
Georgia Bulldog's head coach Mark Richt was certainly feeling the pressure for a big win with the 12th-ranked South Carolina Gamecocks coming to town. Unfortunately, he did not deliver.
But do not fret too much, Bulldog Nation. All is not lost in Athens, at least not yet. Yes, an 0-2 start is less than ideal, but the Bulldogs showed some real signs of life and gave South Carolina all they could handle on Saturday, coming up just shy and losing 45-42.
Georgia Coaching
Georgia's coaching staff have been much maligned, even on occasion by yours truly, but coaching really was not the deciding factor between the hedges on Saturday.
Mark Richt had his players ready to go. Georgia was obviously fired up for this game. There was an energy and enthusiasm that just was not there against Boise State. Maybe some of the younger players needed to get past that first big college football atmosphere; that's hard to say. Maybe Boise State really is just that good; that, we will probably never know with their remaining schedule. Regardless, something just felt different, better for the Dawgs on Saturday.
Georgia actually put up better numbers than South Carolina pretty much everywhere except rushing. That and the number that counts, the one on the scoreboard.
Defense is Starting to Shape Up
Before passing judgment on Georgia's defense, keep in mind they have started the season against two very high powered offenses. Boise State may have the best quarterback in the nation in Kellen Moore, who was eventually able to settle in and pick the Bulldogs apart in the season-opener.
Saturday against the Gamecocks, Georgia's defense definitely looked improved despite giving up 45 points.There were also several times where Georgia's defense was put in bad spots. South Carolina starting several possessions with excellent field position, so it is not all on them for giving up those 45 points.
Georgia was without inside linebacker Alec Ogletree, who suffered a broken right foot against Boise State that will keep in sidelined for at least a month. Missing Ogletree was big for this game because he was one of the few players on the Georgia squad who could have at least slowed down Marcus Lattimore (nobody was going to stop him).
The Georgia secondary did have boost with Baccari Rambo returning from a one-game suspension for violating team rules. With Rambo back in the safety slot, Brandon Smith was able to return to cornerback.
This allowed the Bulldogs secondary to keep the South Carolina passing game in check. Star receiver Alshon Jeffrey did have an impressive 34-yard touchdown reception to start South Carolina's scoring, but was held to only 51 yards for the remainder of the contest.
Offense Showing Signs of Life
The Georgia offense definitely showed real signs of improvement after just one week. Aaron Murray threw for 285 yards on 19 attempts with four touchdowns, despite one costly interception. Murray looked much more comfortable than he did against Boise State.
Unlike against the Broncos, when Murray felt pressure coming from the Gamecock defense, he was able to get out of the pocket and avoid the sack. Murray did not gain many yards on the ground, 11 rushing, but he was able to extend plays and find open receivers.
The biggest standout on offense for the Bulldogs was Isaiah Crowell's coming out party. Crowell rushed for 118 yards and a touchdown on only 16 carries.
Crowell showed what all the hype has been about against the Gamecocks. He has great speed and acceleration through holes and getting around the edge. Plus, Crowell answered some critics on whether he is physical enough to be a star back in the SEC. Crowell did not shy away from contact and ran through tackles all night.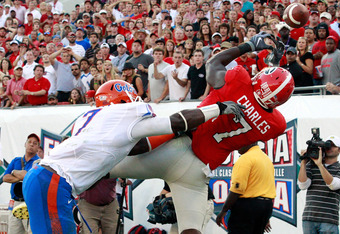 Sam Greenwood/Getty Images
With some improvement with pass blocking, Crowell could easily join the ranks of the premier backs in the SEC, Florida's Jeffrey Demps, Mississippi State's Vick Ballard, Auburn's Michael Dyer, Alabama's Trent Richardson and South Carolina's Marcus Lattimore.
Wide Receivers Looked Better, but Still Plenty of Room to Improve
Although Georgia's passing game looked much improved from a week ago, Georgia needs a wide receiver to step into the go-to role vacated by A.J. Green. Last week, tight end Orson Charles has a great game, racking up more than 100 yards receiving. But this week, South Carolina recognized and did a great job of taking Charles out of the game.
Without Charles as a viable option, Aaron Murray was forced spread the ball around. Murray completed passes to eight different players against the Gamecocks. True freshman Malcolm Mitchell lead the Bulldogs in receptions and yardage with 52 yards on five catches.
There was improvement in the Georgia receiving corp this week, but there were still some bad routes run and too many drive-killing drops. Again, somebody has to step up and be that No. 1 guy at the receiver position, and no one seems up to the task so far this season.
Very Recent History Could Repeat Itself
One does not have to go too far back in Georgia history to see that this season is not too late to be salvaged, maybe even a great year for the Bulldogs. Go back to 2007, Georgia's last truly good season when they finished the season ranked No. 2 in the AP postseason poll. There are some glaring similarities between that team and the 2011 Georgia Bulldogs.
First of all, the 2007 Georgia Bulldogs also lost two games fairly early in the season. One was a four-point loss to South Carolina, ranked 12th at the time. The other loss was to eventual SEC East winner Tennessee 35-14. Tennessee was also ranked 12th at the time of that game.
After the loss to the Volunteers, Georgia ran the table and finished off the season with a 41-10 blowout win against Hawai'i in the Sugar Bowl.
There is no reason to think this Georgia team could not repeat 2007's strong finish after suffering two losses. In fact, Georgia has an easier remaining schedule than the 2007 team.
The hardest game left on UGA's schedule looked to be Mississippi State, but those other SEC Bulldogs looked less than spectacular against a depleted Auburn team on Saturday. Georgia avoids playing the three toughest teams in the SEC West, and maybe the whole conference, in Arkansas, Alabama and LSU.
And, of course, there is Florida waiting for the Dawgs in Jacksonville in late October. Even when Georgia looks better, even much better, on paper, the Gators always seem to have their number.
Another similarity between the 2007 Bulldogs and this squad is that Georgia also had a highly touted second-year quarterback, Matthew Stafford, and a freshman running back, Knowshon Moreno.
Of course, Mark Richt and Georgia would prefer to be 2-0 rather than 0-2. But the truth is, these two losses may have been just what Georgia needed. The Bulldogs are an extremely young team and the younger players, freshmen in particular, may have gotten close to a full year's experience of big-time college football in two weeks. It will certainly be exciting to see what these young players do the rest of the way out.
If history does repeat itself and the Bulldogs are able to run the table the rest of the way, there is a good chance they will be even more successful than in 2007. If South Carolina stumbles at least twice in SEC play, which is always a possibility for any team in the SEC, the Bulldogs could find themselves in the SEC Championship Game.