Michigan Should Enjoy Saturday's Victory, but Still Has a Lot to Improve on
September 12, 2011
Gregory Shamus/Getty Images
Fans of the Michigan Wolverines were treated to a spectacular win on Saturday night, part of the first night game in Big House history.
Denard Robinson completed a pass to Roy Roundtree with just two seconds remaining on the clock, and the Wolverines celebrated a dramatic 35-31 victory over the Fighting Irish.
Fans really should approach this win with caution, though.  It was probably the game of the year in college football, despite being in Week 2.  Michigan, however, did not play a good game.  In fact, I wouldn't even say they played an average game.
The Wolverines were dominated by Notre Dame for most of the first three quarters.  They stalled offensively drive after drive, and couldn't seem to find an answer for Michael Floyd.
Denard Robinson, as heroic as he was, turned the ball over three times.  This is unacceptable and should be addressed by the coaching staff this week. 
Michigan appears to be on the right track, with the coaching staff emphasizing the most important parts of the game: playing string defense and running the ball.  But sloppy play could be the Wolverines' undoing this year unless they clean things up.
Blown coverages and turnovers will certainly make for a long season in Ann Arbor.  Dramatic, last-second wins are fun for everybody (including myself, a diehard Michigan fan), but you can't overlook the luck involved in throwing a ball up over the middle and into double-coverage, only to have your man come down with it.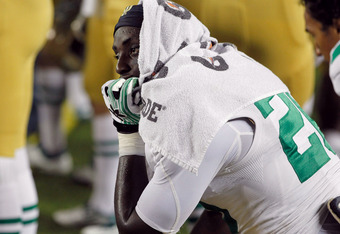 Gregory Shamus/Getty Images
I would kill to see Michigan win eight games this year, but it just will not be possible unless they improve upon their play from Saturday night.  I enjoyed it as much as the rest of us Wolverine freaks, but also recognize there is a lot of work to be done with this team.  They don't face much of a test next week against a weak Eastern Michigan squad, but will see tough competition this year in conference play.
I'm not a pessimist, and I'm not an optimist.  I'm a realist.  I want to see this team succeed.  The best way to do that is recognizing their flaws and fixing them for future weeks.  Here's to hoping for a cleaner game this week, GO BLUE!
Check out Erik Underwood's site Saturdays in the Fall, and follow him on Twitter at http://twitter.com/#!/ErikUnderwood