Michigan's Denard Robinson, Nebraska's Taylor Martinez: Watch at Your Own Risk
September 11, 2011
Gregory Shamus/Getty Images
Call them the cardiac kids.
Call them electrifying.
Then call the paramedics.
At the very least, have an oxygen tank or two within reach of the Barcalounger.
A defibrillator might not be a bad idea either. Or better yet, hire a nubile, young nurse (properly attired, of course) thoroughly trained in mouth-to-mouth resuscitation.
After Saturday's performances by Nebraska's Taylor Martinez and, more notably, Michigan's Denard Robinson, a Big Ten fan can't be too careful–especially if this weekend gave us an accurate indication of what to expect from the rest of the 2011 season.
As the Nebraska game started, I fully intended on writing an article comparing the two above-mentioned quarterbacks, yet by the end of the titanic clash between Notre Dame and Michigan, I realized the futility of such an exercise.
After the dust settled, it made as much sense as discussing the difference between C-4 and Semtex; after all, they're both highly explosive and capable of wreaking havoc upon their intended targets.
Besides that, the damage they inflict is not pretty, but still devastatingly effective when properly utilized.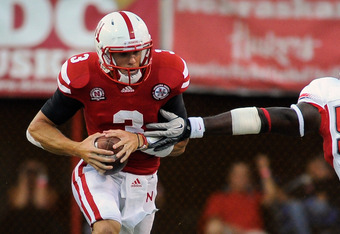 Eric Francis/Getty Images
Both the Fresno State Bulldogs and the Fighting Irish learned the ugly truth firsthand, though the "shock and awe" they experienced varied in severity.
For the sake of chronology and overall impact, let's begin with the Bulldogs.
Fresno State, fresh off their Week 1 loss to Cal, traveled to Lincoln along with their "Anybody, anytime, anywhere" mantra, which was developed during their years with David Carr under center. Yes, that David Carr; former Houston Texans starter, current New York Giants backup and brother of FSU's present QB, Derek Carr.
Despite the fact that it was the first meeting between the two schools, Fresno State seemed unfazed by playing before the "Sea of Red" and jumped out to an early lead that they didn't fully relinquish until the fourth quarter.
Statistically, the Bulldogs surpassed the Huskers in nearly every category, although the fleet-footed Martinez showed off his big play capability with rushes of 38 and 57 yards and pass completions of 42 and 53 yards.
Yet it wasn't until a 21-point fourth quarter in which Ameer Abdullah sprinted for a 100-yard kickoff return for a touchdown and T-Mart scored on a 46-yard dash, that the Huskers effectively put the game out of reach.
But two Martinez fumbles (recovered by Nebraska) and two interceptions (one on a Hail Mary pass as the first half expired), clearly demonstrated that ball security is as much of a concern as his poor pass completion rate (a paltry 10 completions on 21 attempts).
Nevertheless, Martinez's 385 total yards of offense was his second-best effort of his career.
Also of note is the fact that Martinez and only one other quarterback have rushed and passed for over 100 yards an FBS-leading seven times in the past two seasons.
Who is the other quarterback to accomplish that feat? Martinez's Big Ten conference mate, Denard Robinson.
In Michigan's heart-stopping win over Notre Dame, a game in which three touchdowns were scored in the final 72 seconds, with the game-winner coming with only two seconds left in regulation, Robinson's stats were downright gaudy compared to Martinez's.
Robinson, who also threw three interceptions, had 446 yards of total offense, four passing touchdowns and one rushing score, which didn't eclipse the school-record 502 yards he totaled against the Fighting Irish in 2010, but is already the stuff of legends.
Like Martinez, Robinson had a woeful completion rate (11-of-24), but considering that the victory marks the first time since 1908 that the Wolverines have defeated the Fighting Irish three consecutive times, Robinson's miscues are sure to be forgiven by the fans of the Maize and Blue.
With both Michigan and Nebraska running new offenses this year, if Martinez and Robinson can improve upon their passing games and become more effective dual-threat quarterbacks, it could be tough sledding for the rest of the Big Ten and beyond.
Both quarterbacks have proven thus far that they have explosive, big-play potential.
If they can couple that with pinpoint, laser-sharp accuracy, watch out. 
As for now, consider yourself warned.
After all, your health could be at stake.