USC Football: 5 Key Observations from Win over Utah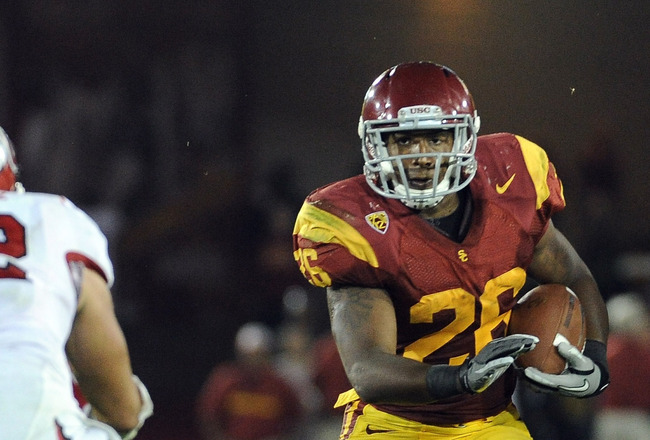 Harry How/Getty Images
The USC Trojans improved to 2-0 on Saturday night with a thrilling victory over Utah.
The game, like in the previous week, shouldn't have been as close as the scoreboard showed. USC absolutely dominated the game offensively and shut down the Utah running game defensively.
However, turnovers and penalties kept Utah close in the game and gave them several chances to win.
Here are five key observations from USC's victory over Utah in the inaugural Pac-12 match.
Marc Tyler Impact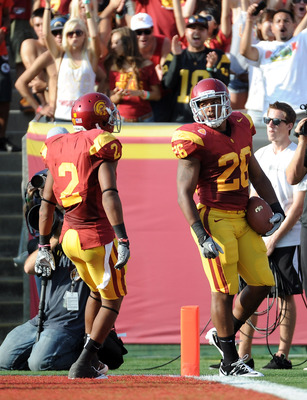 Harry How/Getty Images
The Trojans couldn't run at all against Minnesota last week. Freshman D.J. Morgan's impact was minimal, and USC really needed a boost.
Thankfully, Marc Tyler returned from his one-game suspension this week, and he provided a spark to the Trojan offense. Tyler ran the ball 24 times for 109 yards and a touchdown. He averaged 4.5 yards per carry, and he helped facilitate the Trojans offense.
Tyler finally gave some life to USC's running game, and this was important because it made the Trojan offensive attack less predictable. Last week, the running game was dead, and it seemed obvious USC was going to pass every time.
Trojan fans should expect Tyler to continue to put on a great show. He's a very talented back, and it's important to remember that he was able to put on an awesome performance even with the Trojans' young and inexperienced offensive line.
Most impressively, Tyler had a 14-yard run in which he literally carried three or four Utes with him for the first down, and then some.
Barkley Spreading the Ball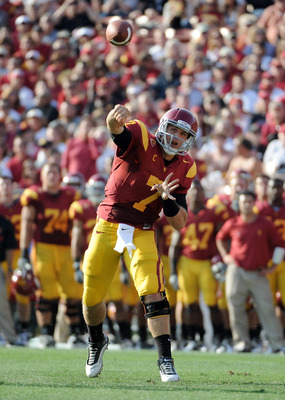 Harry How/Getty Images
Last week, Robert Woods had 177 receiving yards and three touchdowns. The rest of the team's receivers had 127 receiving yards and no touchdowns.
It was good to see Barkley distribute the ball more evenly. Xavier Grimble was involved with five catches, 66 yards and a touchdown. It was good to see Marqise Lee and Randall Telfer involved, too.
Tight end Rhett Ellison was silent again today, but overall, it was good to see more receivers getting looks.
Barkley was sharp completing 62.5 percent of his throws. He was on fire all game long from the beginning, and his hot streak continued from last week.
Excellent Defensive Line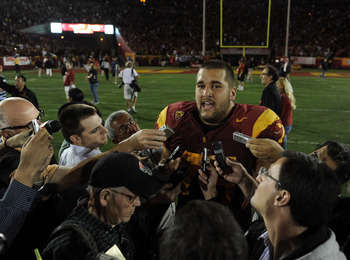 Harry How/Getty Images
USC's defensive line really stepped up in the second half. They sacked the Utah quarterback twice for a combined loss of 28 yards. Needless to say, those two sacks had a huge impact on the rest of the game.
The first sack came early in the fourth quarter when Utah was driving and was almost in field goal range. Nick Perry's sack put them out of field goal range and forced the Utes to punt.
The second sack came later in the fourth when Utah was in a third-down situation and needed to continue their drive to go down the field and score. Hayes Pullard's sack helped give USC the ball back, and they were able to milk the clock.
The defensive line was incredible in stopping the run. Other than Reggie Dunn's 51-yard run, which set up a touchdown, the Utes were not able to develop a running attack at all throughout the game. John White averaged 2.3 yards per carry for 46 yards.
Ed Orgeron is smiling.
Key Turnovers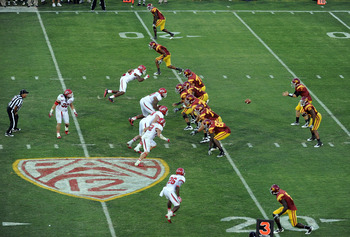 Harry How/Getty Images
The Trojans were pretty good at turning the ball over against Utah.
All three turnovers either robbed the Trojans of sure points or set up Utah for a score.
Matt Barkley threw an interception for the first USC turnover, and they were deep in Utah's territory at that point. They could've definitely at least scored three points.
Later on, D.J. Morgan fumbled the ball, and the Trojans had the ball on the Utah 12-yard line. This could've very well resulted into some more points for the Trojans.
Finally, another fumble by Xavier Grimble in midfield gave Utah the ball, and they ran it in for a score during their drive. This was a direct result of the fumble.
In short, Utah could've had seven less points, and USC could've had 14 more points if the Trojans didn't turn the ball over. This game shouldn't have been close.
Costly Penalties During Bad Times
Harry How/Getty Images
USC only committed six penalties in this game compared to the eight they had against Minnesota, but this game's penalties almost cost them the game.
The most notable penalty came in the dying seconds of the game. The 15-yard infraction set up Utah for a game-tying field goal, which they eventually had blocked by Matt Kalil.
Earlier in the fourth quarter, USC was trying to milk the clock, and they were doing a solid job. Marc Tyler ran the ball to give USC a 3rd-and-1 situation; however, a penalty pushed them back and made it a 3rd-and-16 situation. USC was forced to punt and give Utah a few more chances they shouldn't have had.
These type of penalties kill drives. The timing of these penalties are even worse because they kept putting Utah back in the game.
This game definitely shouldn't have been as close as it was. USC dominated it.
Penalties and turnovers, though, changed that and gave Utah many chances to win.
Keep Reading

USC Football: Like this team?