BYU Cougars Football: Offense Proving to Be All Hype in 17-16 Loss at Texas
September 11, 2011
Erich Schlegel/Getty Images
Thanks to another pitiful offensive performance by the Cougars, BYU fans can now make their reservations for the Armed Forces Bowl in Dallas on December 30th.
Any BCS opportunity was squandered by BYU in a 17-16 loss to a Texas team that couldn't even decide on a quarterback until the final drive of the game.
It was the third straight regular season game going back to last season in which the Cougar offense could not finish off drives against an average opponent.
What gives?
Didn't Jake Heaps and Ross Apo call their own press conference two years ago?
Wasn't Heaps supposed to be the top QB recruit in the nation?
Wasn't Brandon Doman hired to take the hand cuffs off of Heaps that former Offensive Coordinator Robert Anae had shackled him with?
It's a frustrating scenario that seems to be playing out week after week, in which Bronco Mendenhall's defense is forced to try and win games all by themselves.
It wouldn't be so frustrating, if it weren't so obvious that BYU is clearly more talented than each of the previous three regular season opponents, in Utah, Ole Miss and Texas.
And yet, the Cougars are 1-2 in those games.
In college football, especially as an Independent, you don't get second chances to get into the BCS.
And unfortunately for BYU, they now have to wait until next season to get any BCS opportunity.
It didn't have to be this way.
BYU was in total control of a Texas team that couldn't move the ball the entire first half. But instead of scoring touchdowns, the Cougars were settling for field goals.
Why?
Pure and simple, they have failed to utilize the Tight End position.
Let's take a look at the play calling.
On the first drive of the game, BYU had a 1st-and-10 at the Texas 17.
What do they do?
Two straight runs up the middle by RB Joshua Quezada, forcing a 3rd-and-6 in which they fail to execute on a pass to WR Ross Apo.
On the next drive, BYU started at the Texas 37, and after a great 14 yard completion to Tight End Austin Holt the Cougars were in business at the Texas 23 with a 1st down.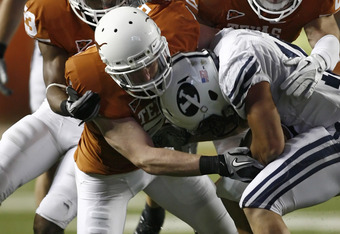 Erich Schlegel/Getty Images
What do they do?
RB JJ De Luigi rushes for two yards, then they throw a five yard pass to WR Mckay Jacobsen and then a short incomplete pass to De Luigi.
On both possessions in the red zone, BYU never utilized the Tight End, and both times settled for field goals.
On BYU's only touchdown drive of the game they gained 28 yards on two successful passes to Tight End Marcus Mathews, setting up a touchdown pass to Ross Apo.
You would have thought Doman had learned, right?
Think again.
In the second half, BYU had a 1st-and-10 at the Texas 22 after completing a six yard pass to Tight End Richard Wilson.
What do they do?
They rush Di Luigi for a loss of one yard to the Texas 23, then Jake Heaps rushes for one yard to the Texas 22 and then with 10 yards to gain they throw a seven yard completion to RB Byan Kariya, setting up yet another field goal.
Unbelievable.
Could Doman's play calling be any more predictable?
How many times are we going to see a Di Luigi rush up the middle on every first down?
Does Doman know he can throw on first down?
Does Doman know he can throw to his Tight Ends in the Red Zone?
Does Doman know that BYU has won hundreds of games by utilizing Tight Ends with names such as Clay Brown, Doug Jolley, Dennis Pitta and Andrew George?
Obviously, he must have forgotten.
The sad thing about all of this, is that BYU has two studs in Cody Hoffman and Austin Holt at Tight End.
Holt only saw two receptions against Texas and yet they were for 41 yards. Hoffman only had two receptions as well.
Is there still time to figure it out, two games into the season?
Yes, just in time for the Armed Forces Bowl.
As for the BCS?
That's still reserved for teams like Boise St. and TCU.
Can you say squandered?
I can.