Oregon Ducks Week 2 Uniforms: Love or Hate?
September 10, 2011
Jonathan Ferrey/Getty Images
Do you love or hate Oregon's Week 2 uniforms?
Here's my uniform grade and breakdown from head to toe:
Helmet: 9/10
Only reason I didn't give it a 10 was that I loved their Week 1 matte black head gear. Oregon's helmets continue to be the best part of their weekly color schemes. Love the carbon-fiber grey with bright yellow "O" to set it off.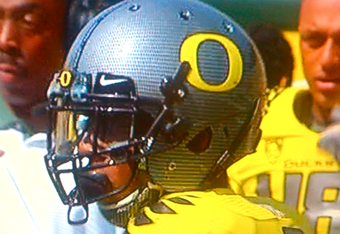 Jersey: 7/10
The bright yellow meshes nicely with the simple grey pants and is perfect for a beautiful September afternoon in Eugene. I still hate the wings on the shoulders, hence the three-point deduction.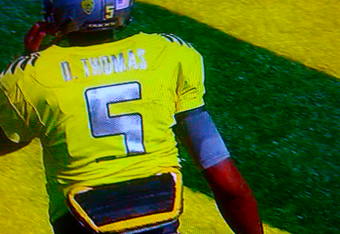 Pants: 7/10
I like the classic grey pants, but nothing special here. Would have been nice to see a little more flair here—did I really just say I wanted more flair from Oregon's unis?
Shoes: 8/10
Bright shoes are always something I look for, and nobody does it better than Nike. The bright yellow sides with the black heels and soles look super clean. 
Gloves: 4/10
With all of the awesome Nike Pro Combat gloves Nike has created this year, I can't believe these lame, all-grey gloves were the best they could do. Very boring.
Overall: 7/10
A nice mix of old and new school. Gloves and pants could have been better, shoes were great, helmets were off the hook. Can't wait to see what Oregon puts out next week!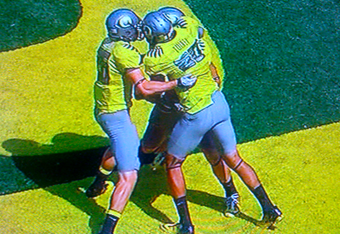 Put your love or hate comments below!