Virginia Tech's Frank Beamer Wins 200th Game as Head Hokie: Career at a Glance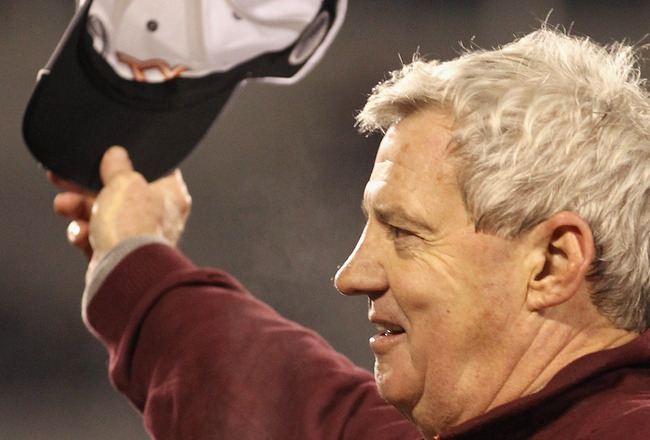 Streeter Lecka/Getty Images
In his 25th season at Virginia Tech, Frank Beamer has notched his 200th win as head Hokie. It wasn't the prettiest victory for the Hokies, as they committed 12 penalties, but a win is a win. Even though there were a few rough years in the beginning, the school allowed Beamer to grow with the program, and he has built a perennial power.
If you ask Beamer, Saturday was just another win, but it's a win that illustrates one of the most successful coaching careers college football has ever seen.
Beamer is trying to coach his team to an eighth straight 10-win season (longest active streak in college football), their 19th straight bowl appearance, their eighth conference championship (3 in the Big East, 4 in the ACC) and their first national title.
Really, the only thing Beamer and his long-tenured staff hasn't done is fill that vacant trophy case in the Merryman Athletic Center that's reserved for a crystal ball. Maybe season 25 is the charm, but for now let's take a look at some of the greatest moments in Beamer's run at Virginia Tech.
First Win at Virginia Tech: October 3, 1987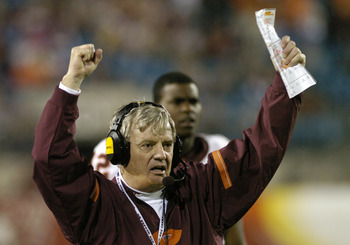 A. Messerschmidt/Getty Images
After losing his first three games as head coach at Virginia Tech, Beamer finally came through with a victory on October 3, 1987 against Navy.
The Hokies won the game 31-11, and little did the Hokie faithful know that would be the first of 200-plus victories at the school.
Beamer's first year in Blacksburg was a long one, as the team finished with a record of 2-9, and the five seasons after it wouldn't be much better.
First Win Against a Ranked Opponent: October 7, 1989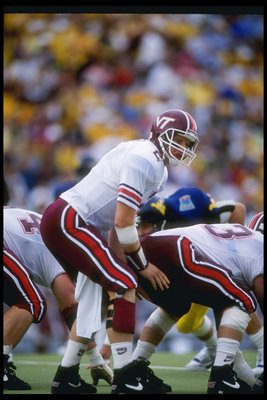 Doug Pensinger/Getty Images
In his third year at the school, Beamer and the Hokies finally beat a ranked opponent, and who better than rival West Virginia. Beamer's squad beat West Virginia 12-10 on the road in Morgantown, shocking the ninth-ranked Mountaineers. Four field goals by placekicker Mickey Thomas, including the clincher midway through the fourth quarter, is all the Hokies would need to take down their heated rival.
For those of you that don't know, the Virginia Tech-West Virginia rivalry was extremely passionate. It's too bad the schools don't play each other on an annual basis any longer.
Beamer Notches His First Winning Season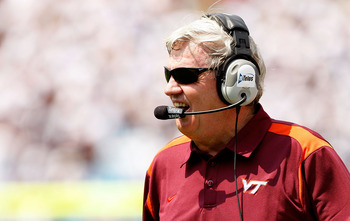 Streeter Lecka/Getty Images
In his third year at Virginia Tech, things were starting to look up for the Virginia Tech football program. Beamer coached his way to a 6-4-1 record, making 1989 the first year the Hokies were over .500 with Beamer.
However, the six wins weren't enough to earn a bowl appearance.
November 24, 1990, Beamer Beats Virginia for the First Time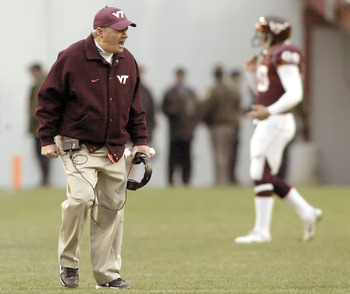 Grant Halverson/Getty Images
It took four tries, but Beamer finally broke through in the last game of the 1990 season against in-state rival Virginia.
Virginia came to Blacksburg as the 17th-ranked team in the country, but were absolutely dominated by the Hokies, getting beat 38-13.
Overall, Beamer is 14-9 against Virginia with six of those losses coming in his first seven seasons. Since 1999, Beamer has coached the Hokies to an 11-1 record against the Cavaliers.
Virginia Tech Joins the Big East in 1991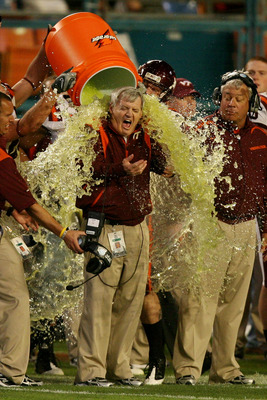 Doug Benc/Getty Images
Joining the Big East was a big step for the Virginia Tech football program. The Hokies had been an independent team from 1965-1990, and now the football program was a member of a power conference.
People look at Beamer's record as head coach and wonder why it looks like the program took a step back in 1991-92, and it's simply because the opponents got better.
Beamer led the Hokies to three Big East conference championships ('95, '96, '99) from 1991-2003. The Hokies' first Big East win came against none other than West Virginia in a 20-14 victory in Morgantown.
Virginia Tech Makes First Bowl Appearance Under Beamer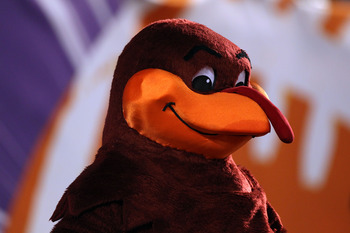 Streeter Lecka/Getty Images
After going 2-8-1 in the 1992 season, Beamer needed to show signs of an improving team. That's exactly what the Hokie faithful received in 1993.
Beamer's squad went 9-3, cracked the Top 25 for the first time under Beamer and received their first bowl appearance under Beamer, against Indiana. The Hokies won 45-20 in the Independence Bowl on New Year's Eve.
It was from this moment on that Virginia Tech football became a perennial powerhouse on the national stage, and they haven't left the spotlight since.
4 Big Accomplishments in 1995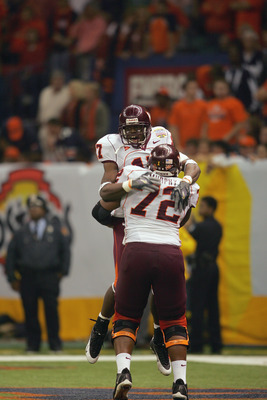 Matthew Stockman/Getty Images
The 1995 season was probably the most successful season Beamer had at Virginia Tech up to that point. The Hokies had their first 10-win season, their first conference championship and their first win ever against Miami, which was also their first major bowl win.
The Hokies played Texas in the Sugar Bowl on New Years Eve and won 28-10. This was a major step forward for the program and signified that Virginia Tech wasn't going anywhere as long as Beamer was standing on the sidelines.
First and Only National Title Appearance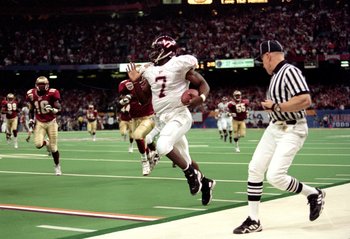 Brian Bahr/Getty Images
From 1995 until their departure in 2003, the Hokies were one of the best teams in the Big East and the country. In 1999, the Hokies had a quarterback named Michael Vick. You may or may not have heard of him, but you could say he was pretty good.
In fact, you could say that he was the greatest athlete to ever step on to Worsham Field. In his first year as a starter, Vick led the Hokies to 11 straight wins and a Big East championship, the third Big East title under Beamer.
That was good enough to land the Hokies in the national championship against Florida State. After being down 28-14 at half time, the Hokies scored 15 unanswered points in the third quarter to take a 29-28 lead. But then the Seminoles outscored Virginia Tech in the fourth quarter 18-0, handing the Hokies their one and only loss of the 1999-2000 season.
Virginia Tech Joins, Dominates the ACC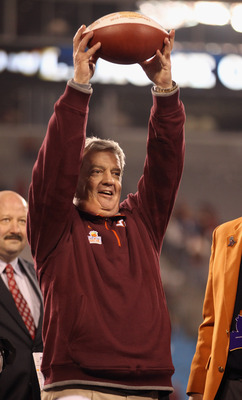 Streeter Lecka/Getty Images
After more than a decade, three conference championships and one national title appearance, the Hokies left the Big East to join the ACC in 2004.
It was a great start to a dominant run that's still going on. The Hokies won the ACC in their inaugural season in 2004, got to the first championship game the ACC has ever had in 2005 but lost to Florida State, and then won the conference again in 2007, 2008 and 2010.
The Hokies are once again favorites to reach the ACC championship in 2011, which could be their fifth title in eight years. In 2010, the Hokies were the first team to go undefeated against ACC opponents since Florida State did it in 2000.
And if you ever forget how many consecutive 10-win seasons the Hokies have, you can know that they haven't had fewer than 10 wins in one season since joining the ACC in 2004.
Beamer Wins 200th Game at Virginia Tech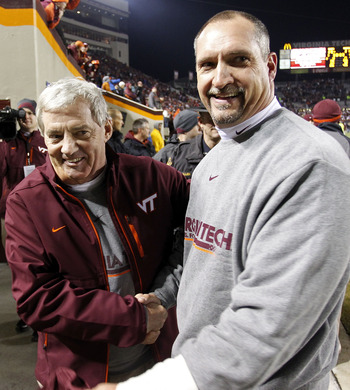 Geoff Burke/Getty Images
When a coach wins 200 games at one school it means one important factor was involved: Loyalty. The Hokies could have easily cut ties to Beamer after his first two seasons, his first four seasons or after he only won two games in his sixth season, but they didn't.
They stuck with Beamer, just like Beamer has stuck with his coaching staff through the years. Beamer finally adjusted his staff after the 2010 season, and we'll see if it's for the better. However, Beamer and the Hokie faithful know that there's still some unfinished business, and that's winning a national title.
Maybe in year 25 Beamer and company can get it done, but nothing can take away from what Beamer has done for the Virginia Tech program.
Here are some highlights of Virginia Tech football over the past few years:
One of the nation's most hostile environments, greatest entrances
Virginia Tech comes back against Nebraska - 2009
Keep Reading

Virginia Tech Football: Like this team?