Notre Dame vs. Michigan: Can the Wolverines Keep the Pace?
September 10, 2011
Jonathan Daniel/Getty Images
Notre Dame head coach Brian Kelly knows exactly what Michigan head coach Brady Hoke is going through.
Just one year ago, Kelly was the new man on campus trying to resurrect one of college football's great programs, with a wrecking ball and chain, rebuilding everything from the ground up.
The two are playing ying-yang with their offenses as Kelly installed the spread and removed the pro-style offense; meanwhile in Ann Arbor, Hoke is working through exactly opposite.
Both coaches can agree that their predecessor didn't spend enough time focusing on the defense and made it an immediate priority to hit the recruiting trail to rectify their respective situations. Notre Dame was able to secure three top-10 defensive ends in the process and Michigan's defense couldn't possibly be worse than last year.  
These are similar situations except for one minor detail. One year.
Give Hoke some time to see what he can do, but for tonight the task is too tall. The Irish are too experienced. The Wolverine defense recruited well, but unless Charles Woodson, LaMarr Woodley and Larry Foote are suiting up—the Irish offense is going to be overwhelming.
This is when Michigan fans and Notre Dame haters alike jump on the "Notre Dame lost to South Florida" bandwagon. What they're not thinking through is, that was a very strong and well coached South Florida team (Skip Holtz former ND player and assistant), that by the way, would have had equal opportunity to "upset" Michigan too.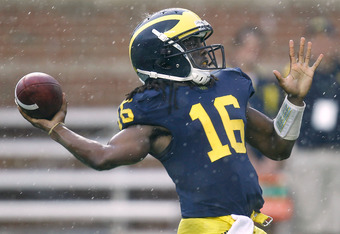 Gregory Shamus/Getty Images
In 2010, South Florida had one of the top 20 defenses in the country statistically. With most of that defense returning, the Irish still piled up in excess of 500 yards and had 22 plays that went for 10 yards or more. They were moving the ball at will against a much under-appreciated defense.
What will they do against Michigan's façade of a defense?
It's quite obvious that Tommy Rees is Notre Dame's starting quarterback. Kelly did the right thing by starting senior Dayne Crist, after all he's been through, but the writing is on the wall.
Rees was under center when the Irish won four consecutive to finish last season, he makes the proper snap decisions to run Kelly's quick-firing offense and he almost brought them back against South Florida last weekend.
The tune will be different with Rees taking the starting snaps.
Last week, Notre Dame didn't take care of the ball and that's their fault. You can't throw away football games at ANY level of football and live to tell the tale. They turned the ball over five times and lost by three points. That's just not a stat you hear too often.
Typically, when a team has a turnover margin of minus-five, they lose by about five touchdowns. The Irish came back and lost by a mere field goal.
They're not going to turn it over five times every game. Odds favor the Irish protecting the ball better against a much weaker defense in Wolverine defense.
The Wolverines do have the 'Nard Dog, quarterback Denard Robinson, who torched the Irish for over 500 yards of total offense and a game-winning drive capped with 27 seconds to play.
In 2009, Tate Forcier provided the spark with superior quarterback play chucking 240 yards in the air and 70 on the ground—again slamming the door on Irish dreams, tossing a touchdown pass with 11 seconds remaining.
Will this year be the third consecutive last-drive game in this series?
I don't see it. Kelly looks to have his defense solidified. The front seven Robinson will see are deep and experienced, while the secondary only lost star corner Darrin Walls.
The matchup I look for here is Irish star linebacker No. 5 Manti T'eo lining up eye to eye with Denard Robinson every single down. It's a showdown of arguably the best two players in the nation at their respective positions.
The real problem I see for Michigan fans is the assumption that Hoke can get the "best of both worlds" out the new offense. You can't have the unstoppable spread chaos that Rich Rodriguez created, blended with the conventional fortitude of the old Michigan pro-style offense.
Even at its best, I don't think Michigan's offense will be as dynamic as last year (that's a credit to Rodriquez) and at it's worst there's bound to be some stagnant moments while they work out the kinks.
Denard Robinson isn't a pocket quarterback. They're taking the fish out of water and even with oxygen this fish can't hit Lake Michigan with a football 20 yards in the air.
Any slag in offensive production will find the Wolverines with a deficit, with Irish wideout Michael Floyd (12 receptions 154 yards and two TDs last week) exploring the studio space, in the Big House under lights.
Floyd could start on just about any NFL team right now, but he decided to come back to ND for his senior season and help coach Kelly get his program off the ground.
Hopefully, Hoke can say that next year about Denard Robinson, but folks, that's next year
Today, I expect Notre Dame to be inspired, and the Wolverines to show some rust as their new machine works out the kinks.
Notre Dame wins big at the Big House.  
Final Score:
 
Notre Dame 42, Michigan 27
Ryan C. Zerfas is the featured columnist for Michigan State football right here at the Bleacher Report. He occasionally writes about non-football related things in his blog named after himself found here: www.ryanczerfas.blogspot.com