Nebraska Football 2011: What To Expect on Offense Against Fresno State
September 9, 2011
Eric Francis/Getty Images
The Nebraska Cornhuskers opened the 2011 college football season with a 40-7 win over the Tennessee-Chattanooga Mocs, but despite the lopsided score, the team left the fans wanting more, especially on offense.
Much of that can be attributed to first-game jitters, not to mention the fact that it was the first real game in which any of the players or coaches ran offensive coordinator Tim Beck's brand new attack. However, the drops by receivers and occasional ineptness of the offensive line have fans worried.
With that being said, it's possible the coaches intentionally held back some of the offense to keep it under wraps, which could have made the attack very predictable.
Nebraska may have to open it up more this week, though. The Huskers take a step up in competition this week when they take on the Fresno State Bulldogs, so Nebraska's attack will have to show significant improvement in Week 2.
As we anticipate the tilt with the upset-minded Bulldogs, let's take a look at what the Huskers might do offensively.
Running Game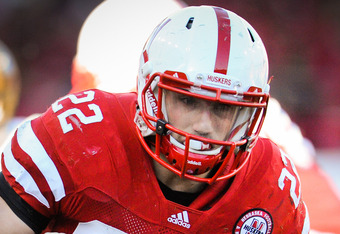 Eric Francis/Getty Images
Nebraska didn't use the running backs much against the Mocs, but look for that to change against Fresno State.
Rex Burkhead, who most think will consistently get 20-25 touches per game this season, had just 11 carries. While he did make the most of those carries by churning out 75 yards and a touchdown, it was mildly surprising that Nebraska's offensive cornerstone touched the ball just 11 times all game.
Compare that to Taylor Martinez's 19 carries, which we'll get to in just a minute.
Expect Burkhead's load to increase considerably this week, however. Burkhead is Nebraska's unquestioned starter at running back and the coaches know he needs to have the ball in his hands early and often, especially up the middle.
The junior's wiggle and balance is perfectly suited for consistently producing four to six yards between the tackles, including an occasional 20- to 30-yard scamper.
As previously stated, Taylor Martinez had a game-high 19 carries for 135 yards and three touchdowns against Chattanooga.
While it was great to see Martinez's explosiveness return, he must choose his carries more wisely. The Huskers will apparently feature a lot of options this year, and Martinez must hand the ball off more often. If he continues to carry the ball frequently, it will only be a matter of time before he gets banged up. Martinez should have about 10 to 12 carries per game and he needs to learn how to make the most of those by picking his battles.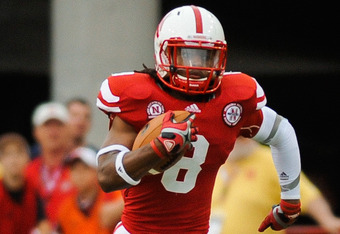 Eric Francis/Getty Images
None of the three talented freshmen got much work offensively against Chattanooga, but I think Ameer Abdullah, Braylon Heard and Aaron Green will all be a bit more involved this week, especially in the passing game. Expect each to get between five and eight offensive touches, mainly on option plays and bubble/screen passes.
The offensive line should do considerably better this week, even with the uptick in competition. The line expressed frustration over its poor performance and I'm expecting to see them all come out with a chip on their shoulders.
If the line can get in sync when run blocking, we could see big days from Rex Burkhead, Taylor Martinez and maybe even Abdullah, Heard and/or Green.
Fullback Tyler Legate had the game's first carry, but never touched the ball after that. If Martinez gets more adept at running the option, Legate should automatically get more involved.

Passing Game
Nebraska's passing game looked eerily like the 2010 version at times against the Mocs, but there's big reason for optimism.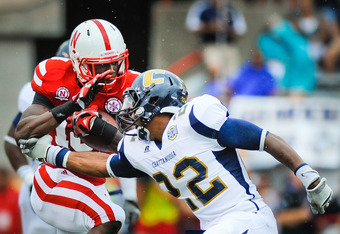 Eric Francis/Getty Images
This aspect obviously starts with Taylor Martinez and the sophomore actually performed better in this area than the stats show. While Martinez only completed 11 of his 22 passes for 116 yards, at least four on-target passes were dropped by Husker receivers.
Martinez made smarter decisions in general, such as throwing the ball away rather than taking a sack, and seemed to have calmer nerves in tough situations than he did last year. Nebraska's passing game also features shorter, higher-percentage passes, which is much more suited to Martinez's strengths.
Nebraska's receivers had a very disappointing day. Star senior Brandon Kinnie had two drops and young wideouts Jamal Turner and Quincy Enunwa each had a drop also.
Enunwa had a great day otherwise, however. The true sophomore led the Huskers with four receptions for 58 yards. Turner had just one reception, but was electric in turning a two-yard screen pass into a 19-yard gain, nearly breaking it for a touchdown in the process.
While the passing game did show promise, the receivers must catch better and the tight ends must get more targets.
Kyler Reed and Ben Cotton caught one pass each against Chattanooga, and even though both looked very impressive doing it, they were rarely targeted the rest of the day.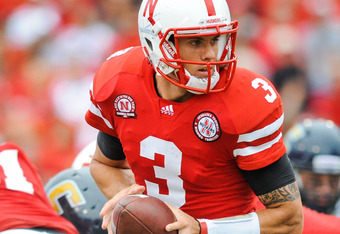 Eric Francis/Getty Images
Reed paced the Huskers with eight touchdown catches last season and emerged as arguably the most reliable and dangerous weapon through the air; this offense must get him the ball frequently. Cotton is more of a run blocker, but has certainly had his moments in the passing game and his size makes him a great third-down and red-zone option.
The coaches very likely realize the type of talent they have at tight end and how underutilized the position was under Shawn Watson. Expect them to make sure Reed and possibly Cotton see expanded roles against Fresno State.
Explosive freshman Kenny Bell, who didn't have a catch against UTC, should also get more attention against the Bulldogs.
In General
 The Nebraska offense has already shown that it will feature elements of the power option and the spread running game with a quick tempo. In addition, the passing offense will allow the receivers to have more freedom in running routes, which will be shorter and easier throws for Martinez to make.
As far as scheme goes, last week's offense told us a lot about what Tim Beck wants to do. But this week, expect Martinez to distribute the ball more and handle the load less. If the receivers decide to catch and the linemen decide to block, the offense could have a very good game.
Game Prediction: Nebraska 42, Fresno State 13.