Texas vs. BYU in the Dark: Is Anyone Watching?
September 9, 2011
I really can't decide which topic is more interesting to write about: an untested Texas team (Rice doesn't count) that's about a host a "come from behind in the fourth quarter to beat Ole Miss" Brigham Young team or the fact the fact that no one in Austin will be able to watch it.
The Longhorn Network, you know, the ESPN-Texas brainchild that has angered almost every Texas fan on the planet, and definitely every one of them that lives in, um, Austin, is not carried by a single cable or satellite television provider in the Austin.
When radio personalities refuse to name the bars they watched the Rice game at because the bar illegally tapped (if that's the right word) the Longhorn Network, you know something has gone awry.
Despite Texas' success against Rice, I'm not sure if there is a single Texas fan who would consider such successes worthy of contemplation beyond "Thank God we didn't lose." No doubt, more than a few question marks remain in the minds of players, coaches and season ticket-holders as to what will happen Saturday night when BYU rolls into town.
The Cougars of Brigham Young are consistently good, riding a high for their come-from-behind victory and have nothing to lose facing the No. 24 ranked Longhorns of Texas.
While BYU has shown grit and the will to win, Texas hasn't shown much of anything, especially to fans viewing local cable providers…BYU wins by seven.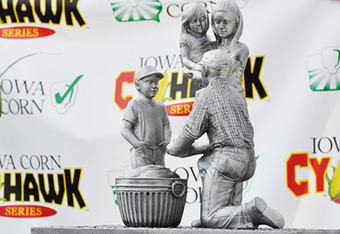 (Correction: I just learned the game is being covered by ESPN2, which totally deflates the premise of my piece, but it was fun to write just the same.)
Okie Lite kicks off the week by crushing Arizona…no real surprise there, despite the unfortunate nature of it all.
The Baylor Corner
Baylor—my new favorite team to write about—lives a Big 21 lifestyle with a Conference USA resume. The team that can't prove much of anything on the field has decided to go litigious with Texas A&M and the SEC. An incredulous move when you consider the fact that nine out of 10 dentists could care less that Baylor is in the Big 12 at all.
Fun side note: Kenneth Starr is Baylor's attorney. Insert your own joke here (pun intended).
Last week, I was chastised by Baylor fans for flatly saying that "Baylor sucks" without backing it up. After being referred to as an idiot and other disparaging remarks because, clearly I had no clue how awesome Baylor is, I was also told, and I quote, "If you're going to write an article, all we readers ask is that it's well-reasoned…it just wasn't supported by anything tangible." 
Okay, fine. How's this for tangible? Since Baylor joined the Big 12 in 1996, the Bears are 18-101 in conference play. I'll leave you to draw your own conclusions.
Stay tuned to future .260 Hitters articles, with each one now featuring a special Baylor Bears section, where their ridiculousness will now be exploited for your reading pleasure.
Back to the Football
Oregon State, home of the "we lost to Sacramento State" Beavers, hosts the Badgers of Wisconsin. That would be No. 8 Wisconsin, as in "we don't lose to schools that no one has ever heard of" Wisconsin. Anyone taking win-lose bets for OSU this weekend? I didn't think so.
Stanford's Andrew Luck plans to put up stupid numbers against Duke this weekend, padding his bid for the Heisman trophy. He told me so.
Utah at USC might be the most interesting game of the week, though likely not the most "course of college football"-altering, as the Trojans try to come back from a nearly fatal first-round loss to Minnesota while the Utes get their feet wet in Pac 12 play. USC wins the game, but not by much.
Mysteriously still ranked TCU fights to not go 0-2 as it travels to beautiful Colorado Springs and takes on Air Force. Not much to be said about Air Force, at least nothing nice to be said, but it will certainly give the clearly vulnerable Horned Frogs a run for their money. I'm taking TCU in this one, but mostly because I never pick Air Force and I just don't see the Horned Frogs dropping two in a row.
Upset Pick(s)
BYU beats Texas by seven.
The Rainbow Warriors hit the West Coast, traveling to Washington for their first game on the mainland this season. After an impressive showing at home against Colorado, Hawaii is poised to fight its way to head of the WAC and two wins in a row against Pac-12 teams certainly won't hurt.
Game to Watch
Ok, this isn't really the game to watch, but I cannot let Iowa vs. Iowa State go without mention as the Hawkeyes battle Cyclones for the Corn Family Trophy. The newly designed trophy has been touted with such praise as "a little weird" and "awful." I don't see what the problem is. What an incredible display of craftsmanship and football glory for a team (i.e. Iowa) to hoist into the air every year after beating the other team (i.e. Iowa State). 
Could they have just come up with a really big scythe or something?
Ok, the actual game to watch (and this was hard to pick) is Alabama at Penn State. The Nittany Lions (.260 Hitters pick for clunker team of the year) will do everything they can to survive 60 minutes on the field while their head coach keeps referring to them by the names of PSU players from the 1980s. Bama, well, this isn't Alabama of year's past, but no way it's letting this road bump get in their way. Tide rolls by 20 (or more).
www.260hitters.com
www.twitter.com/260hitters