Michigan State Football: Things to Look for Against Florida Atlantic
September 9, 2011
Dave Reginek/Getty Images
I have no inclination towards being an uppity Spartan hipster and/or negative Nancy. I really don't want to be negative at all. It hurts the soul.
When Bleacher Report put a teaser on my last, obviously oversensitive piece, "Plenty of Negatives for Sparty in Opener" I was taken aback.
(that piece can be found here: http://bleacherreport.com/articles/833359-michigan-state-football-youngstown-state-post-game-analysis)
First of all, I would NEVER, and I reiterate, NEVER, use the word "Sparty" in reference to anything other than the greatest mascot in college football. I hate that.
I hate when people use "Sparty" to be all chummy with me around the office or at family gatherings. I cringe when sportscasters use it on national television, desperately grasping for an edge. Stop. It's not cool. People from Michigan State don't like it. Spartan Nation doesn't call Wisconsin's program "Bucky," because it would be rude and you'd look like an idiot saying it. Respect.
Secondly, now that we got THAT out of the way, that's not how I see this at all. However, I do have high expectations for this fine football program and I want to lend a voice that gives a realistic perspective of the football you see on the field. After all, that's where the games are played, right?
I just don't want Spartan Nation to be disappointed when they don't live up to ESPN analyst Colin Cowherd's (and too many others') nine-win benchmark. There's a tough road ahead and what we saw last week was indeed discouraging for that benchmark, not an opening day walk in the park.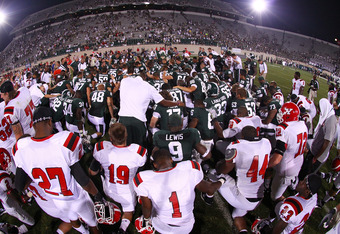 Dave Reginek/Getty Images
There were a number of positives that came out of that game that I didn't discuss in my analysis. I give much thanks to faithful Bleacher Report readers who brought a few things to my attention in the comment section. Please continue to do so.
It's early, and I didn't pay any homage to everything the Spartan coaching staff has been through with Head Coach Mark Dantonio's father passing and the lack of time and devotion he can put forth to the team. Godspeed to Mark and his family.
Obviously, that makes everything tougher for everyone involved, and probably had a great deal to do with some of the haphazard, undisciplined play on the field, although I've never been a fan of excuses.
The Spartans are replacing a vast number of players. That fact gets distorted because for the most part, all the big names have returned, but many of the key cogs from last year's breakout sensation have been rotated out and it's going to take some time to get the new pieces oiled and the machine ready.
Coach Dantonio is really experimenting with lineups and looking to show teams as little as possible through this early part of the season when almost nothing is on the line. Only a few teams (I remember one specifically) lose these early season games in grandiose upset fashion.
Central Michigan was a better team than we were a few years ago. I said it. The season really does shake out as two practices before Notre Dame and the always dangerously tumultuous rivalry with the aforementioned Central Michigan, prior to the Big Ten season, that opens at Ohio State, Michigan, Wisconsin and at Nebraska.  
"The message is this is our first game, they all count one. We have to get better and that is how we will take care of it," cited Dantonio, matter-of-factly, in an interview discussing the Spartans lackluster opener.
Yeah…that about sums it up.
Things to Look For

Lineup changes are a good place to start. It's obvious Dantonio and I agree with a few of the missteps in Week 1. My favorite is the demotion of outside linebacker Steve Gardiner and reshuffling of the offensive line.
Here are some notes:
1)  Redshirt Freshman sensation Nick Hill moves ahead of Keyshawn Martin and Larry Caper in regards to returning kicks. It's clear that Dantonio sees open-field play-making ability in Hill, and wants to find ways to get him involved. I definitely see a Deandra Cobb factor here.
2)  Fifth-year senior Jared McGaha has been demoted from left tackle. He will be replaced by sophomore Dan France and junior college transfer Fou Fonoti.
3)  Junior Blake Treadwell is now starting center over red-shirt freshman Travis Jackson.
4)  Junior Chris Norman and sophomore Denicos Allen are starting at outside linebackers. Steve Gardiner transferred to Grand Valley State. Kidding. One could hope, right?
5)  Sophomore William Gholston holds an edge on junior Tyler Hoover at defensive end. Hopefully, Gholston shows a little more tenacity and ability to get low this week as it looked like he was pushed around last week. He really is a physical specimen that needs to be involved somehow, someway.
The main thing I'll be looking to see out of the Spartans is offensive line improvement. I'm all for shuffling, and believe it's going to take a minute to find that cohesive unit that will take the Green and White to the next level, but I want to see Florida Atlantic get pushed back, not vice-versa. Let's celebrate some positive runs between the tackles playing a man's game Saturday afternoon and show FAU what Spartan pride is all about. Grind it out.
There are also some selected individuals to watch as well.
Max Bullough somehow amassed 15 tackles last week against Youngstown State. I say somehow, because I thought it was a rather quiet tally, as I tend to agree with his grandfather, former Spartan Guard (most notably on the 1952 Rose Bowl Championship team) and prophetic "Godfather" of Spartan football, Hank Bullough, who was quoted saying in saying, "he played alright."
Obviously, if you get 15 tackles you have a nose for the ball, but he still looked a little slow and lacking of the physical tools needed to be a Big Ten linebacker. Hopefully, that will develop over time. I look to see if he continues his assault on his uncle, Chuck Bullough's, Spartan record of 175 tackles in a season, which I'm sure would make his Spartan father, Shane Bullough, very proud. Did I ever pontificate about how it's family for Michigan State? This is a great thing to track all year.
Kirk Cousins. It's impossible not "single out" Kirk Cousins for obvious reasons, but he did manage to look a lot like Aaron Rodgers last week with an impressive 18 of 22, for 222 yards and one touchdown performance. I would love to see him hold this standard of efficiency.
B.J. Cunningham's record book aspirations will be a good storyline all year. One catch is all it takes and he'll have sole possession of the Spartan receiving record, which is tied between him and Matt Trannon right now at 148 receptions (other notables include Andre Rison 146, Courtney Hawkins 138, Charles Rogers 135). He needs a 1,000-yard season to pass Kirk Gibson, Rogers and Rison for most receiving yards and 14 more touchdowns to pass Charles Rogers mark of 27. He had nine last year, so it's easy to fathom, and wish for 15 this year, right Spartan Nation?
Lastly, I plan on meditating in Central Park with the gracious and earthy words of Walt Whitman prior to kick off. I want to channel that positive energy that makes us all love football so much in the first place. I'm not here to sink ships.
Strike up the band and let's get it on, boys!
If you enjoyed this piece and want to check out my thoughts and over emotional views on other things I love in life, my blog can be found here: http://ryanczerfas.blogspot.com/