Arizona Football: Is Mike Stoops' Program on the Backslide?
September 9, 2011
Jonathan Ferrey/Getty Images
Mike Stoops' program at Arizona is no longer rising.
Oklahoma State's 37-14 choke slam of the Wildcats on ESPN and ESPN3D Thursday night sets up a nightmare scenario entering the squad's three toughest games over the next three weeks: At home against the conference's top two teams, Stanford and Oregon, before a road trip to Los Angeles to face USC.
That has to be one of the most brutal stretches over that span of anyone in the country.
The beatings sustained by the Wildcats over the last two years by college football's upper tier are troubling.
Included in the string of blowouts since the end of 2009 are these throttlings:
A 33-0 loss to Nebraska, led by Ndamukong Suh, in the Holiday Bowl
A 36-10 loss to Oklahoma State in the Alamo Bowl last December
A 42-17 loss on The Farm at Stanford
A 48-29 loss to eventual national runner-up Oregon 
Those are scores akin to what the program saw on the regular under the most maligned coach in Arizona history, John Mackovic.
And whenever Arizona starts to seem like a legitimate player on the national scene in recent years, the season inevitably crumbles.
Last year, after starting out 7-1, including a win over then top-10 Iowa, the Wildcats lost their last five, capped by that Alamo Bowl hammering by the Cowboys.
In 2009, Arizona opened with six wins in its first eight games before collapsing late in the season, losing three of the last five, costing the program its first real shot at the Rose Bowl in over a decade.
This year, Arizona will struggle to get off the floor at all, that minefield of early powers likely to steal any semblance of confidence immediately.
There is a list of excuses for a showing like Thursday night's beating:
Star receiver Juron Criner, the best player on the team, underwent surgery for appendicitis and did not make the trip.
Arizona was playing without four defensive starters (Adam Hall, Jake Fischer, Jonathan McKnight, Willie Mobley), all of whom blew their knees out before the season started.
It was the first prime-time game for Arizona's five brand-new offensive linemen. And they looked completely overwhelmed at times, particularly in the ground game. The Cats managed a meek 41 rushing yards.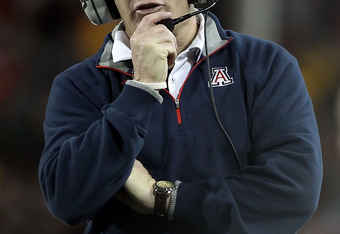 Christian Petersen/Getty Images
But none of those issues are severe enough to justify what happened in Stillwater.
There were a bunch of penalties (11) the adjustments were made extremely slowly and the sidelines seemed devoid of emotion, besides Stoops' usual ranting.
It's not just the ugly losses and losing skids that raise concern. While assistant coaches switching jobs is par for the college game, the rate at which Stoops' crew have jetted Tucson over the last three years is not healthy for continuity.
Sonny Dykes, the man who set up the "Air Zona" spread attack, left after a short stay to take over at Louisiana Tech in 2010.
Last year's defensive coordinator, Greg Brown, bolted after one season for lowly Colorado.
And even Mike Stoops' own brother, Mark, left for the same job—defensive coordinator at Florida State—where he is thriving on a national contender.
That doesn't start to touch on all of the defections, as multiple position coaches have come and gone quickly (Duane Akina, anyone?) in recent years.
Stoops can seem obnoxious at times, berating everyone within earshot on the sidelines, a constant temper tantrum in waiting.
But he did rebuild Arizona from its all-time lows of the John Mackovic era back into a reasonably respectable program. Unfortunately for Stoops, people are now expecting that reasonably respectable program to turn Rose Bowl worthy.
And if it that's going to happen, serious changes are needed, mainly in the way of adding talented depth and more sound schemes.
If what happened at Oklahoma State is any indication (right now, it's the only real indication), Arizona's momentum is rolling in the opposite direction of Pasadena.
A victory over Heisman-fave Luck and Stanford will ease the coach's suddenly shaky standing and avert disaster for the season in the process.
Stoops needs the next one.