Cincinnati vs. Tennessee Football: Will Bearcats Be Another Warmup for Vols?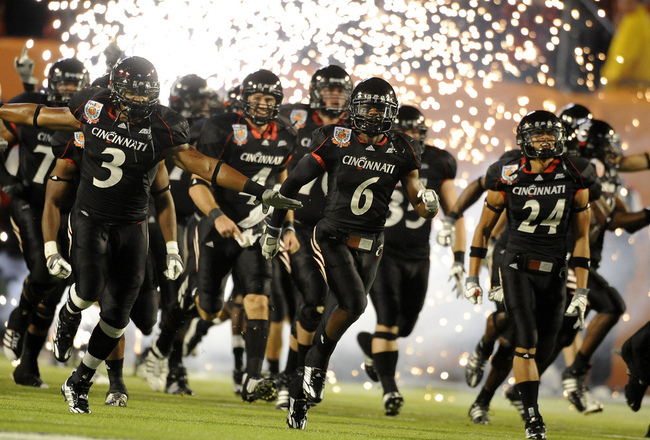 "If what you did yesterday seems big, you haven't done anything today." —Lou Holtz

I never really gave much thought to anything Lou Holtz said, primarily because he believes Notre Dame will win every game they play, secondly because he sounds like the Tasmanian Devil.
However, his quote seems prophetic considering the circumstances for the Vols this Saturday. The Bearcats are no longer led by Brian Kelly who coached their team to a record of 23-3 and two conference titles over two seasons before bolting for Notre Dame. Enter Butch Jones, who on his first outing squandered what little legacy was left behind and ended his first Bearcat campaign 4-8, and seventh out of eight teams.
But, don't get too happy. It seems Jones may have learned a thing or two after last season, and now seems to have a few things mapped out. The biggest question is whether or not Jones will use the Vols to make a statement, or if the Vols will skin the Bearcats as another warmup for a swim in the Swamp.
Whatever happens, Tennessee can't bank its win against Montana until the Bearcats have been dismantled, and in convincing fashion.
Dooley Will Remind the Vols They Are an SEC Team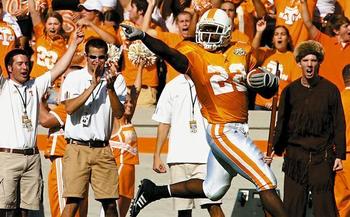 After all the players give their two- to three-minute video interviews saying how they won't underestimate the Bearcats, head coach Derek Dooley will remind them that they are in fact an SEC team hosting a Big East guest.
Don't think for one minute that after all this time Dooley will start letting these kids believe they are on the same level as Cincinnati. Do you honestly believe he will say "Hey boys this isn't the Grizzlies, this is the Bearcats!"? No he won't—nor will Justin Wilcox.
What will happen is they will tell them all week that they aren't doing anything right and then 15 minutes before kickoff he will tell them that they are in fact all bulletproof supermen disguised as football players but the success of their season depends on this game. This speech will of course be repeated each Saturday in varying details but you get the idea. Remember that Lou Holtz quote? They have yet to prove anything of any real importance; after sleeping on it I think the real Vols will show up on Saturday.
OK, Mr. Predictor—how will they do it? I am so glad you asked.
Austin Peay May Have Been the Easiest Warmup Ever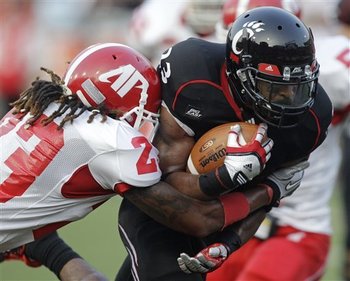 I'm sorry, but Austin Peay really is just a horrible team.
In the last five years they are 18-35, and never win against any teams of real importance. They are slow, poorly coached and usually get the leftover recruits of Memphis and Murray State. But the funny thing is, even though they got the crap kicked out of them by the Bearcats, they still managed to pass for 150 yards and rush for 127. Of course, Peay helped the Bearcats a little too; not only did they throw two interceptions, they also fumbled three times.
Oh well, I'm sure Cincinnati is still proud. I mean they rotated all their people right? Oops, did I write that out loud?
No Sacks on Bray: The Line Will Win Their First Victory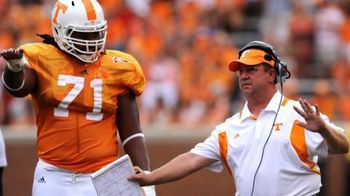 Oh my, I have been critical of the O-line. They so seldom get any real praise for their efforts. Well I'm giving it beforehand now.
Rest assured after last Saturday against Montana, Harry Hiestand asked the line repeatedly how they let their QB get flattened three times. Yeah yeah, I know they were lined up this way and that, and eventually had to allow some penetration...baloney.
The line will make adjustments and rotate a few more times, giving the big men a little breathing room and keep them fresh and able to issue pancakes. This in turn will frustrate the Bearcat D-line allowing Bray to stretch the field and set up the run. They will be so concentrated on rushing the passer that when Bray starts firing off those quick slant routes they will start sticking their hands up to tip the ball. Poole will take the ball and skip on down the field because the LBs and CBs will be too worried about Rogers and Hunter.
And before you say it, yes I am aware they are juniors and seniors, but none of them have ever played against an SEC team either. None. They were all riding the bench in 2009 when they lost to Florida 51-24 in the Sugar Bowl. Anyway, Bray will be safe and the line will have their first victory of the season.
Justin Wilcox's Swarm Philosophy Will Get Better but Still Fall Short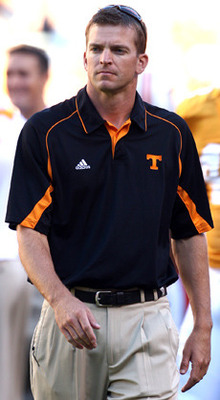 I wasn't very impressed with the defense last week.
The fact is they still allowed Montana to throw for 239 yards. despite the fact that the sophomore QB they were using only threw 20 completions the previous year. And even though it took six rushers to do it they still gained 111 yards on the ground. Yeah the Vols won, but to allow that much ground and air, and 14 points, is shameful.
However, I'm thinking Art Evans and Marsalis Teague show up again for a repeat performance (minus of course getting blown out of the water for a TD), and Prentiss Waggner will remember that he knows how to intercept. The LBs will be a little shaky and allow too many rushing 1st downs, but the D-line will make up for it; Ben Martin and Malik Jackson will tie for tackles with six apiece.
And, Brent Brewer will get caught by officials for hitting just a tad too high.
At the end, the defense will perform just enough to keep Cincinnati out of reach. But, they will get close to 200 yards on the ground.
On This Week's Episode of the Tyler Bray Show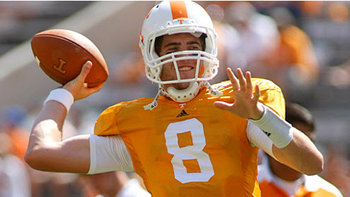 I pretty much thought this kid was done after the North Carolina game. I thought he had confidence issues and would drown behind Justin Worley in spring practice. Clearly I don't give Bray enough credit.
Against Montana he went 17-for-24, and I only saw two passes that were clearly un-catchable, and I am being a skeptic.
WRs D. Rogers and J. Hunter will be fast enough and strong enough to beat the Bearcat secondary and again, that will be enough for the Vols. T. Poole and M. Lane will rush for 125 yards, but Bray will get SEC Player of the Week going 26-for-38, 330-plus yards and four TDs.
Final Score: Vols 48 Bearcats 21
Last Week's Prediction: 42-7
Actual: 42-16
Keep Reading

Tennessee Volunteers Football: Like this team?