Top 10 Games of Week Two of the College Football Season
September 8, 2011
Tom Pennington/Getty Images
The first week of the college football season had its fans salivating with the 50-48 rollercoaster ride of a game in which Baylor outlasted TCU.  LSU's 40-27 win over Oregon was also a pretty nice treat for football fans.
While the second week of the college football season does not have as many marquee games there will be good tests for several ranked teams. 
Below are my picks for the best 10 college football games of week two of the season.
Arizona v. No. 9 Oklahoma State
A rematch of last year's Alamo Bowl which the Cowboys won 36-10.  Both teams feature a big play quarterback-wide receiver tandem that will be fun to watch.  Arizona quarterback Nick Foles throws to Juron Criner who led the Pac-10 with 1,233 receiving yards last year.  Oklahoma State's Brandon Weeden is fortunate to have Justin Blackmon, who won the Fred Biletnikoff Award last year.
Pick—Oklahoma State
No. 21 Missouri v. Arizona State
Missouri quarterback James Franklin has some big shoes to fill as the last three Missouri quarterbacks are all currently in the NFL.  Franklin, a sophomore, appears up to the challenge as he had a solid game to open the season, going 17 of 26 for 129 yards while running for 72 yards against Miami of Ohio.  The Sun Devils star linebacker Vontaze Burfict, who had three sacks against UC Davis last week, will try to rattle the young signal caller.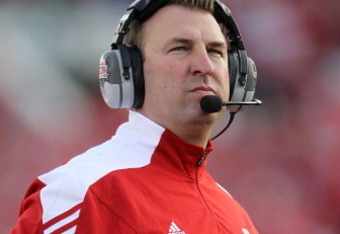 Jeff Gross/Getty Images
Pick—Arizona State
Oregon State v. No. 8 Wisconsin
The Heisman hype for Wisconsin quarterback Russell Wilson will likely begin in earnest after this game.  The North Carolina State transfer was impressive in his debut, generating 317 yards of total offense and accounting for three touchdowns in the Badgers 51-17 win over UNLV.  The Beavers looked completely lost, losing 29-28 to Sacramento State.  Help appears to be at least one more week away as Mr. Everything James Rodgers is going to sit out one more week recuperating.
 Pick—Wisconsin
No. 16 Mississippi State v. Auburn
Last year the teams played a hard fought game won by Auburn 17-10.   Auburn may have a tough time extending their winning streak in the series given the number of new starters.  Auburn looked anemic in their 42-38 win against Utah State.  Conversely, Mississippi State looked strong, vaulting into the top-20 with an impressive 59-14 win over Memphis.  The Bulldogs have to be careful not to look ahead to next week's game with No. 2 LSU.
Pick—Mississippi State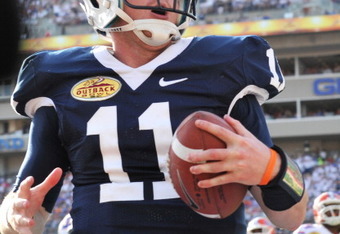 Al Messerschmidt/Getty Images
No. 3 Alabama v. No. 23 Penn State
Generally, I'm not excited to see a game in which both of the teams that are playing could have two quarterbacks see plenty of action. But as they say, there is always an exception to the rule.  Alabama Coach Nick Saban appears ready to play quarterbacks A.J. McCarron and Philip Sims.   Penn State Coach Joe Paterno is ready to counter with Rob Boldin and Matt McGloin.  If the Nittany Lions are to pull off the upset their defense is going to have make the Tide earn every yard.  The two quarterback experiment could come back to haunt Alabama.
Upset Pick—Penn State
No. 11 Virginia Tech v. Eastern Carolina
The Hokies defense was so dominant in week one that Coach Frank Beamer gave his charges the second half off.  This week, Virginia Tech's defense is not likely to be given any time off facing the fast paced quick strike spread offense of Eastern Carolina.  The Pirates quarterback Dominick Davis is very effective in throwing short passes.  In week one, Davis connected 11 times with Justin Hardy for 91 yards and 13 times with Lance Lewis for 108 yards.  The Pirates lost 56-37 to South Carolina but the score is deceiving as the Pirates lead 24-14 at halftime.
Pick—Virginia Tech
No. 12 South Carolina v. Georgia
South Carolina's Marcus Lattimore may be the best player in the nation.  Last season, Lattimore rushed for 1,197 yards and 17 rushing touchdowns.  In the Gamecocks first game against East Carolina, Lattimore rushed for 112 yards and three touchdowns.  Lattimore could be headed for another big day as he ran for 182 yards last year with two touchdowns. Further making life difficult for Georgia is the loss of inside linebacker Alec Ogletree during the Bulldogs 35-21 loss to Boise State.
Pick—South Carolina
Fresno State v. No. 10 Nebraska
The Bulldogs like to portray themselves as giant killers, unfortunately Fresno State has dropped six straight meetings against top-10 opponents since their 44-24 win over then No. 10 Oregon State in 2001.   Fresno State has four new offensive line starters and their inexperience was evident in the Bulldogs 36-21 loss to California.  Nebraska's Black shirts are likely to blitz early and often to keep the Bulldogs off balance.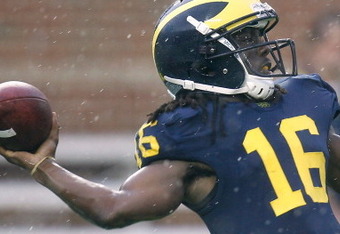 Gregory Shamus/Getty Images
Pick—Nebraska
BYU  v.  No. 24 Texas
Last week, BYU hung around just long enough to beat Mississippi 14-13 with a late fourth quarter defensive touchdown.  This is a big game for Coach Mack Brown, new offensive coordinator Bryan Harshin and the new-look Longhorns.  Texas unveiled a wildcat formation and played 18 true freshmen in beating Rice 34-9.  The challenge becomes much steeper as BYU comes to town this week.  Against Rice, Texas gave up 130 yards on just 30 attempts.
Upset Pick—BYU
Notre Dame v. Michigan
All eyes will be on Notre Dame Coach Brian Kelly as Michigan hosts its first night game in the Big House.   Will Coach Kelly turn beet red in the face and use choice language on the sideline as he did last week in Notre Dame's 23-20 loss to South Florida, or will he be more reserved in his coaching approach on the sideline against the Wolverines no matter the outcome?  Michigan quarterback Denard Robinson had 502 total yards against Notre Dame in last year's 28-24 win over the Fighting Irish.  How many yards will Denard accumulate this time?
Pick—Michigan