BYU vs. Texas: 10 Things to Know About the Longhorns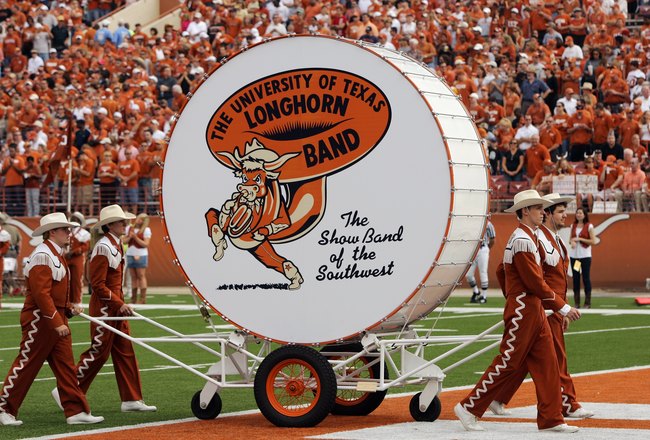 Brian Bahr/Getty Images
This is big time college football.
100,119 screaming fans big. Big Bertha big.
Big Bertha, who? It's a 500-pound drum that is eight feet in diameter. Everything is bigger in Texas.
Are the Longhorns big time football this year, though? The answer: we don't really know yet.
Coach Bronco Mendenhall thinks so: "I think Texas is deeper in talent and more athletic than Ole Miss," Mendenhall said. "They also have more diverse schemes on both offense and defense."
Are the Cougars big time football this year? Rumors from camp said yes. The game at Ole Miss said, well, uh, maybe.
After Saturday night's game under the lights we will have a better idea of the road both teams are headed down this season.
Meanwhile, jot down these 10 notes of what you want to know about the Texas Longhorns going into this ESPN-featured showdown.
Texas Demolished Rice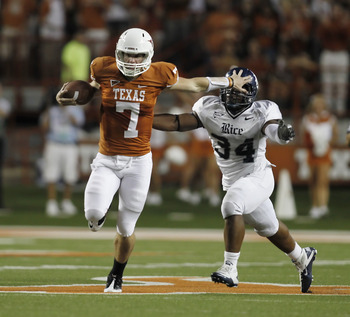 Erich Schlegel/Getty Images
Last week's one sided match brought the Longhorns to a No.21 ranking.
The game was 13-6 at halftime and it looked like Rice had a shot at it. Texas was only teasing the Owls and came out charging in the second half.
Final score: Texas 34, Rice 9.
Ouch!
The Longhorns amassed 504 yards of total offense to Rice's 224. Texas rushed for 229 yards, alone.
Quarterback Garrett Gilbert completed 13-of-23 passes for 239 yards and a touchdown.
But Then, So Did Last Year's 5-7 Sqaud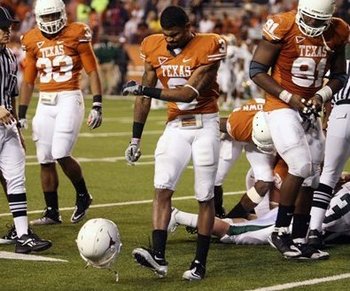 We really have no idea how good Texas is.
The good news for Longhorns fans: Your team dominated Rice last week.
The bad news for Longhorns fans: Your team last year also dominated Rice in the opening week. And then went on to lose seven games.
Ouch!
However, statistics do show an improved Texas team from last year. The game was closer last year; a 17-point win compared to a 25-point win this year.
Last year the Texas offense produced 369 yards against Rice on opening week compared to the 506 yards gained this year.
Judging by statistics alone, this Texas team is better than last year's team. But how much better?
The Longhorn House Is Tough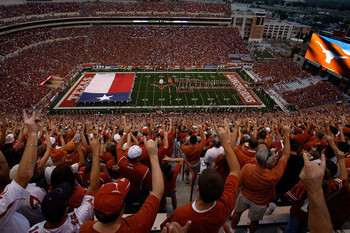 They really do make everything bigger in Texas.
100,119 fans screaming in BYU's opposition will definitely play a factor in Saturday night's game.
In a list of the best home records in college football for the years 2001-2010, Texas ranks No.8. Boise State, Oklahoma, Ohio State, TCU, Troy and LSU all rank higher (in that order).
The Longhorns have only lost nine home games in the past decade.
Sorry BYU, those are bad odds.
Texas's 52-9 home record ranks them one spot ahead of the Utah Utes who hold a 49-9 home record over the past decade. One of those nine losses at Rice-Eccles Stadium came to BYU in 2006.
BYU also made the list. With a 44-16 home record between 2001-2010, the Cougars are ranked No.31.
The Texas D versus Heaps and Friends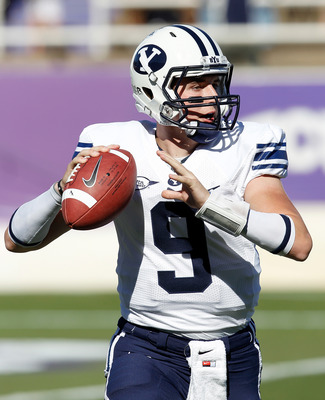 Tom Pennington/Getty Images
How does the Texas defense match up against BYU's "high-powered" offense?
Can we call an offense high-powered that produced one single touchdown last week and was shut out over three quarters of play?
Last Saturday the Cougar offense stalled more times than I did the first week I owned a car with a stick. Believe me, that is not a pretty statistic.
In order to beat Texas, BYU will need to produce more than one touchdown for every 316 yards gained on offense. (Against Ole Miss: One offensive touchdown. 316 total yards. Dismal.)
That one touchdown was earned on a Jake Heaps pass to Ross Apo.
Remember that name, Mack Brown?
Apo committed to play for the Longhorns and then changed his mind to play for Bronco Mendenhall instead.
"It was the worst call of my life," Apo recalled Monday. "It took me forever to call him. I kept practicing in the mirror. It was hard. (Brown) wasn't too happy, either. They tried to get me to change my mind and they wouldn't take no for an answer."
The Longhorns only gave up 94 passing yards last week. Is their passing defense as stifling as that sounds or is Rice just that bad?
Brigham Young's passing threat is considerably deeper than what Texas saw against Rice.
Texas on Offense: Van Noy Coming at You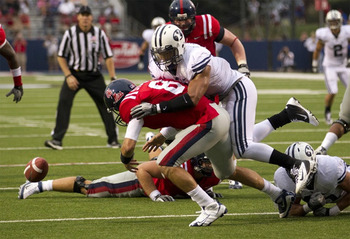 BYU's defense has Mack Brown raising eyebrows.
"You're not going to get any easy yards against these guys," said Brown. "They will hit you. Ole Miss just could not block their defensive fronts, so it will be a huge challenge for our offensive line."
Texas rushed for 229 yards last week. BYU gave up 64 yards on the ground against Ole Miss.
The Texas offense produced 506 yards last week. The BYU defense gave Ole Miss 208 total yards.
Something's got to give.
Texas will look for big gains from Malcolm Brown early in this game. The five-star true freshman gained 86 yards on 16 carries in his debut game as a Longhorn.
Here's the kicker—Brown didn't touch the ball in the first half. If this kid can put up 86 yards in only one half of play what are his stats going to look like when he gets touches all game?
If the Brigham Young defensive front plays as well as it did last week, Brown will have a more difficult time finding holes.
Coach Mack Brown should notice from the Ole Miss film that the best way to run against the Cougars is on sweep plays. Running down the middle gets you nowhere. Just ask Houston Nutt.
Silly Longhorns, Tricks Are for Kids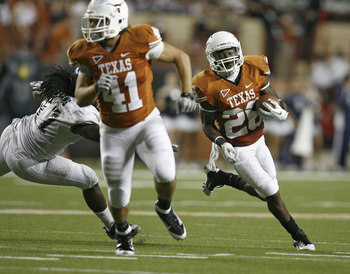 Erich Schlegel/Getty Images
Tricky, tricky.
Watch for nervous movement on the offensive and defensive lines and possible false starts against BYU in this game.
The Texas game scheme against Rice included massive movements before the snap on both defense and offense. BYU coaches will be focusing on training the Cougars when to follow the mayhem movers and when to HOLD STILL.
Trick plays were rearing their ugly heads last week against Rice.
"On Texas' first drive of the second half the Longhorns scored from 36 yards on a receiver pass from freshman John Harris to freshman Jaxon Shipley. Garrett Gilbert handed to Harris who wanted to throw – and did under durress. His throw was a bit short, but Shipley adjusted, even battling a defender who was flagged for pass interference, to catch the pass and stay in bounds for the touchdown."
Brigham Young has a few tricks up its sleeve as well.
Watch for speedy backup quarterback Riley Nelson to enter the game on fourth-and-short situations. At the last second he may sprint off the field while the punting unit comes out.
Or he may not leave the field at all.
Surprise!
Texas Jet Plane in Provo?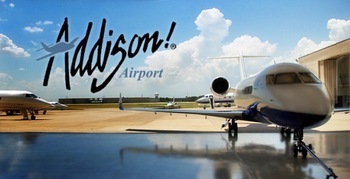 Now to address the rumor mill.
With all the talk rolling about conference realignment, how can I resist?
Last week Jay Drew of the Salt Lake Tribune reported that a private jet traveled from Addison Airport, north of Dallas, to the Provo airport. The jet spent half a day in Provo and went home.
"A Big 12 spokesperson said he was "not aware" of any Big 12 officials on the private aircraft owned by a Richardson, Texas, company known as Boca Air. Duff Tittle, associate athletic director for communications, declined to confirm or deny whether any league representatives were on campus."
Did a Big 12 representative board that private jet? Perhaps not.
Did anyone bother asking Texas if the plane held a representative of its athletic department?
The next two slides will pose some theories as to what the Texas athletic department could possibly have to discuss with BYU.
Rumor Mill Part 2: Texas and BYU Have Something in Common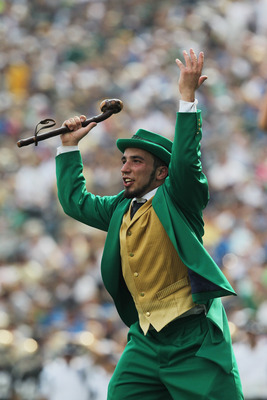 Jonathan Daniel/Getty Images
What do Texas and BYU possibly have in common, you ask.
A clue: He's mean, he's green and most definitely not a bull fighter.
In all the talk of conferences collapsing and/or rebuilding and/or both, BYU and Texas have made mention of a mutual friend: Notre Dame.
According to Chip Brown with Orangebloods.com, the partnership between Notre Dame and Texas was established over a year ago.
In an interview with athletic director DeLoss Dodds, Brown learned that Texas and Notre Dame became close buddies in June 2010 when the Irish were targeted to join the Big Ten.
"Notre Dame was worried about getting decimated to where they were sitting without a conference," Dodds said. "If Notre Dame wants to be an independent and something happens to the Big East, I've told [Jack Swarbick, athletic director of Notre Dame], 'I will fight for you to be a part of this conference in some form or fashion.' I think it would be good for them, and I think it would be good for us."
Dodds has even gone so far as to suggest that Notre Dame and Texas form a new conference together. "But Dodds said nothing should be read into recent football scheduling announcements involving Texas, Notre Dame and BYU."
Also creating a partnership last year, BYU announced a six-game series with Notre Dame last summer on the same day it announced a breakaway from the Mountain West Conference to go independent.
Last week, a BYU source reported to the Salt Lake Tribune that the Cougars were in fact being courted by the Big 12 and were in conversations about the conditions needed to make that deal happen.
Notre Dame representatives were allegedly consulted to give input in the BYU-Big 12 discussions.
ESPN Approves of This Message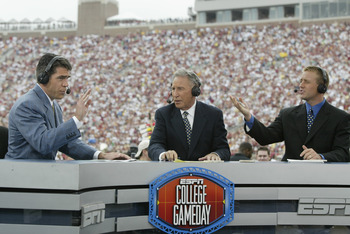 Craig Jones/Getty Images
Finally, I must mention another partnership both programs share.
Texas has its own television network, right?
Right. Sort of.
Texas is in partnership with, you guessed it, ESPN.
ESPNLHN (The Longhorn Network) launched last week for the Rice game and is already an in-demand HD network. The 20-year, three-hundred million dollar contract for the marriage between Texas and the Worldwide Leader in Sports was signed in January.
This is unheard of. Who stays married for 20 years these days?
It is old news that BYU is another ESPN darling. (If the network starts calling its pet schools "The Godesses" I am going get very concerned.)
BYU and ESPN struck an eight-year deal last summer as the Cougars announced independence in football.
"Every year, a minimum of three BYU football games will be carried on ESPN, ESPN2 or ABC. Other games could be broadcast on ESPNU. At least one game each season will be televised live on BYUTV."
This year ESPN is featuring ten of BYU's games. Ten!
Notre Dame, ESPN, Texas and BYU all partnered up—interesting.
Rumor mill, done and done.
BYU Wins, Cosmo Loves It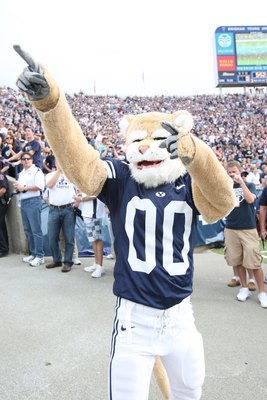 Melissa Majchrzak/Getty Images
The last thing you need to know about the Texas Longhorns is that they will lose at home in a nail-biter this Saturday.
Heads hanging low, the Longhorns will fall out of the rankings.
Do not worry, Texas fans.
The Longhorns will end this season ranked in the top-25 and will be going bowling.
Believe it, Big Bertha.
Keep Reading

BYU Football: Like this team?