Army Coach Ellerson: "Another 'Oh My Goodness' Outfit Coming to Town"
September 9, 2011
Stephen Dunn/Getty Images
West Point head coach Rich Ellerson and his Black Knights have the prospect of facing the second of three straight 2010 bowl winning teams to open the season. 
They host the San Diego State Aztecs at Michie Stadium on Saturday. San Diego State won the Poinsettia Bowl on its home field last year defeating Navy 35-14. 
Last week the Aztecs started the season looking strong in a  49-21 win over Cal Poly.
Senior quarterback Ryan Lindley threw for 203 yards and four touchdown passes on 15-of-27 attempts.
Two of those TDs were caught by 6'2" 210-pound sophomore wide receiver Dylan Denso. 
On the ground 5'9" 190-pound sophomore Ronnie Hillman averaged 6.8 yards per carry, gaining 189 yards on 28 attempts. 
Another ground threat for the Aztecs is junior Walter Kazee who had 82 yards in the opener. 
The Aztec offensive line is big and experienced with junior center Alec Johnson, senior guard Emilo Rivera, junior guard Nik Embernate, senior tackle Tommie Draheim and senior tackle Kurtis Gunther.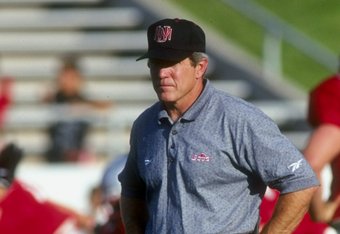 Marc Piscotty/Getty Images
Gunther, at right guard, stands 6' 8" and projects to play on Sundays next year. 
The size of the offensive line will present a real challenge to the West Point defensive front which averages 232 pounds.  
The Aztec defense was led in the opener by senior linebacker Miles Burris and freshman linebacker Jake Fely, both of whom were involved in six tackles. 
Burris recorded the lone Aztec sack on the day. 
First year Aztec head coach Rocky Long served as the defensive coordinator of the team the past two years. 
He served as head coach for the bowl game before being named the official new head coach in January. 
Long was the head coach at New Mexico for 11 years and five bowl game appearances.
Like Army, San Diego State's program has been on the upswing in recent years.
Their 9-4 record in 2010 was their first winning season in 12 years and the Poinsettia Bowl victory was their first postseason win since 1969.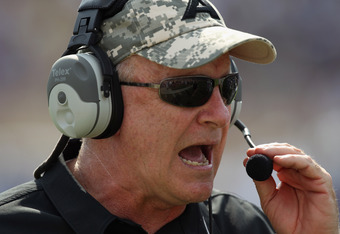 Streeter Lecka/Getty Images
Coach Ellerson at his weekly news conference talked about needing to see improvement from his young team not just "game to game but play to play" in order to compete with teams coming up on their schedule. 
The Black Knights are coming off a 49-26 loss at Northern Illinois on opening night of the season.
They start a two-game home stand Saturday against San Diego State followed by a visit from Northwestern the following week.
On offense the Black Knights gained 303 yards on the ground against NIU but surprisingly only 18 yards came from junior Jared Hassin, the 1,000 yard rushing fullback from 2010. 
Trent Steelman could not find room to break free on the day gaining a net 37 yards on 17 attempts. 
Junior Malcolm Brown had the most success of ten Black Knights rushing the ball during the game with a net 92 yards on just nine attempts. 
Freshman Trenton Turrentine did well in his first varsity outing contributing 68 yards on 11 carries. 
Northern Illinois took away the Army inside running game early on. Said Ellerson about the success the Army slot backs had running to the outside: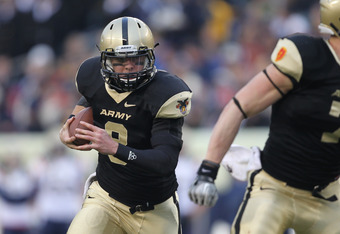 Hunter Martin/Getty Images
"When you run the option, they decide where the ball goes a little bit and we were getting the ball pitched. Frankly, there should have been more there. If we block the perimeter a little bit better and if we run a little bit better, there's more there. They were going to make it hard to put the ball in the fullback's hands."
The Black Knights implemented a no huddle offense with the players reading cards held up by coaches on the sideline.
Steelman would then read the defense over center with the option to audible. 
"Trent (Steelman) didn't play a great game. There's no other way to say it," said Ellerson.
"He was good, not great, on his reads. He was involved in three turnovers and that's atypical play for him. He has a much higher standard and higher expectations for himself. Having said that, he does an awful lot of good things. We just have to be able to do that without the negative to be competitive on the field with a Northern Illinois or San Diego State."
On defense the Black Knights are coming off a game in which they gave up big numbers in terms of yards and points, especially in the second quarter.  Army was playing a number of young players, notably Reggie Nesbit at middle linebacker and Holt Zalneraitis at defensive end.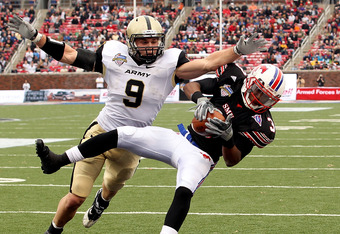 Ronald Martinez/Getty Images
A highlight of the defense was the play of senior outside linebacker Steve Erzinger, who had 21 tackles on the day, 3.5 of them for loss. 
Coach Ellerson responded to my question about the play of the defense and Steve Erzinger,
"We're doing some re-tooling a little bit because of the nature of some of the guys who got banged up up front," said Ellerson.
"Obviously, Steve's right in the middle of things. He's that calming influence that will keep those guys in the moment. He handles things remarkably well. As productive as he is, he can still be better. He can still be more correct. There are some things he's extraordinarily good at. There are some other things that he's going to be challenged at. He needs to play better. He's a stabilizing influence with that group, and that's going to continue to be a challenge because we're going to stay young and maybe get a little younger."
So Saturday looks like a major challenge for the Black Knights. The San Diego State offensive line outweighs the West Point defensive front by 60 pounds a man. 
The Aztecs have a balanced attack, running and passing the ball. The Cadets have a young defense that is still learning. They would be happy to hold SDST to 20 points.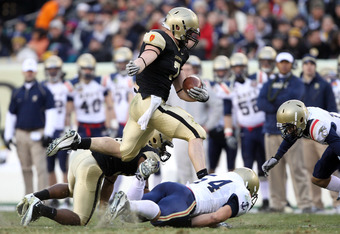 Hunter Martin/Getty Images
On offense, the Black Knights need to keep working to find a way to spring Jared Hassin loose. 
Their outside running game shows potential with Malcolm Brown and the young Trenton Turrentine providing a steady threat. 
On the passing game, Steelman has new favorite receivers in Jared MacFarland and Davyd Brooks.  The Black Knights should be able to score. 
My concern is the no huddle offense could be a distraction if used the entire game. 
The faster play tends to lengthen the game at a time West Point wants to minimize the number of times its young defense is on the field.
If the Black Knights can play a perfect game in terms of special teams and winning the turnover battle, they can be competitive in this contest. 
I keep remembering back to last year's home owner when Hawaii came in to Michie Stadium with a huge offensive line. 
They surged to a big lead but the Cadets came back to take a third quarter lead, 28-21.
Then there is the home crowd and the Corps of Cadets waiting for the slightest reason to get excited over their team. I'll go for the Cadets to win 27-24.