College Football 2011: 25 Things to Watch in Week 2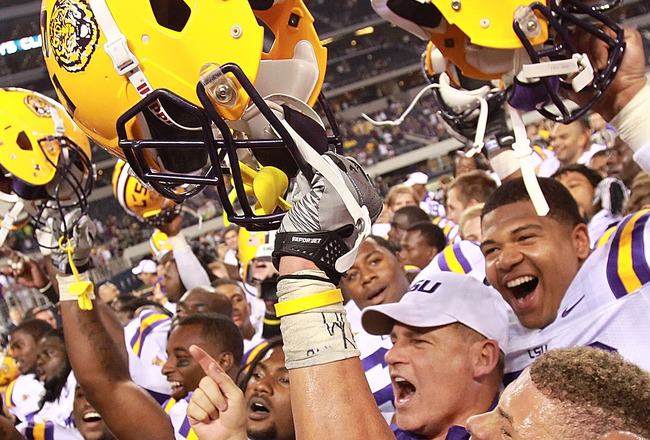 Ronald Martinez/Getty Images
Week 1 of the college football season is in the books, and the shifting of the Top 25 poll is already underway. Oregon dropped all the way down to 13 after losing to LSU, and Auburn dropped out of the Top 25 after a near upset against Utah State.
That means there's probably zero chance (which, let's be honest, there wasn't anyway) that we'll see a rematch in the national championship this year. With that being said, let's take a look at 25 things to watch for in Week 2 of the 2011 college football season.
Tommy Rees In, Dayne Crist out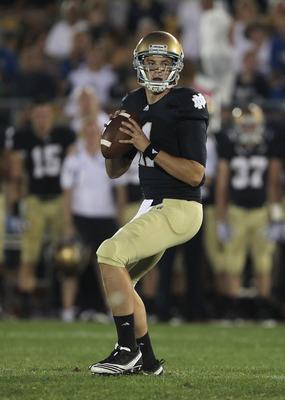 Jonathan Daniel/Getty Images
Turnovers sank Notre Dame in Week 1 after South Florida came to South Bend and upset the 16th ranked Fighting Irish. To add insult to injury, Notre Dame is no longer ranked.
However, sophomore quarterback Tommy Rees looked pretty good. He did have two of the five Irish turnovers on the day, but Rees put up much more attractive numbers than Dayne Crist. If Rees wants to take control of the job, he'll need to have a stellar performance against Michigan.
Michigan, Notre Dame Uniforms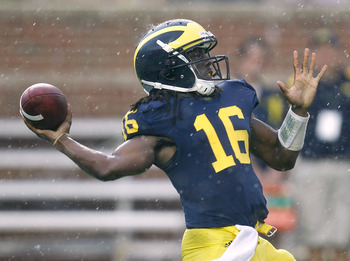 Gregory Shamus/Getty Images
Uniforms were the talk of Week 1 with a flamboyant display of state pride shown by Under Armour and the University of Maryland. Now in Week 2, Michigan and Notre Dame are going retro when they take the field in Ann Arbor.
The Irish will sport a shamrock on their helmet and Michigan will wear an "M" on the front of their jerseys with a number of yellow stripes on the shoulder pads.
Take a look here. Who wins the uniform battle?
South Carolina QB Situation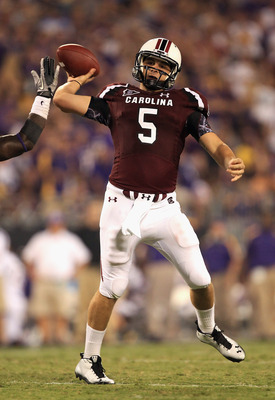 Streeter Lecka/Getty Images
Let's be honest. We all know that Stephen Garcia is going to be the starter going forward for the Gamecocks, but Steve Spurrier is trying to prove a point. The love-hate relationship almost landed South Carolina a notch in the loss column last week as East Carolina almost pulled off an upset.
Spurrier, like he's done in the past, got a little too cute. ECU is a solid football team with a very good offense, and it's not a game where you want to be testing out your quarterback situation when really you know who your starter is.
The Gamecocks survived Week 1, and should continue to improve as long as Garcia is the starter going forward.
Will Mark Richt's Seat Get Even Hotter?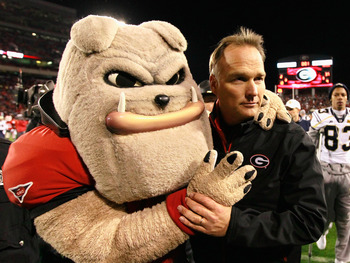 Kevin C. Cox/Getty Images
There was a time where one couldn't imagine Mark Richt struggling at Georgia. But over the last couple of seasons, Richt has fallen on hard times and he's an underwhelming season away from getting fired.
A win over South Carolina will take the heat off the head Bulldog, but back-to-back losses to Boise State and South Carolina will be a hard hole to climb out of.
East Carolina Hosts Virginia Tech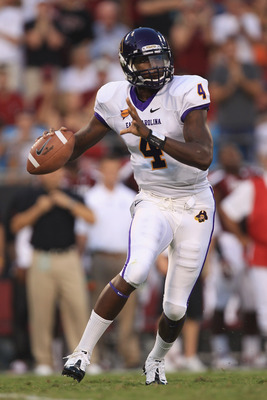 Streeter Lecka/Getty Images
In Week 1, East Carolina had a 24-14 lead over South Carolina at halftime, but blew their lead and lost the game.
Virginia Tech took care of business against Appalachian State, winning 66-13. However, the Hokies need to be careful against the Pirates.
ECU upset Virginia Tech in the season opener back in 2008. Yes, Virginia Tech looked good in Week 1, but there's still room for improvement at the quarterback position with Logan Thomas. Thomas showed signs of greatness, but flashes of a still very raw product.
David Wilson should lead the Hokies to victory, but it may be closer than people think it should be in the first half.
Is the Hokies David Wilson a Dark Horse Heisman Candidate?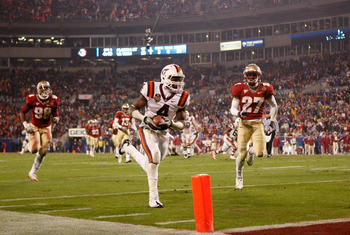 Streeter Lecka/Getty Images
David Wilson looked like Barry Sanders last Saturday. Yes, it was against Appalachian State, but Wilson's speed can't be denied.
He rushed for more than 160 yards and had three touchdowns and only played a couple of series in the third quarter. Wilson looks like a superstar in the making, and if he continues to run past defenses like he did in Week 1, he may have a shot at the Heisman if the Hokies keep winning.
Speaking of Heisman, How About RG3?
Brian Bahr/Getty Images
After a stellar performance against 14th ranked TCU, Robert Griffin III and Baylor are ranked in the Top 25 and poised to make a run. Griffin III had an amazing start to his year, and will likely continue that run for the next two weeks against Stephen F. Austin and Rice.
If Griffin III continues to lead Baylor to victories, he's likely going to have gaudy numbers. That means the Heisman is within reach.
Is Oklahoma State a Contender or Pretender?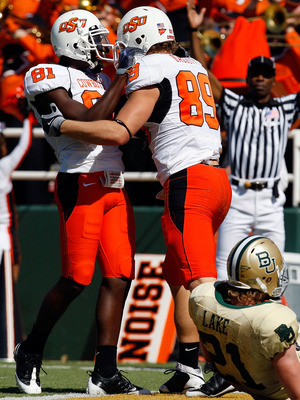 Ronald Martinez/Getty Images
We may have an answer to this question after Thursday's game or we may not. The Cowboys gave up 34 points to Louisiana-Lafayette, but currently rank first in the nation in passing yards. Arizona beat their opponent 41-7 and currently rank 4th in passing.
According to the very early statistical rankings, we should see an aerial attack. Oklahoma State does have a better rushing game than Arizona, but will it be enough to overcome a lack luster defense?
The Cowboys are on upset alert in Week 2.
Alabama at Penn State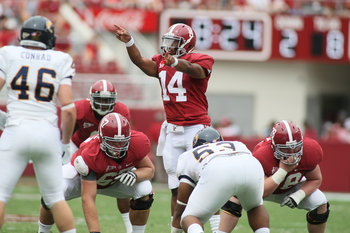 Greg McWilliams/Getty Images
More than likely, this is going to be a blowout. But really, you never know. Alabama does have a quarterback situation. Will it haunt them for the remainder of the season? That's unlikely, but it could hurt them in the beginning.
A.J. McCarron needs to take control of the starting job for Alabama to be the favorite moving forward. Alabama is a much better team overall and should easily be able to handle Penn State, unless there are mistakes from the man under center.
Stanford at Duke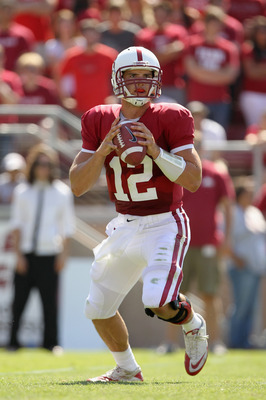 Ezra Shaw/Getty Images
First off, why should we care? Well, Duke lost to FCS opponent Richmond last week, so the only reason we should be interested is to see how many points Andrew Luck and company can put up in the first half.
This will just be another embarrassing display for the ACC.
Bringham Young vs. Texas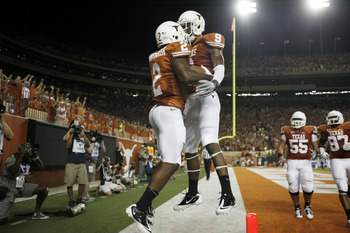 Erich Schlegel/Getty Images
BYU is coming off a big win, although not pretty, against Mississippi and Texas is coming off an underwhelming win against Rice. Texas needs to win this game for two reasons. The first is to get their program back on track and the second is for the sake of the Big 12.
The Big 12 is unraveling as we speak and a weak Texas, a strong, but departing Texas A&M and the top rated team in the country (Oklahoma) threatening to leave has all but killed this conference. Texas needs to have a strong season in an attempt to save the Big 12, although it may be past saving.
The Big 12 Saga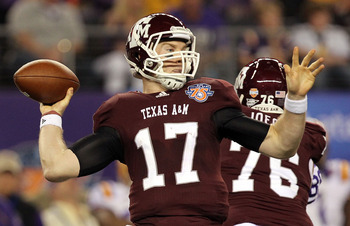 Ronald Martinez/Getty Images
The SEC unanimously voted to accept Texas A&M into their conference and then the Big 12 went against their word and are threatening legal action if A&M leaves for greener pastures.
It's just another twist in a story that's taken the nation by storm. The topic will likely dominate headlines for the entire season, and you can guarantee you'll hear update after update this Saturday.
So, Who Will Be the 14th Team in the SEC?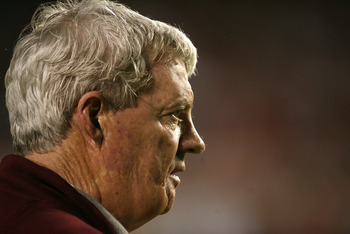 Marc Serota/Getty Images
Let's be honest. The legal action isn't going to scare Texas A&M back to the Big 12. It's all a ploy to try and save a conference that used to have 12 teams, currently has 10 and will be down to nine after this season.
So, let the talk begin about who the SEC will seek, or hopes to grab as the 14th team of their elite conference.
What do you think? It's likely going to be a school from the east. Virginia Tech and Florida State have to be coveted, and the commonwealth of Virginia means a new T.V. market, which means more money.
Fresno State at Nebraska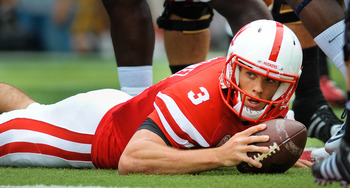 Eric Francis/Getty Images
Nebraska is the 10th rated team in the nation and their lead by a great athlete in Taylor Martinez. However, to say Martinez is a great quarterback would be a stretch. Fresno State has a solid team, and a weak performance by Martinez could allow Fresno State to pull off an upset.
Yes, going into Nebraska and winning is a tough task. But if Martinez is forced to throw with the game on the line, Fresno State will likely have the advantage.
Look for Fresno State to give the Cornhuskers a scare.
Russell Wilson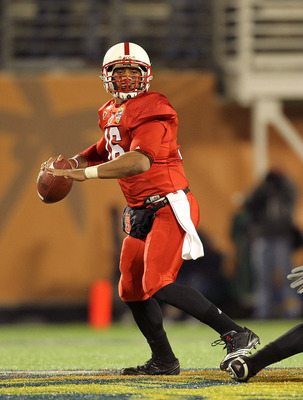 Mike Ehrmann/Getty Images
It must hurt to be an N.C. State fan right now, having to see Russell Wilson wear another uniform. That being said, Wisconsin is sure glad to have him. Wilson will look to continue his dominance in a Badgers uniform against an Oregon State team that lost to Sacramento State last week.
Wisconsin is going to be tough to beat this year, and likely won't be tested until October 1st when they take on Nebraska at home.
Another Shutout for the Seminoles?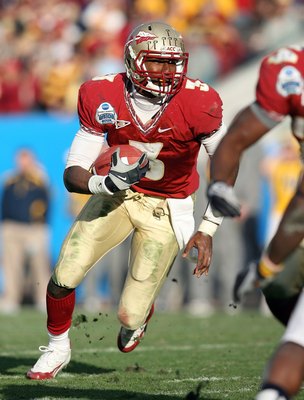 Doug Benc/Getty Images
Florida State has another cupcake opponent against Charleston Southern in Week 2, before hosting top ranked Oklahoma in Week 3. There's a chance the Seminoles may not allow a single point before the Sooners role into town.
What does it all mean? Probably not much. It's just another week for E.J. Manuel to get comfortable with his offense.
Rutgers vs. North Carolina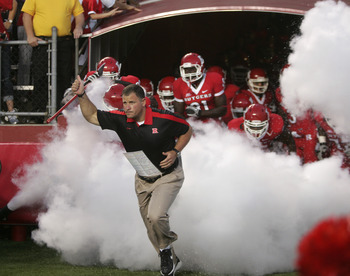 Rich Schultz/Getty Images
Rutgers and North Carolina are coming off impressive wins. Both were against lesser opponents, but impressive none the less.
The Big East got the best of the ACC in Week 1 after Syracuse beat Wake Forest. North Carolina will look to turn the tables in Week 2. It may not mean much, but it will provide a boost to which ever conference comes out on top.
Virginia at Indiana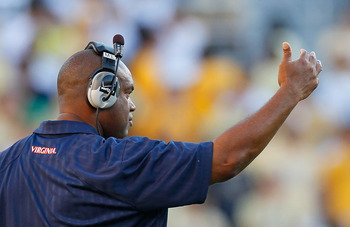 Kevin C. Cox/Getty Images
This is big for Virginia for two reasons. One, they're coming off a dominant win with a new quarterback and they need to continue the momentum. The second reason is to keep pace in recruiting with Virginia Tech and other ACC schools.
This is year two of the Mike London era and that's where the tide starts to turn for the program, especially one with so many young players playing right away. Indiana lost to Ball State last week, so if Virginia wants to start gaining a little respect they'll need to beat Indiana on the road.
Jarrett Lee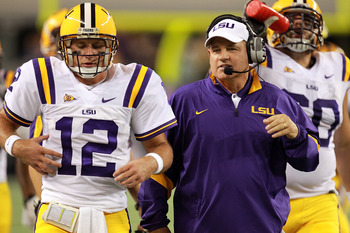 Ronald Martinez/Getty Images
LSU looked very strong in their win over Oregon last week, and that was with a fairly weak performance from backup quarterback Jarrett Lee. Lee managed the game, but didn't do much more than that.
LSU plays Northwestern State this week, so it will be good for Lee to get a few more game reps under his belt heading into the season, which remains uncertain at the quarterback position considering Jordan Jefferson's' indefinite suspension.
Notre Dame-Michigan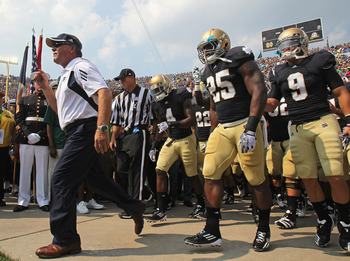 Jonathan Daniel/Getty Images
This is a big game for both programs. Brady Hoke is trying to revive the Michigan program in year one of his tenure and a win over rival Notre Dame will certainly help his cause.
Brian Kelly has the Fighting Irish playing strong defense, but sloppy offense. If the offense can get it together under Tommy Rees, the Irish should blow past the Wolverines. If not, it could be the start of another long season for Notre Dame.
Utah at USC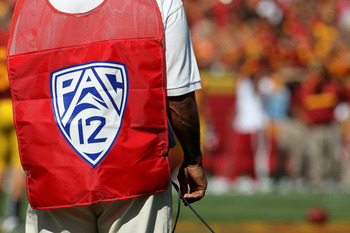 Stephen Dunn/Getty Images
This is Utah's first conference game as a member of the Pac-12 and the Utes will look to make a statement on the road at USC.
The Trojans beat Minnesota last week 19-17, but didn't play as well as people may have expected. USC is still on probation and can't compete in postseason play in 2011. This is a much bigger game for Utah moving forward and a win against the Trojans will be a huge statement in their Pac-12 debut.
TCU at Air Force
Stephen Dunn/Getty Images
TCU is coming off an emotional loss to Baylor. The Horned Frogs did show a lot of fight, but in the end they couldn't hold off the Bears. They will look to get back on track against Air Force in Week 2 as they open up their Mountain West conference schedule for the last time.
TCU shouldn't have any issues, but after such an emotional loss, Gary Patterson will have to be sure to get his guys ready to go.
California at Colorado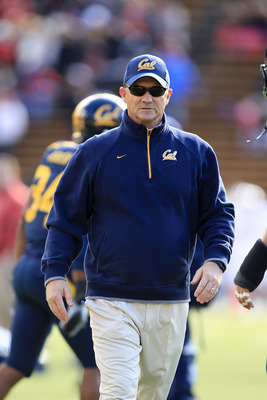 Ezra Shaw/Getty Images
Colorado will also be making their Pac-12 debut this week as they get set to host California. That being said, don't expect Colorado to look impressive.
California beat a solid Fresno State team by 15 in Week 1 and Colorado is coming off a loss to Hawaii. Probably not what the other Pac-12 schools want to see out of its newest member, but Colorado hasn't been a respectable program for a long time.
Miami Depth Chart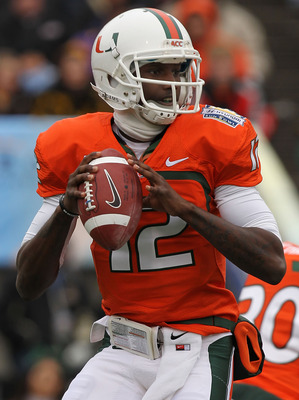 Ronald Martinez/Getty Images
Another quarterback controversy. That seems to be a theme for the 2011 season. This time it's in Miami.
Jacory Harris has been reinstated after being suspended for his part in the Miami scandal, and apparently he's been listed as number one on the depth chart.
Stephen Morris played well against Maryland, but did throw a costly interception at the end of the game. Either way, the Hurricanes have an extra week to prepare for Ohio State, but it's possible we'll see a two-QB system for the next week or two.
Mississippi State-Auburn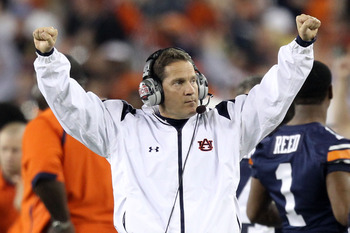 Christian Petersen/Getty Images
No matter what, this year's Auburn team is going to be associated with last year's national championship team. But they in no way resemble what they were, and everyone seems to understand that.
However, there are still expectations from the fan base, and watching Utah State come into town and almost pull of an upset had to be unsettling.
If the Tigers can find a way to beat Mississippi State this weekend, the fan base can rest for another week. But, the Bulldogs are a stronger football team than Auburn in 2011, and likely won't be phased by a strong home crowd.
Look for the Bulldogs to win big and to start what will be a landslide of a season for the Auburn Tigers.
Keep Reading