South Carolina vs. Georgia: TV Schedule, Live Streaming, Game Time and More
September 7, 2011
Mike Zarrilli/Getty Images
With a disappointing Week 1 performance, Mark Richt and the Georgia Bulldogs must quickly turn things around and properly prepare themselves for the South Carolina Gamecocks. 
No longer ranked, the Bulldogs will host the No. 12 ranked Gamecocks in a crucial SEC East battle. South Carolina is the defending SEC East champ, but there's no guarantee they repeat this year. 
Usually a low scoring affair, the last time these two teams met in Athens it was a shootout that ended with Georgia winning 41-37. 
Both teams obviously want to start the season off 1-0 in the SEC, but somebody has to lose. With that, let's dig into some specifics about the first tough SEC fight of the season. 
Where: Sanford Stadium, Athens, GA
When: Saturday, September 10 4:30 PM ET 
Watch: ESPN, ESPN3.com 
Listen: WRFC 960AM in Athens, WSB 750AM in Atlanta, WSPG 1400AM in Spartanburg
Betting Line
According to bodog.com, South Carolina enters the game as the favorite at -3. Despite a poor showing in Week 1, the Bulldogs will be competitive in this game because they always are. You can definitely expect a better performance from Georgia and for the the game to be close.
South Carolina Injury Report 
 Safety Brison Williams is out at least four to six weeks while recovering from a broken right forearm. Defensive end Gerald Dixon has a stress fracture in his leg and has yet to practice. Damario Jeffery suffered a sprained ankle and was seen wearing a walking boot, but the linebacker is expected to play on Saturday.
Georgia Injury Report 
 Linebacker Alec Olgetree is expected to be out four to six weeks with a broken foot. He had surgery on Monday and the Bulldogs will greatly miss this starter. Offensive guard Kenarious Gates injured his ankle in Week 1 and it'd doubtful he will play.  
BCS/Top 25 Poll Implications
The Bulldogs dropped out of the polls after falling to the Boise State Broncos 35-21 in Week 1. With a victory over the Gamecocks, they can prove to the nation that the first week was a fluke, and they are a contending team worthy of being ranked.
For South Carolina, a win this weekend could boost them into the top 10, which is a place they're not normally associated with.
Both teams need this win to help them towards winning the SEC East, which gives them a shot at a BCS bowl should they win the SEC Championship game.
What They're Saying 
The 'ol ball coach addressed his starting quarterback situation to reporters earlier this week. Steve Spurrier has named Stephen Garcia as the starter, and here is why. Per ESPN:
[Shaw] is fine, Spurrier said Tuesday. He saw what happened. We watched the tape and he could have done this and he could have done that.

He understands Stephen played a lot better than he did and that's the way it was. Connor played a little bit better than Stephen in preseason. We opened it up and it worked its way out. We didn't say Connor would be [the starter] for the year.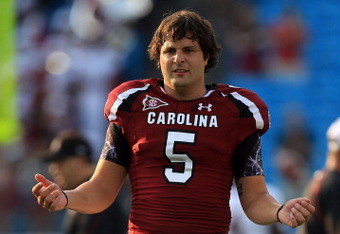 Streeter Lecka/Getty Images
Garcia did a solid job stepping in for Shaw in Week 1. With that he earned the right to start in Week 2 against Georgia. However, don't be surprised if Shaw makes another appearance this weekend.
Richt was asked numerous times if the game against South Carolina is a must win, and he did his best to dodge the question. Per Atlanta Journal Constitution:
Didn't I just say it was a really important game? Richt snapped back.

But is it a must win?, the reporter repeated. 

I think it's a really important game, Richt said, now glaring. You want to ask me again? Because you can, and I'll answer it the same way. 
He won't admit it, but deep down Richt knows this is a must win. He won't be fired for starting the season 0-2, but it will be a huge setback for him and Georgia if they fall to the Gamecocks.
South Carolina Player to Watch
Because Spurrier is so wishy-washy with his quarterbacks, all eyes will be on senior quarterback Stephen Garcia. He's been suspended five times by the school, but yet he still plays. He's on a tight leash right now, and he if starts off poorly against Georgia then you can bet Spurrier will pull him.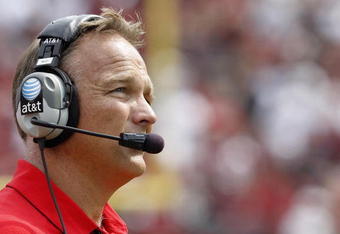 Mike Zarrilli/Getty Images
Georgia Player to Watch 
 Sophomore quarterback Aaron Murray had a horrendous showing in Week 1, which is why he is the most important player for the Bulldogs in Week 2. Georgia needs the one star on their team to play to his full potential or else they don't stand a chance.
Key Matchup
Marcus Lattimore vs. the Georgia defense is the key matchup this weekend. A year ago, Lattimore used the game against Georgia to show the nation what kind of running back he is. He ran for 182 yards and two touchdowns. Will the Bulldogs be able to stop him this year, or are they doomed again?
Key Storyline
Can Mark Richt cool his hot seat with a victory over South Carolina? Will the Bulldogs make necessary adjustments and be prepared for a tough SEC battle?
These questions will be answered by Saturday night, and the country will know which team has the upper hand in the SEC East.
Both teams need to win this weekend, but there's no doubt that the Bulldogs need it more. So will they get the win they covet so much?
Prediction 
Georgia will have a very hard time finding a way to stop Lattimore and Alshon Jeffery, who happens to be one of the best wide receivers in the country. 
The Gamecocks are very capable of putting up a ton of points, which means the Bulldogs' defense has to be prepared. 
Just like in Week 1, the Georgia defense will fail to make the big stops, which will lead to multiple points for the Gamecocks. The Bulldogs' offense will finally come to life in their home stadium, but they won't be able to match the South Carolina attack. 
South Carolina wins 38-30