Big East Expansion Rumors: Could Kansas, KSU and Mizzou Save Big East Football?
March 17, 2017
Jamie Squire/Getty Images
With Texas A&M seemingly always one step closer to the SEC and Oklahoma looking to head west, the future of the Big 12 is in serious doubt.
If the Sooners depart for an expanded Pac-12 along with Oklahoma State, Texas and Texas Tech, the remaining Big 12 schools will be left without a conference.
The Big East could put the final nail in the coffin by adding Kansas, Kansas State and Missouri. This expansion would give the conference 12 football members and 20 for basketball.
Before superconferences became a thought, Big East basketball was the first to have 16 members. This expansion would allow the Big East to continue having the largest hoops conference in the nation by a substantial margin.
The Big East sent a record 11 teams to the NCAA Tournament this year. That amount could be equaled or surpassed every year with the addition of three more strong basketball programs. In fact, why not give the conference it's own region on the bracket if it happens?
The Jayhawks are part of college basketball's Mount Rushmore and will be a national powerhouse no matter what conference they play in.
The Wildcats don't have as much to boast about as their rival from Lawrence, but Frank Martin has turned Kansas State basketball from an afterthought into a tournament regular.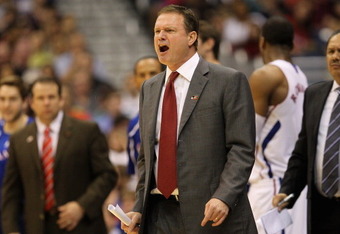 Jamie Squire/Getty Images
Missouri has made the last three NCAA tournaments and went to the Elite Eight as recently as 2009.
All three schools have impressive resumes on the court, but the Big East is not trying to further corner its hoops dominance. It's trying to improve its weak football league and possibly save it from extinction. 
The Big East is by and far the weakest BCS conference in college football and by some accounts, even weaker than the Mountain West.
Expanding the conference to Missouri and Kansas certainly won't put Big East football on par with the SEC or Pac-16, but it would certainly increase its respectability. 
Missouri is a common sight in the AP rankings and would instantly become one of the best teams in the conference.
The same can't be said about the Kansas schools. The Jayhawks football program doesn't have much to brag about aside from its 2008 Orange Bowl win. While the Wildcats haven't been impressive lately, they were a national title contender throughout Bill Snyder's first tenure as head coach.
West Virginia (ranked 19th) and South Florida (ranked 21) are the only teams from the conference in the current AP Top 25 (an amount equal to the ACC). Missouri was ranked 21st, future Big East member TCU was ranked 25th and Pittsburgh received some votes.
With 12 schools, the Big East would finally be able to host a conference championship game and create divisions (in some geographical way, shape or manner).
West Division
Cincinnati
Kansas
Kansas State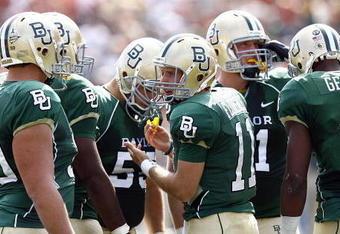 Tom Pennington/Getty Images
Louisville
Missouri
TCU
East Division
Pittsburgh
Rutgers
South Florida
Syracuse
UConn
West Virginia
Again, not exactly a powerhouse, but it's a step in the right direction and makes the Big East's BCS appearance more legitimate.
Even if the Big East manages to get these former Big 8/Big 12 members, schools like Syracuse, Pittsburgh and West Virginia will still be expansion targets for other conferences.
The SEC will need at least one more school to go along with Texas A&M. West Virginia is a possibility, along with ACC members like Florida State, Virginia Tech and Maryland.
If the SEC is able to get an ACC member or three (for a 16-team conference) to go along with the Aggies, the ACC could react by going after multiple Big East schools.
However, they might not be the only ones with that thought. The Big Ten could have its sights on the Big East as well if Jim Delaney is having second thoughts about further conference expansion.
If the Big East does lose members after expanding to 12, that amount could still be maintained by going after Conference USA schools such as Houston and Central Florida.  Baylor could become a factor, as well, if any current Big East members are lost.
Or if no current members are in danger of leaving, the Big East could become a superconference of its own by extending four more invitations once Kansas, Kansas State, and Missouri join.
The Big East could also bring in Baylor, Houston, Central Florida, along with another Conference USA member like East Carolina or Memphis. Big East Football would go from endangerment to being one of the benefactors of superconference expansion.
West Division
Baylor
Cincinnati
Houston
Kansas
Kansas State
Louisville
Missouri
TCU
East Division
Central Florida
East Carolina or Memphis
Pittsburgh
Rutgers
South Florida
Syracuse
UConn
West Virginia
The West Division is a hybrid of former Big 8/SWC schools and the East Division is mainly made up of current conference members.
One of those schools could be ruled out (likely East Carolina or Memphis), if Notre Dame finally joined the conference as a football member. Temple or Xavier could then be invited as a basketball member to have an equal number of teams. The Fighting Irish will be an interesting factor in how conference expansion plays out, regardless of what happens to them.
A 16 team basketball league seemed large in the pre-superconference era, but a 24 team basketball league seems fitting in the era of superconferences.
Many college football fans are forecasting an era of four superconferences in which there will be the Pac-16, an expanded SEC, a Big Ten that is more like the Big Twenty, and a Big East/ACC hybrid.
The Big East could dramatically alter those forecasts by expanding its footprint to Missouri, Kansas, and possibly beyond that. Otherwise, Tobacco Road and Madison Square Garden may soon be connected to the same conference.