Texas A&M and SEC Expansion: Oklahoma Sooners Must Follow Suit
September 7, 2011
Brett Deering/Getty Images
The SEC has unanimously voted to accept Texas A&M into their conference as their 13th member. There are some holdups, but it seems the Aggies will be packing their bag for greener pastures as early as next season.
And by "greener" I don't mean the color of the turf. Money-hungry athletic directors and university presidents are threatening to bring an entire conference (Big 12) to its knees.
For the Oklahoma Sooners, this presents a chance to upgrade their already top caliber program with a move to the SEC. The conference will be looking for a 14th team to round our their divisions so the phone lines will be wide open.
Regarding the fans, Sooner Nation is being split down the middle as we speak.
On one hand, fans fear a move to the much-stronger SEC would hurt our chances of reaching national championships, the goal every year in Norman.
At first read, that seems to make sense. During its time in the Big 12, OU has enjoyed a schedule that is just difficult enough to please the strength-of-schedule judges while still having several winnable games. For every Texas game, you get a Baylor and a Kansas.
This strategy has produced BCS endings to seasons with stunning consistency. 
While this first group is correct in saying that the Sooners would have a much tougher schedule in the SEC, that's not necessarily a bad thing.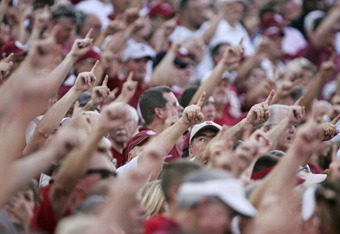 Brett Deering/Getty Images
Just ask Oregon, Oklahoma (twice), Texas, Ohio State (twice) and Florida State, all teams that have have lost to an SEC team in the BCS title game since its inception in 1998.
The SEC is a perfect 7-0 in BCS title games, and it doesn't look as if its teams will slow down anytime soon seeing that they have won five straight. The stiffer competition is not keeping SEC teams out of the hunt.
The other group of OU fans are clamoring for the move and I couldn't agree more.
The University of Oklahoma does not need to be afraid of any team or conference. If anything, the teams in the SEC should be afraid to see us on their schedule each year.
Not only are the Sooners good enough to compete as they are (seen any polls lately?), but the prospect of playing in a league oozing with talent would only increase Bob Stoops' already-stellar program visibility.
What recruit wouldn't want to come to Oklahoma then?
Given the boost in talent, there is no reason to think that Oklahoma wouldn't rack up SEC titles at the same rate they've been stockpiling Big 12 crowns, and continue their assault on the BCS.
From a fan's standpoint, this should be a no-brainer.
Would you rather drive 10 hours to Ames to watch OU spank Iowa State for the 100th time, or drive the same distance to Baton Rouge to watch two top-10 teams slug it out in a prime-time match up in one of the loudest stadiums on Earth?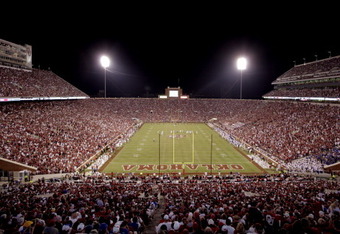 Brett Deering/Getty Images
Would you rather watch the second-string QB trot onto the field in the 3rd quarter of a blowout in Manhattan, or witness Jimmy Stevens nailing a 43-yarder as time expires to beat Florida in The Swamp?
Sign me up!
Maybe you like the easy schedule every year, but maybe you were too afraid to talk to the pretty girl at the end of the bar, too.
There are only going to be a few chances to join the SEC and if the Sooners second-guess themselves they will be left to fend for scraps with the rest of the have-nots.
Texas A&M just walked out of the bar with the girl you were eying, but there are still a few pretty ones left.
Just go talk to her. And hope she's not a Texas fan.