USC Football 2011: What Tricks Will Utah's Norm Chow Have Up His Sleeve?
September 8, 2011
"Hey Norm! Good to see you! Where have you been?"
Like the well-worn greeting from the old sitcom Cheers, USC will roll out the welcome mat for an old friend and sometime nemesis, Utah offensive coordinator Norm Chow.
Except that the Trojans know where Chow has been. For the last few years, he has been roaming the sidelines, trying to surmount the mediocrity that has become UCLA football.
After trying and failing to be a part of a winning combination in Westwood with Bruin coach Rick Neuheisel, Chow was unceremoniously cut loose by "Slick Rick" in a last-ditch effort to save the beleaguered head man's job.
Now landing at his alma mater, Utah, Chow will be trying to capture a win over his old team, the Trojans, at the site of some of his more memorable victories, the Los Angeles Coliseum.
But unlike those overmatched Bruin teams that Chow led to slaughter against the Trojans, this Utah team will present a real challenge for USC in 2011.
With an experienced quarterback in Jordan Wynn and a nice set of skill players to complement him, Chow will have some weapons at his disposal this Saturday when his Utes meet the Trojans in Utah's inaugural Pac-12 conference game.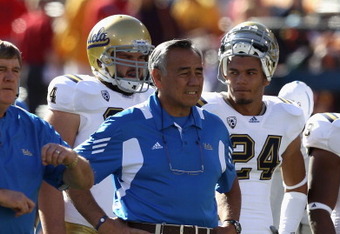 Christian Petersen/Getty Images
And how will Chow utilize that talent against the Trojans?
Well, that's the big money question. No one is really certain.
It is assumed that Chow will run the same kind of pro sets that he employed while at USC and most of the time at UCLA.
Or perhaps he will reintroduce the spread that his head coach, Kyle Whittingham, was so fond of before Chow arrived.
But maybe Chow will mix in a little "pistol" offense, which UCLA employed like a child's "cap pistol" in Norm's final season with the Bruins.
Maybe—or maybe not.
The point is that the Trojans can't be sure, and Utah certainly didn't tip its hand last week against Montana State.
After rolling up a comfortable lead, the Utes rested their players—and playbook—in the second half as they cruised to a deceptively easy win over the Bobcats.
But you know that whatever Chow has in store for the Trojans, there is nothing he would like better than to revisit those old, good feelings that used to accompany him at the Coliseum—and he will do anything and everything to get the Utes a win this Saturday.
So, welcome back, Norm! It is truly good to see you again.
USC fans hope they will still feel the same way when they bid their old buddy adieu when the Utes leave town on Saturday afternoon.