South Carolina Football: Why the Gamecocks Need to Demolish the Bulldogs
September 7, 2011
Streeter Lecka/Getty Images
South Carolina versus Georgia is a huge game. 
Can I get the "duh" award for this week?
South Carolina needs this win to get a leg up on the SEC East race, and Georgia needs this win to avoid an 0-2 start and Mark Richt needs this for his job.
However, South Carolina needs this one more—for historical reasons—and they need it not to be close.
In my "5 Keys to a Gamecock Victory" piece for this week, I predicted that South Carolina would win 28-14.  However, they really need it to be a much larger win. 
Somewhere along the lines of 42-14, which could certainly happen.
South Carolina does not need this victory to be a close one, as history would say it would be.  There are too many talented players on the Gamecock squad to face a team of average players on a rival team at a close pace. 
I mean no offense to the Georgia Bulldogs, it just is what it is.  You don't have a particularly skilled team this year.  One of your best players, Alec Ogletree, isn't playing, and Aaron Murray has no weapons. 
It's a scary prospect facing a team as loaded as this particular Gamecock team.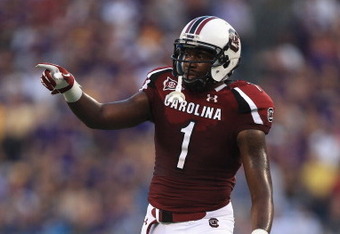 Streeter Lecka/Getty Images
South Carolina's mind just has to get right.  After a horrible first quarter against ECU, South Carolina looked like the team they were supposed to be, outscoring the Pirates 56-20 the rest of the way.  If that Gamecock team shows up (quarters 2-4 version), Georgia stands little to no chance.
If the quarter one team shows up, well, the Dawgs could be walking away the victor.
The most frustrating thing about being a Gamecock fan is that you never know which team will show up.  Hell, you don't know which team will be there from quarter to quarter. 
However, if the Gamecocks can cruise to a victory, it would go a long way in determining the mindset of the team for the rest of the season.  It is imperative that this South Carolina team shows how dominant it can be...
Right now...this game.  
It's great to be a Gamecock.
Please feel free to fan me on Facebook.