College Football 2011: 5 Teams with the Most to Lose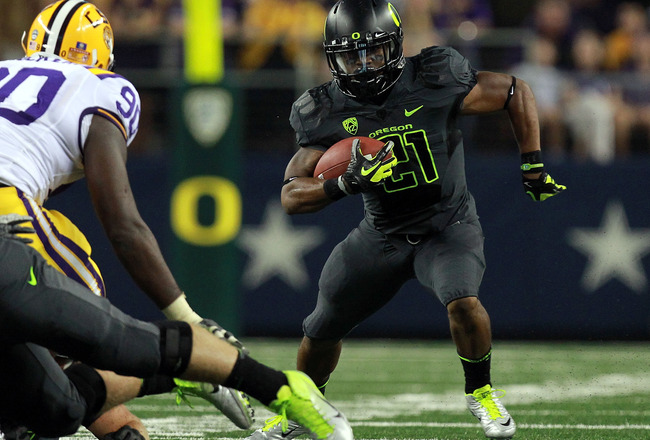 Ronald Martinez/Getty Images
In the ups and downs of college football, upsets and blowouts are an inevitability. This means that entire seasons can be decided by the outcome of a single game.
If a team fails miserably in a season opener, their hopes of making the National Championship game are completely gone and the odds of even making a respectable bowl game are diminished.
It isn't always an early win or loss that tells what a team is made of, it's how they respond after they see how they've performed thus far.
Even if a team pulls off a win, a performance not up to par with their ranking could raise questions about the direction of the program. Thus, it is up to the team and the coaching staff to answer those questions before they lose their ranking, their support in the media or even their hopes of a successful season.
Here are five college football teams, in no specific order, with the most to lose as the rest of the season progresses.
Oregon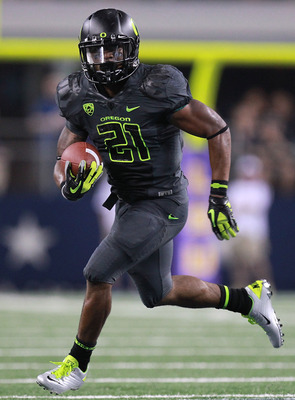 Ronald Martinez/Getty Images
With a Week 1 loss to LSU, the Oregon Ducks fell out of the top five and plummeted to No.13.
LaMichael James and the high-octane Ducks offense looked slow and was held to 27 points, considerably low for a team that led their conference in scoring a season ago, averaging 49.3 points per game.
In 2010, the Ducks reached a No. 1 ranking for the first time in school history before falling to Auburn in the National Championship game.
After losing really the only challenging game on their schedule, Oregon will need to bounce back from their loss to an inferior LSU team. They need to kick their offense into gear if they don't want any more upset losses on their record.
If they play their cards right, the best Oregon can hope for is a Rose Bowl berth. If things go awry even further, the Ducks will have clearly taken a step back this season.
Florida State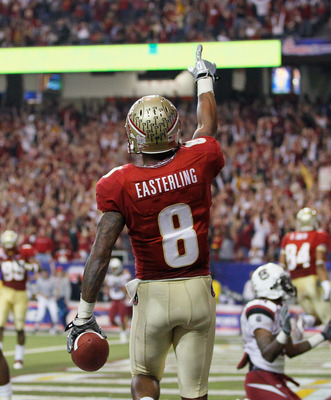 Kevin C. Cox/Getty Images
In a Week 1 match-up with Louisiana-Monroe, the Florida State Seminoles blew out their opponent 34-0.
The now No. 5 Seminoles looked pretty average against a very weak team. The defense was outstanding as expected, but the offense looked uninspired and mediocre.
QB E.J. Manuel finished the game 22-for-34 with 294 yards, two touchdowns and one interception. This would be a pretty solid outing for a match-up between two Top 10 teams, but considering Florida State is ranked in the Top 5 and were playing some no-name squad, Seminoles fans may want to be concerned with the offense.
Manuel wasn't the only offensive player to blame, the receivers dropped some easy passes and the offensive line clearly still has some meshing to do.
In two weeks, No. 1 ranked Oklahoma comes to town and the Seminoles offense will have to improve if they want to even have a shot in this game.
Florida State has come a long way in the last few seasons and a slow start to their season in 2011 could really hinder the direction of the team. They will really have to show up to play if they want to show that they deserve the top five ranking they've been given.
Notre Dame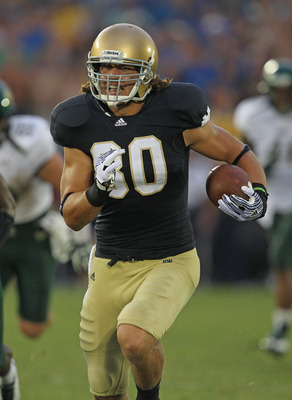 Jonathan Daniel/Getty Images
I know that Notre Dame has fallen from grace when my grandmother, who doesn't even like football, starts a conversation with me about how bad they've gotten.
It seems this program just can't get a successful head coach in place to salvage the Notre Dame name.
It used to be they were THE team in all of college football, but just last weekend, they were upset by un-ranked South Florida.
After a pathetic Week 1 loss to USF, the Irish fell from their No. 16 spot out of the top 25 rankings entirely.
The Irish turned the ball over far too many times, especially in the red zone, to have even had a chance in this game. I realize that the score was only 23-20, but USF truly outplayed them.
Notre Dame will really have to take a step back and assess what they can salvage of this program. The team really has fallen from grace and the reputation of the program has really suffered. If they continue to lose to lower echelon teams, they will only fall further into mediocrity.
Texas A&M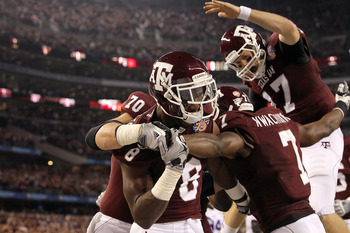 Ronald Martinez/Getty Images
In their Week 1 match-up with SMU, the Texas A&M Aggies looked pretty good.
Their offense looked great as they stunned Southern Methodist 46-14.
The defense, on the other hand, looked pretty mediocre. The defensive line struggled and the linebackers had trouble getting past SMU's front five, not to mention an uninspired defensive secondary.
Texas A&M made known their desire to leave the Big 12 and join the SEC. The likelihood of that remains to be seen, but that doesn't change the fact that the Aggies need to consistently play at a high level—something I think they are capable of doing.
Either way, Texas A&M is walking a tight rope by getting in the spotlight like this. They will have a target on their backs within the Big 12 and everyone will want to show them they don't belong in the SEC.
They have a tough season ahead of them, facing five ranked teams, including No. 1 Oklahoma. They will need to have a strong showing and prove themselves by winning a major Bowl game if they truly want to prove they belong. The program's credibility could be at stake if the Aggies disappoint in 2011.
Ohio State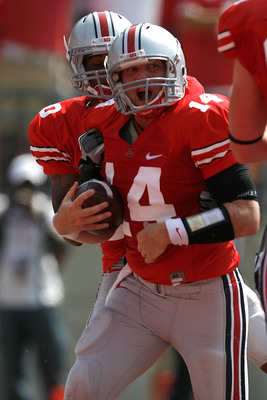 Kirk Irwin/Getty Images
The Ohio State Buckeyes are another team that has, sort of, fallen from grace in recent seasons.
Once sitting firmly atop the Big Ten, the Buckeyes are no longer the the team to beat in the Big Ten. Wisconsin and Nebraska become the two programs that really represent the strength of the conference.
The Buckeyes destroyed the Akron Zips in Week 1 with a score of 42-0, but if they don't dominate their schedule, they could be in danger of falling into a hibernation of the biggest bear in the conference.
There's no question in my mind that Ohio State has been supplanted as the best team in their conference, but they need to work themselves back into the conversation before Penn State or Iowa jumps them as well.
The Ohio State program has taken a step back in recent years. To avoid the same fate as Notre Dame, they will really need to prove themselves in 2011.
Conclusion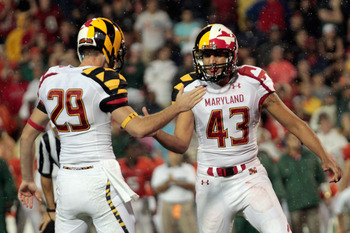 Rob Carr/Getty Images
In conclusion, these have been five teams that really need to get their acts together moving forward.
Each one of them risks possibly the fate of their programs and has a lot to lose if they can't improve.
On a side note, my girlfriend asked me to note that the Maryland Terps' uniforms on Monday night were absolutely hideous and that whoever designed such an atrocity needs to get their act together as well. She seems to think that this team has a lot to lose just by wearing this uniform. Out of respect for my girlfriend's opinion, I'm awarding Maryland honorable mention on this list.
Thanks for reading.
You can follow me on Twitter @MCNick92
Keep Reading