University of Tennessee Football: Previewing the Cincinnati Game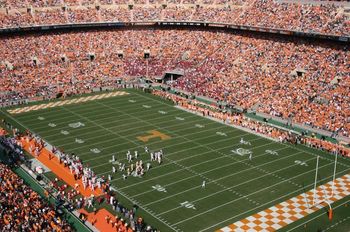 The Tennessee Volunteers play the Cincinnati Bearcats at 3:30 p.m. EST this Saturday in Neyland Stadium. Here's a preview of the game.
Both teams are 1-0 and coming off big wins at home. Tennessee beat Montana 42-16, and Cincinnati pulverized Austin Peay 72-10. Needless to say, both squads are capable of sizing up lesser opponents and taking them out.
This will be a better judge of character for each team and could be a great prep game for the Vols going into the Third Saturday in September against Florida.
Passing Attack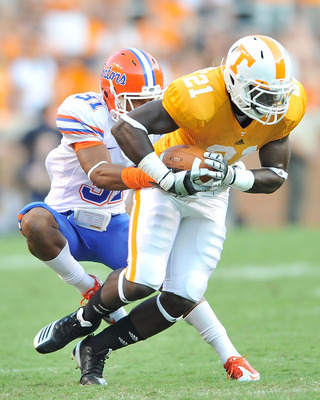 Grant Halverson/Getty Images
Tyler Bray was everything optimistic analysts predicted and more in the first game of his sophomore season.
He connected with Da'Rick Rogers and Justin Hunter for 47- and 81-yard touchdowns in the first quarter, and the Tennessee Volunteers offense was off and running for the 2011 season.
It's clear that Bray is comfortable getting his top two targets the ball on slant routes. He has impeccable timing on those plays and, except for two bad drops, Rogers and Hunter seem to likewise excel with slant plays. Keep that in mind for the season going forward.
The jury is still out on Cincinnati Bearcats quarterback Zach Collaros. He has had moments of brilliance in his year and a half of experience, but managed only 134-yards passing in the 62-point beatdown of Austin Peay in the first week.
If he can't carve up Peay's secondary on an off-day, what's going to happen against a quality secondary like Tennessee's?
Running Game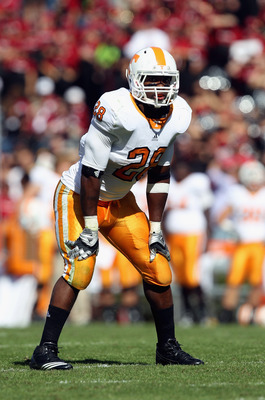 Streeter Lecka/Getty Images
If the Tennessee Volunteers are clear favorites in the passing attack, it's the Cincinnati Bearcats who own the running game advantage.
The Vols ran for an embarrassing 3.6 yards per carry (not including sacks) against Montana. Starting running back Tauren Poole ended with a respectable statline of 24 carries for 98 yards and a touchdown, but it wasn't an effective 4.1 yard per carry.
Freshman running back Marlin Lane provided a much needed spark in the running game by fighting for extra yards and showing off his raw talent that Poole simply can't match.
The real culprits of the bad running game for Tennessee was the offensive line, a unit I was extremely confident in. Derek Dooley was seen running out onto the field during the third quarter, demanding better play from this unit. If that's what it takes to get this highly talented group going, fine.
Cincinnati ran for 387 yards and used an incredible 12 players to rush. The top-running runner was Isiah Pead with seven carries for 87 yards. It was an extremely spread attack and kept the starters' legs fresh.
Rush Defense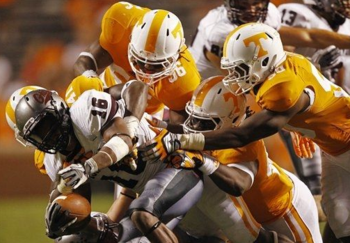 While Montana's spread offense seemed to have run all over the Tennessee Volunteers defense, the Vols' sloppy running game accumulated more yards than the Grizzlies.
Giving up just 3.7 yards per carry, the defensive line showed that's capable of playing well together after an offseason that was full of questions. Maurice Couch and Ben Martin looked at home on the defensive line together, and Jacques Smith is a future star at defensive end.
Austin Johnson played an extremely disciplined middle linebacker against the option, and A.J. Johnson is a huge, run-stopping force.
Cincinnati will need dedication to stop Tauren Poole, like Montana's defense did. The Vols' offensive line will be on a mission to show their dominance, and the threat of Justin Hunter and Da'Rick Rogers will require a lot of attention.
Pass Defense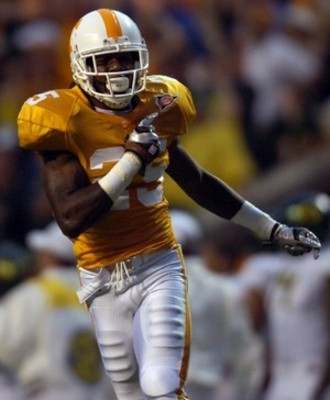 Even after the dismissal of Janzen Jackson, the Tennessee Volunteers' defensive strength is their secondary.
Art Evans grew tired of seeing Montana's numerous screens to the flats and jumped a route in the third quarter. His pick six was the first score of the second half for the Vols.
Curt Maggitt, a freshman, is an incredible pass-rusher from the linebacker position. He has freakish ability and needs to be on the radar for freshman honors.
Derek Dooley made sure to give significant playing time to several defensive backs, building depth for the upcoming games.
While Austin Peay is not to be confused with the Indianapolis Colts, Cincinnati's pass defense on them was impressive. They held quarterback Jake Ryan to 150 yards passing, no touchdowns and two interceptions.
Tyler Bray is known to take some chances, but he'll have to take an extra moment this weekend to make sure the Bearcats don't pick him off.
Special Teams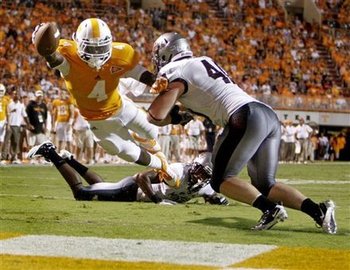 Michael Palardy needs to improve his punting and kicking in order for me to be comfortable with him. He had one dud of a punt early in the game, a lucky bounce to avoid an illegal kick and extra points that spun sideways.
Marlin Lane brought some much needed calm to the punt return position, as did Tauren Poole and Da'Rick Rogers to the kick returner spots. These are guys who can make plays, too.
Cincinnati had two returners who had 28- and 60-yard returns last week, so you know they're capable of breaking one loose.
The breaks are made in the kicking game, according to General Neyland, so the Tennessee Volunteers need to focus special attention here.
Coaching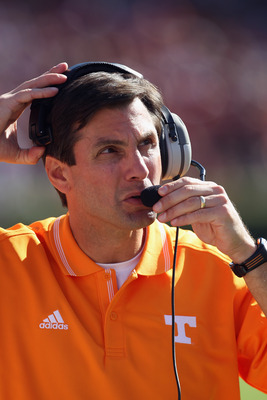 Streeter Lecka/Getty Images
Derek Dooley is the freaking man. That's a fact.
He's brought a steady hand back to the Tennessee Volunteers and corrected the special teams issues that have plagued Rocky Top for years. His loyalty, humbleness and vigor has been "dooley" noted by Big Orange fans, and I hope he stays for years.
Butch Jones struggled in his first year with the Bearcats. Replacing Brian Kelly for the second time in his career, Jones has big shoes to fill, and his 4-8 season wasn't quite up to par with recent Cincinnati teams that went to back-to-back BCS Bowls.
The coaching staffers are simply at different points in their maturity.
The Call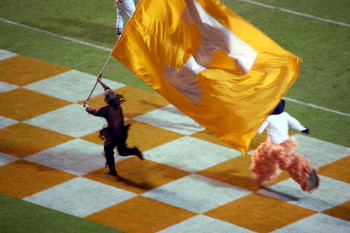 The opening line for the Tennessee Volunteers and Cincinnati Bearcats has the Vols winning by seven. Sorry to all Bearcat fans, but that'd be a disappointment. I think Vegas is a little light on Bray's arm and Maggitt's sacks.
Anything below 10 is going to be a ho-hum win.
Don't worry, I think the Vols win this one going away, as I've already predicted. They're at home, have a great offense and a hungry offensive line that's ready to prove itself.
Keep Reading

Tennessee Volunteers Football: Like this team?