Alabama vs. Penn State: Happy Valley Could Host Biggest Trap Game of the Year
September 6, 2011
Justin K. Aller/Getty Images
When Joe Paterno and his Nittany Lions visited Tuscaloosa in 2010 they walked away with a loss. After scoring a measly field goal to Alabama's 24 points, they marked September 10, 2011 on their calenders. 
It has been a full year, but Penn State has developed. They are no longer a young team. From both sides of the ball they only have five sophomore starters, and no freshmen. The rest are juniors and seniors, 11 seniors to be exact. 
The first problem the Tide will encounter is the venue itself. Beaver Stadium holds well over 100,000 fans, and they will all be screaming their heads off. Throw in a couple rookie quarterbacks and all Paterno has to do is have his defense shift around a bit. Good luck trying to audible during a Penn State whiteout. 
The second issue is the Tide's quarterbacks. This is not a knock on their talent, but a nod to the Penn State secondary. Lead by the beefy senior cornerback D'Anton Lynn (6'1" 210 lbs.), you can bet the Lions are thinking "pick six" after seeing the results of the Kent State game and it's four interceptions, quarterbacks fault or not.
In an effort to force a turnover through the air you can bet Penn State will be bringing the heat at the line of scrimmage with multiple blitz packages. There's no better way to make a rookie quarterback throw an interception than to get a lineman in his face.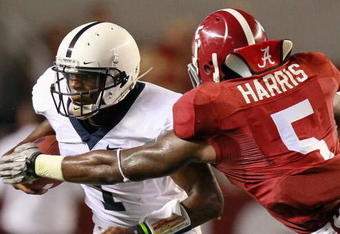 Kevin C. Cox/Getty Images
The Tide only managed to hang 24 points on Penn State last year, but that should also be enough for a big "W" this year.  All the offense has to do is eat some clock and not turn the ball over. Dont'a Hightower and company will do the rest. 
After a bitter three loss season it should be safe to assume the Tide has washed out all the feelings of "entitlement". Everyone has Alabama as the favorite in this match, but it has all the fixings of a trap game. I hope the Crimson Tide will heed Admiral Ackbar's warning. 
In the unlikely, but very possible, event that Bama comes home losers you can bet that they will stiffen their resolve and run the table the rest of the year. A one loss SEC team can certainly make it to the national championship, and having that loss so early in the year will help beat the computers by season's end. 
If the quarterbacks will stick to Saban's philosophy of their job is to not lose games, rather than win them, Bama should come home with a win.  I'd sure like to see a woodshed beating in Happy Valley, and maybe another 140-yard game out of Richardson.