Fresno State Football:Nebraska's Pelini, Crick and Martinez Talk Bulldogs
September 6, 2011
Tom Pennington/Getty Images
The Fresno State football team has lost their last 11 games against ranked teams.
This Saturday the Bulldogs will be in Lincoln, Nebraska with a chance to snap that streak against the No. 10 Cornhuskers. A few Cornhuskers, including the head coach, had a few things to say about Fresno State at their press conference on Monday, September, 5, 2011.
Jared Crick Expecting Tough Game
The Bulldogs will face a tough Cornhuskers defense led by defensive tackle Jared Crick. The defensive standout had this to say about the Bulldogs: "They're a hard-working bunch. A great coach. They're all well-coached," said Crick. "We're expecting a fight to win the game. We're expecting a great game."
Head Coach Bo Pelini Praises Pat Hill and Discusses Dogs playing in Nebraska
The Bulldogs and Cornhuskers have never played each other, but Nebraska head coach Bo Pelini is well aware of their opponent next week. "Fresno State is very athletic. They're very aggressive," said Pelini. "They're a physical team that is well-coached."
Nebraska plays their home games at Memorial Stadium, which holds 81,091 people. Coach Pelini doesn't think the Bulldogs will be hampered by the big crowd. "The venue isn't going to bother them. They've played in a lot of different places against a lot of good football teams," said Pelini.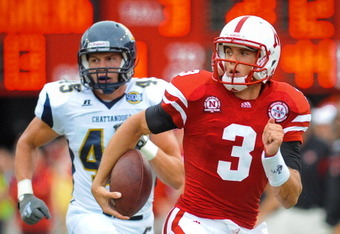 Eric Francis/Getty Images
Taylor Martinez: Was he almost a Bulldog?
Besides worrying about Crick the Bulldogs will also have their hands full with sophomore quarterback Taylor Martinez.
The fleet afoot quarterback didn't really have as much input as Pelini and Crick. "We really haven't gotten into that game plan much. I played with one player that's on the team right now, Ben Letcher, he's a defensive end. I don't know if he's starting there right now. Other than that, they recruited me and that's pretty much it," said Martinez at the press conference.
When the quarterback was asked if he ever gave Fresno State any thought when they recruited him, his answer was straight to the point.  "No because I was fully committed to Nebraska."
Moving Forward
It's time for the Bulldogsto put the loss against Cal behind them and focus on the task at hand.
Wouldn't this be a great way to snap the aforementioned losing streak?