College Football Rankings 2011: Ranking Big 10 Teams After Week 1
September 7, 2011
The Big Ten saw just two teams fall in the opening week of the 2011 college football season. Indiana was downed by Ball State and Minnesota put forth a valiant effort against USC but was eventually upended by Matt Barkley, Robert Woods and Co.
Highly anticipated debuts were also in place as Russell Wilson led Wisconsin to a 51-17 rout of UNLV, while further west, Nebraska and Taylor Martinez introduced itself to the Big Ten by putting up 40 against Chattanooga.
Ohio State dominated both sides of the ball as it defeated Akron 42-0 after an offseason full of turmoil. Quarterback Joe Bauserman played extremely well, but that has not taken Braxton Miller out of the picture yet for Luke Fickell's Buckeyes.
With Week 1 completed and Week 2 approaching, here are the Big 10 rankings:
1. Wisconsin (1-0)
 The Badgers offense rolled over UNLV, though defense was just average in the 51-17 victory. The Badgers could have played a vanilla defense, not exposing many packages during a sure win. Regardless of the showing, the Badgers still put up 51 points and have a very experienced defensive unit.
2. Nebraska (1-0)
The defensive line was as good as advertised. It held Chattanooga to less than two yards per carry, and Taylor Martinez was magnificent on the ground as he dashed for three TDs as the Huskers upended Chattanooga, 40-7. He will need to continue to improve his passing for Nebraska to keep rolling.
3. Ohio State (1-0)
Akron is one of the worst teams in the FBS, but Ohio State didn't miss a beat with key suspensions. Luke Fickell's defense gave up just 90 total yards as the Buckeyes shut out the Zips 42-0. Joe Bauserman was tremendous through the air and even showed some mobility as he scampered for a TD. Freshman Braxton Miller also showcased some of his talent as he passed for 130 yards and a touchdown.
4. Michigan State (1-0)
 Offensive lineman and captain, Joel Foreman gave up his starting spot on the line for a short stint as he allowed Arthur Ray, Jr. to take his place. Four years ago, Ray underwent treatment for cancer and he is presently in uniform for the Spartans. Michigan State wasn't as flashy as Wisconsin, Nebraska, or Ohio State, but Kirk Cousins and B.J. Cunningham led the way as Sparty dropped Youngstown State, 28-6.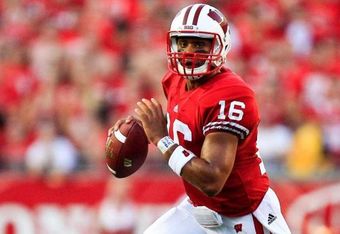 5. Penn State (1-0) 
Rob Bolden was less than stellar as he started the game for Penn State. Matt McGloin came in and looked better than Bolden, but neither separated from the other for the permanent starting position. Meanwhile, Silas Redd dashed his way for two TDs in his debut as a starter and the Nittany Lions defeated FCS Indiana State, 41-7.
6. Iowa (1-0)
 The Hawkeyes' rush defense was below average on a rainy day in Iowa City. The bright spot was James Vandenberg, a first-year starter following the graduation of Ricky Stanzi. Vandenberg identified the player he needed to get the ball to, Marvin McNutt. The Hawkeyes beat Tennessee Tech 34-7 behind McNutt's two touchdown receptions.
7. Northwestern (1-0)
 Behind Minnesota, Northwestern had the toughest Week 1 game in the Big Ten as it traveled to Chestnut Hill to face the Eagles of Boston College. Cain Kolter started in place of the injured Dan Persa and paced the Wildcats to a 24-17 victory. I have no doubts that the Wildcats will be a much more dangerous opponent when Persa returns under center.
8. Michigan (1-0) 
The Denard Show wasn't as eye-popping as last season under Rich Rodriguez. Brady Hoke has implemented a more pro-style attack, minimizing the hits and runs we are accustomed to seeing from Denard Robinson. He was still efficient through the air and on the ground, as he and sophomore running back Fitzgerald Toussaint led Michigan to a 34-10 victory over Western Michigan.
9. Illinois (1-0)
 The Fighting Illini secondary did not look good against Arkansas State, but rising sophomore Nathan Scheelhaase (two TDs) led Illinois to a 33-15 win over the Red Wolves.
10. Minnesota (0-1)
 First-year coach Jerry Kill led the Golden Gophers to Los Angeles to face perennial power USC. Looking up at a 16-point deficit at halftime, Minnesota leaned on freshman Max Shortell to lead the Gophers back into position to win the game. Despite a hard-fought effort, Minnesota's comeback fell short as Shortell had a pass intercepted in the final seconds of the Gophers' 19-17 defeat to the hands of USC at the LA Coliseum.
11. Purdue (1-0)
 Ralph Bolden looked tremendous and first-year starting QB Caleb TerBush threw two TDs as Purdue blocked a FG to escape Middle Tennessee State 27-24.
12. Indiana (0-1)
 Keith Wenning and Ball State picked apart Indiana with underneath passes and kept the Hoosier offense off the field as it converted third downs at a very high percentage. The Hoosiers fell to Ball State, 27-20. If there was a bright spot for Indiana, it was seeing Edward Wright-Baker play very well in his debut as starting quarterback in Bloomington.