College Football Rankings: Auburn Falls from AP Poll, but Maintains Coaches Poll
September 6, 2011
Kevin C. Cox/Getty Images
There had been speculation and discussion over the weekend that Auburn might deserve to be out of the polls considering their lackluster performance against Utah State on Saturday.  A lot is expected from returning National Champions. 
Well, the polls are out, and so is Auburn, at least in the AP. Interestingly enough, in the USA Today Coaches Poll Auburn retained their position of No. 22.  
It's a little complex to get into the whys and wherefores behind this disparity, because then you'd have to get into the rules behind each of the polls. And, quite frankly that is too boring, especially when you're dealing with such an emotional topic. 
Here on the Plains of Auburn, dropping out of the AP Polls is considered an indignity, laid out by the sportswriters, who either have an affinity toward the Crimson Tide, or the northern sportswriters who just don't get the attraction to SEC football. I'm just the reporter here and this is how the fans feel about it. 
The fact is that Auburn did play lousy this weekend, especially on defense. But, they were getting their feet wet in their first game with a boatload of first time players. 
Did they learn anything? From what some of the players are saying, yes, they know they were lousy.  Whether that was just a burp caused by "game jitters", as veteran Emory Blake put it, or whether Auburn is just going to suffer through this year as they rebuild, will be determined this weekend with Mississippi State coming to town.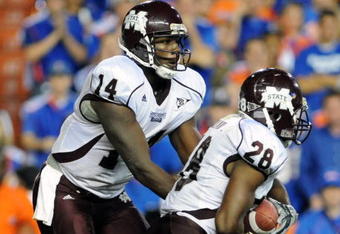 Al Messerschmidt/Getty Images
MSU moved up in both polls based on a dominating game at Memphis last week.  I believe both teams have a reason they could win, one from the psychological boost coming off a dominating win and the other because they have something to prove. 
To be honest there was something that showed up late in Auburn's game with Utah State that harked back to a Cam Newton style comeback. Barrett Trotter and company led that with precision that wasn't evident earlier in the game.  They showed us something. 
The defensive performance was "abysmal", as Lou Holtz put it, and that is without question. 
However, to be able to mount an offensive, well-played march down the field to score, outstanding special teams' work with the onside kick and then gut out the winning touchdown on the ground in the waning moments of the game? That's the kind of character that won them the national championship, brought them back from 24 points down against Alabama, against all odds, with or without Cam Newton. 
For this reason they deserve to be in the Top 25. The Coaches Poll recognized it, but the sportswriters didn't. 
The true test will come this weekend with Mississippi State, a team the TIgers may not have such an easy time coming back on from a deficit. But, if the heart and desire wins out, you may just see Auburn back in both polls next week.